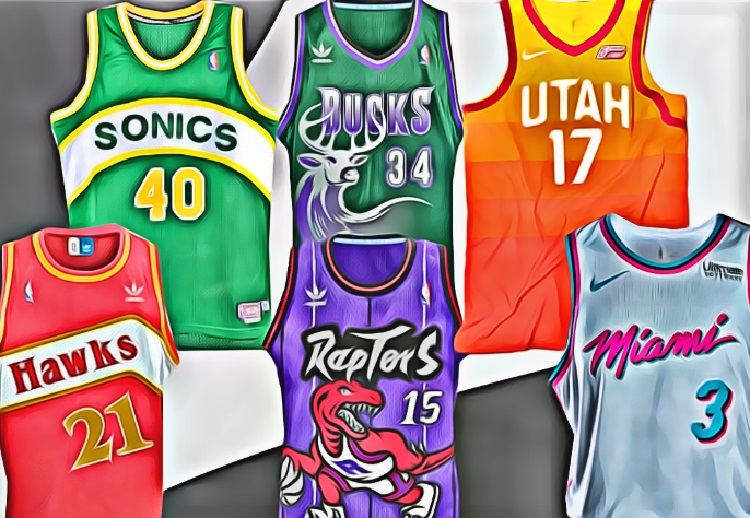 Frankie – "Sonny, in a recent commercial LeBron James and Kevin Durant state they are the two best players in the NBA. Knowing your affinity for James, can you make an argument that Durant may be better than James at this point in their careers?" 
Frankie, you're a father. Just imagine if I came to you and said, "Hey Frankie, can you make an argument that some kid who isn't biologically yours is cuter than your own child?" That's how I feel right now. I'm truly hurt. I thought about giving you a very impolite and blunt "No" and leaving it at that, but I couldn't get myself to do that since you've been way more lenient about me using a wide variety of curse words in my write-up's than you have any other H&H writers.
So then I considered responding "Fuck No" just to prove a point, but it turns out I'm just not that mean.
To me, Kevin Durant is the most unique talent the league has ever seen. The term "Unicorn" has been thrown around often over the last two years, and it's typically reserved for more traditional "bigs" with a guard skillset, but isn't that a pretty accurate description of Kevin Durant? Just because Durant has spent the better part of his career classified as a Small Forward doesn't change the fact that he's taller than Hakeem Olajuwon, which means he's arguably the best seven-foot shooter and ball-handler ever. He can score wherever he wants on the floor, he's an underrated passer and he's stepped up a level defensively in the last three years. He's an alien. A whiny, temperamental alien, but still, a Goddamn alien.
And if we're making a direct, straight-line comparison to LeBron James, or rather, contrasting the two, you could certainly make a compelling case that Durant is the best player in the NBA today. He's younger, he's a more natural scorer, he's been miles better defensively this year, and yes, he did get the better of LeBron in the NBA Finals last year.
How did that video get there? Oh jeez, my apologies. You see, what happened is I typed "Biggest Moments of the 2016 NBA Finals" in the YouTube search instead of "Biggest Moments of the 2017 NBA Finals." It was an honest mistake. This is the video I was looking for.
Yep, that's the video I was trying to find. I'm super glad I had the opportunity to watch that again.
Truth be told, the most asinine way to suggest that Kevin Durant is better than LeBron James is to bring up that the Warriors beat the Cavs in the NBA Finals last year. Durant was exceptional in the Finals, as was LeBron, and any unbiased and rational observer would agree that relying solely on the outcome of that series is a foolish way to evaluate how we feel about Durant or LeBron in the present.
I personally feel as though old man LeBron James, in his fifteenth NBA season mind you, is still the best player in the NBA, a distinction he hasn't surrendered since he claimed it during Game 5 of the 2007 Eastern Conference Finals. The only three guys who have been able to make a strong case for that title in the last ten-plus years have been Kobe Bryant (2008-2010), Stephen Curry (2015-2016) and Kevin Durant, who has been right there on LeBron's heels since they faced off in the 2012 NBA Finals.
LeBron James is arguably the greatest basketball player ever … at the very least, he's on the short list of guys who deserve to be in that conversation. The fact that we're talking about Kevin Durant as LeBron's equal, during a season when LeBron is putting up nearly career-best offensive numbers and looks to be as prolific offensively as he ever has been, tells you all that you need to know about Durant's standing in the league. For now, these two are #1 and #2 on the list of players currently in the NBA, and that's no small feat given the Golden Age of Basketball we're witnessing.
Rocco – "I have a simple question, but it begs for a by-the-decade power ranking. My question is this: Since the days basketball players stopped wearing belts, were the cartoonish NBA jerseys of the 1990's the absolute worst, or the absolute best?  There definitely can be no in between. Also, the early 2000s, when a lot of teams came out with jerseys that were boring (clearly the result of a hangover from those wacky 1990's jerseys) but not even boring in a classic Celtics/Knicks way, has to be way toward the bottom right?" 
There are multiple questions and statements packed in the above paragraph, so rather than try to address/answer each of them one at a time, I'm going to look at one of the first things Rocco mentioned and address that directly. I'm pretty sure I'll manage to hit all other points along the way as I put together something damn close to a by-the-decade power poll of NBA uniforms.
The evolution of NBA uniforms isn't so cut and dry that you could easily break it down by decade. Some teams have been ahead of the curve and transitioned into new types of jerseys while other teams were either slightly behind the times or refused to alter their general appearance altogether. With that said, I didn't necessarily want to get so detailed with this answer that I had to agonize over minor changes that were made every few years. Therefore, I came up with five distinct eras of NBA uniforms, and will be ranking them according to the following criteria:
Are they memorable?
How much did those uniforms help the overall aesthetic of basketball programming at the time?
How many teams best jerseys come from this era of uniforms?
Do they look "cool"?
Note: If you can't just look at a basketball jersey and formulate an opinion on whether or not it is "cool" then this thought experiment is way over your head. 
Without further ado …
5. 1940's/1950's/1960's – All of these jerseys were either Black, White or Gray. Not at all my taste. Hard pass.
4. 2000's – As Rocco mentioned, the jerseys that most teams introduced in the late 90's and early 00's were an over-correction to the early/mid-90's threads that were very, um, memorable! It was almost as if nearly every team in the NBA decided they would rather bore the hell out of everyone than be at all polarizing, and it was a job well done, because that's exactly what happened.
The Orlando Magic transitioned from those wonderful pinstriped uni's, arguably the best in the league in the mid-90's, to those generic couldn't be more blue if they possibly tried jerseys that single-handedly ruined Tracy McGrady's Orlando Magic tenure. The Seven Seconds or Less Phoenix Suns changed the NBA as we know it in the most hideous uniforms in the entire history of the Suns organization. The Utah Jazz went from the beautiful Purple and Yellow get-up in the 80's and early 90's (with the Music Note 'J' just for good measure) to the Mountainscape jerseys in the late 90's, to the "let's abandon every bit of our franchise identity" dark blue/powder blue/white combo jerseys that were about as memorable as the Deron Williams/Carlos Boozer-led teams of that time (i.e. not very memorable).
There is no shortage of league-wide jersey-related horror stories of a similar tone from the early and mid-00's.
3. 1990's – This answer directly contradicts Rocco's statement in regards to the 1990's uniforms. He claims that they are either the best or the worst in NBA history, and I have them smack dab in the middle of my list. I would like to take this time to politely ask Rocco not to extend a rebuttal my way because he is a lawyer, and therefore I have no chance of ending up on the winning side of that debate. Thanks in advance, Rock.
Anyway, I don't know if we can call the NBA uniforms of the 1990's "cool" or "aesthetically pleasing," but boy oh boy were are they memorable. These jerseys featured Sneakered Velociraptors, Flaming Horses, Scowling Rocketships, Purple Deer, and Red Hawks. Quite a few teams donned pinstripes (even the Bulls, who have made very few major uniforms adjustments since they ditched the cursive jerseys in the mid-80's experimented with pinstripes). Some teams made appreciated adjustments — for example, the Phoenix Suns best uniforms ever were the ones Charles Barkley and co. were wearing during the 1993 NBA Finals — and other teams swung and missed so badly that they would never ever consider revisiting those throwbacks even though they have ran threw more old school jersey options over the past decade than any other team in the league. I would know since I am indeed a Cleveland Cavaliers fan.
2. 2010's – I had to think long and hard about putting the current batch of NBA uniforms in the number one spot, but I decided against it, mostly for one reason … We're still in the honeymoon phase with these jerseys, and I want to see how well they hold up historically. The arrival of the new era of NBA jerseys started when the Golden State Warriors began wearing sleeved tops, and shortly after that when the Atlanta Hawks tossed a bunch of neon into their color scheme. Since then, the league switched from Adidas to Nike as their jersey provider, and almost every team got slightly more ambitious with their uniform design.
All things considered, I'm a fan of the Nike uniforms, and I'm very pleased that multiple teams took advantage of this opportunity to think outside of the box; each team has four uniforms in their current Nike arsenal, so there was no reason not to take some big swings. I fully support Minnesota's complete jersey makeover (though the move to a Purple and Black color scheme, a tip of the cap to Prince, would've been a huge hit), and there's no reason why Miami shouldn't swap out the Black and Red color scheme for the Light Blue and Pink of their 'Miami Vice' jerseys. Many teams paid homage to old school looks — props to the Sixers, Bucks and Clippers for doing the best job with this — and teams did a great job grasping the "City Uniform" concept. Click here for all of the glorious City Edition jerseys.
I think we need to hold off on judgment on these jerseys until the next major uniform shake-up. Until then, they sit at #2 on the list.
1. 1970's/1980's – I feel great about this decision and doubt there will be much, if any, disagreement with this choice. I don't think it's a coincidence that the first modern day Golden Age of Pro Basketball took place when uniforms were at their absolute best. The entertainment value of any game was at a then-all-time high in the mid to late 80's, and that's thanks to the players, the style of play, and the overall quality of the uniforms.
These jerseys hold up over 30 years later, and I'm confident that no matter how much time goes by they'll never age. They are the perfect mix of great stylistic innovation (the bold striping that the Atlanta Hawks, Seattle SuperSonics and Indiana Pacers all used was such a nice touch) and fantastic color combinations that helped move the NBA past the traditional/boring uniforms of the 60's and early 70's to this new and exciting era of basketball uniforms that matched the product on the floor.
Rocky – "Here's one for you and I have my 5 in mind. Going back to the Mid 70's and before, give me your top 5 players who could compete and maybe excel in today's NBA. In the words of that time, love and peace!"
Love and peace back to you, Uncle Rock. Thank you for the question. Before I get to my answers, I want to clear a few things up.
First, I'm going to assume that a time machine would be able to transport any player from the 60's and 70's to present day, and that any player coming to our time would be competing with the same skillset they had back then. That means we can't say something like, "Well if Wilt Chamberlain were playing in today's NBA, he'd be able to shoot three's just like all of the other Centers." 1967 Wilt didn't have that kind of range, so I'm not going to assume that in the process of traveling 51 years in the future he'd develop a consistent twenty foot jumper.
Second, I'm going to set the cutoff date to 1976 since that's the year the NBA and ABA merged. Therefore, any player who had any degree of legitimate success after the NBA/ABA merger will be disqualified from this thought experiment since it's likely they'd be able to hang today. That eliminates Bill Walton, Kareem Abdul-Jabbar, Julius Erving, George Gervin, Nate Archibald, Bob McAdoo, and Pete Maravich, among others from being considered here.
Third, and I think it goes without saying, but without a time machine, I will never have the opportunity to watch any of these players live or in person. I'm 26 years old. That means I had to turn to YouTube for highlights. If I missed any notable players, I sincerely apologize to the six old-timers out there reading along who managed to land on this page while they were probably searching for something like "How do I clean my Hardwood floors?" who are appalled that I left someone like Tom Gola off this list.
Notable Players Left Off The Top Five 
Bob Cousy – One could argue that without Bob Cousy, there would not have been a Pete Maravich or a Steve Nash. Cousy's contributions to the game's stylistic advancements and his legacy as a player should be remembered and revered, but let's not get so carried away to believe that Bob Cousy could've handled the likes of Damian Lillard, Stephen Curry, Russell Westbrook and Chris Paul on a modern day four game west coast road trip. Cousy was 6'1″, weighed 175 lbs, and lacked serious athleticism … how's he defending any current Point Guard's? Cousy shot a curiously low percentage in a time period where everyone's field goal percentage was shitty … how's he scoring on anybody today?
George Mikan/Cliff Hagan/Paul Arizin/Bob Pettit/Jerry Lucas – Even their names are too white for today's NBA.
Willis Reed/Nate Thurmond/Wes Unseld – Have y'all noticed how ineffective someone like Hassan Whiteside has been in the Playoffs? The traditional, plodding Center who lives in the paint, does work on the block, and can't do much else is a dinosaur in today's NBA, and I don't just say that because they're very large men … Centers of that mold are basically extinct. Unless they provide All-Defensive Team caliber rim protection and defense (see Gobert, Rudy), it's really, really hard to play slower, non-shooting big men down the stretch of games. I just don't see how any of these three Hall of Fame Centers truly thrive in the NBA today.
Connie Hawkins/Elgin Baylor – Baylor and Hawkins are both described as before-their-time type of athletes, and the tape holds up … Baylor and Hawk could definitely hang athletically in today's NBA. I worry about the lack of shooting they would provide and their somewhat slight builds. Baylor was undersized (only 6'5″) and according to Basketball-Reference, Connie Hawkins is 3 inches shorter and 30 lbs. lighter than Kevin Durant's super skinny ass. That might be problematic.
Walt Frazier – Frazier was at the tail end of his prime when the NBA and ABA merged, so there's at least an idea of how he'd hang today. He has great size and good enough athleticism to be a solid lead guard in today's NBA. And just imagine how excited he would be about using Tinder.
The Top Five Six 
Wilt Chamberlain – Speaking of guys who would get great use of the Tinder app, Mr. 20,000 wouldn't be come close to reaching the per game averages he did in the 60's (teams are averaging 25-30 fewer possessions per game than in 1962), but he'd be an impactful Center for four reasons:
1. He was a fucking massive human being. Like, abnormally big even around other big people.
2. His offensive game was more developed than we realize (check the highlights if you think I'm lying).
3. He was a capable passer out of the post and from the elbows.
4. At his athletic peak, when engaged, Wilt was a frightening defensive presence.
Basically, Wilt would be the Rich Man's Dwight Howard if we transported him to 2018. He would even father more children than Dwight has.
John Havlicek/Rick Barry – I couldn't decide between Hondo and Barry, so that's how five became six on this list. Though different types of small forwards, Barry and Havlicek each have skills that translate to today's NBA. Barry had good size, a nice scoring touch and he was a gifted passer; the best passing forward before Larry Bird was in the league and before LeBron James was born. Havlicek was a natural athlete (he was drafted by the Cleveland Browns to play Wide Receiver the same year he was drafted by the Celts) who had downright ridiculous stamina and durability, and a pretty polished all-around game. Both of these two would do very well today.
Oscar Robertson – The Big O was the prototype for all big guard's that followed. At 6'5″ and 205 lbs. in his prime, Robertson has the measurable to fit in. His post game was developed enough that he could body some of today's smaller guard's on the block, and he was a reliable enough mid-range shooter — and cagey enough with his handle — that he could serve as a real threat in a modern offense. It would be foolish to count on a parade of Triple Doubles, but that doesn't mean Robertson would be ineffective.
Jerry West – West might seem like a surprising choice based on his physical stature, but The Logo was more than just a small guard who could fill it up during the NBA's highest scoring time period. West was one of the most well-rounded basketball players ever, frequently lauded for his scoring and playmaking, but rarely praised for his defensive prowess (a six-team All-Defensive Team player, West was armed with long arms and quick hands … his defense could be described as "savvy" or "instinctual"), his athleticism (wildly underrated and supposedly through the roof), and his work ethic (tireless and unmatched by almost anyone in his era). I've fallen in love with Jerry West's game.
Bill Russell – Russell was the greatest winner, leader, teammate and defensive presence during the early days of the NBA. It's impossible to leave him off the list even if I'm left wondering if he'd have any semblance of a developed offensive repertoire.
Mary – "Who do you think was the best NBA team ever? Not by names or by legacy, but what team do you is best equipped to defeat all other NBA teams?" 
I care way too much about this question to cut the answer short at the back end of an already stacked Sonny Says column. Give me three weeks to really research this and I'll get back to you with a very detailed and wordy answer.