News broke today on Twitter that San Antonio Spurs Forward Kawhi Leonard — a former NBA Finals MVP and two-time Defensive Player of the Year — has requested a trade. With this flurry of Tweets, the NBA Summer has officially begun. With the NBA Draft six days away and Free Agency two weeks off, it's possible that the first domino to fall this offseason will indeed be Kawhi Leonard.
With the help of ESPN's trusty Trade Machine, I've come up with way too many Kawhi Leonard trades that I would love to share with you. In total there are ten, but each one lands Kawhi on a different team. I promise, all of these trades are financially plausible, philosophically logical, and therefore, completely possible outcomes to this Kawhi Leonard situation.
Trade #1 – Los Angeles Lakers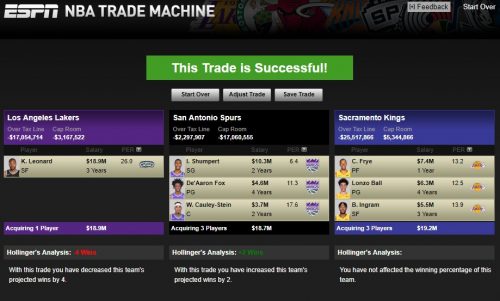 Lonzo Ball is probably the most lucrative trade asset that the Lakers have, but I have a difficult time believing that Gregg Popovich would be all that excited to deal with Lonzo and the rest of the Ball family. The Spurs won't allow themselves to get swindled on a deal surrounding Kawhi, nor do I think the Lakers would give up both Brandon Ingram AND Kyle Kuzma. Therefore a 3rd team is needed. Enter the Sacramento Kings.
The Kings get to shed Iman Shumpert's contract and they snag Channing Frye's expiring deal, they turn Willie Cauley-Stein (meh) into Brandon Ingram, and they swap De'Aaron Fox for Lonzo Ball. However — notice the bold font — the Kings are also giving up the 2nd Pick to San Antonio, and here's why: If the Kings aren't smart enough to be able to say that it's a no-brainer that they would take Luka Doncic with the 2nd Pick, they don't deserve it. Let's give it to the Spurs and give them the most Spurs foreign player whose come into the league since Manu Ginobili.
And of course, a deal like this opens the door for a certain noteworthy Free Agent to "Take His Talents" to Los Angeles as well.
Trade #2 – Los Angeles Clippers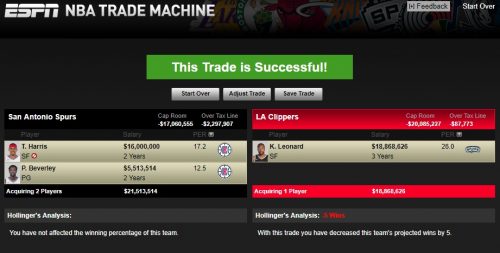 The Clippers package the 12th and 13th Picks in this upcoming Draft with Tobias Harris and Patrick Beverley to form one of the more interesting Help The Present AND Help The Future trade packages the Spurs might receive. If Kawhi really has no preference over which Los Angeles team he's playing for, this trade might be worth it for the Clips.
Trade #3 – 

Sacramento Kings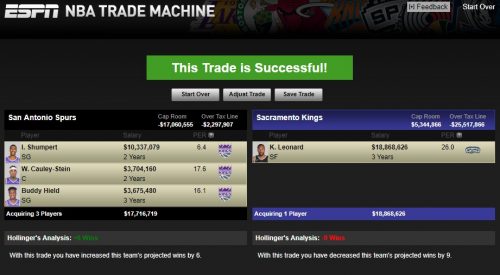 You just know Sacramento will be dying to give up that #2 Pick and a couple of their young assets for a chance to get Kawhi and contend for the Playoffs next year.
Trade #4 – New York Knicks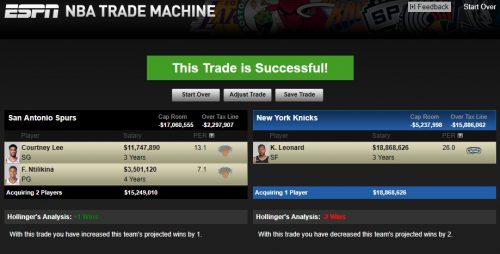 The Knicks would also be required to include the #9 pick in the upcoming NBA Draft and multiple future 1st Round Picks as well. Basically as many as the league would allow them to offer.
Trade #5 – Utah Jazz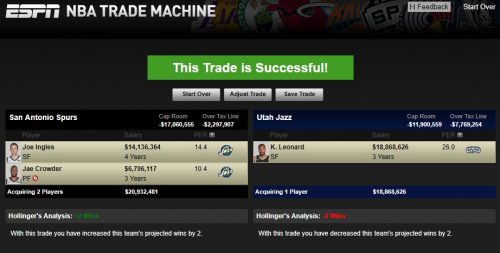 Utah would give up their 2018 #21 pick here too. This one isn't happening, but I needed to imagine Kawhi playing alongside Donovan Mitchell and Rudy Gobert for a minute. It gave me chills.
Trade #6 – Cleveland Cavaliers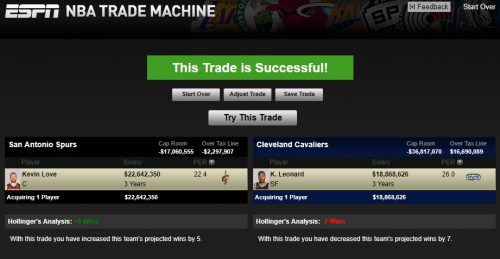 Plus the #8 pick the Cavs got in the Kyrie Irving trade. Something like this only happens if Cleveland knows that LeBron is still and LeBron says he wants Kawhi Leonard.
Trade #7 – Indiana Pacers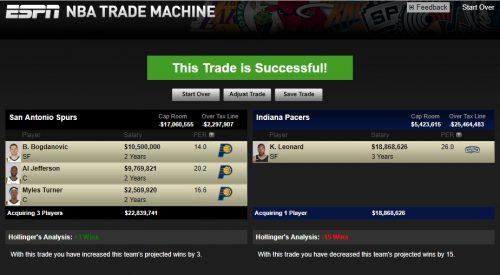 I'm not going to lie to you … the only reason I mention this trade (which includes Indy's #23 pick) is because one time on NBA 2K15 I created the Seattle SuperSonics and did a league-wide fantasy draft before I started my season, and my starters on the perimeter were Victor Oladipo, Lance Stephenson and Kawhi Leonard. I won the title with that team. You're welcome, Seattle. You're welcome, Indiana.
Trade #8 – Miami Heat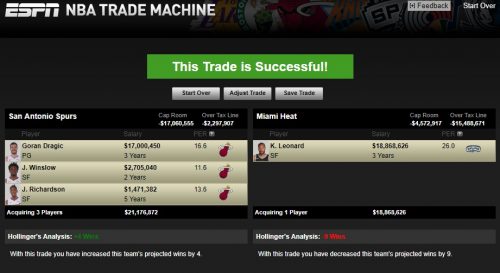 You know that Pat Riley will do his due diligence and see if the Heat can get involved in the Kawhi Leonard sweepstakes. A Dragic/Winslow/Richardson package seems reasonable since it provides San Antonio some relief in both the short-term and long-term. If Kawhi is in Miami, it's entirely possible too that LeBron James may give an extended look at a return to South Beach.
Trade #9 – Boston Celtics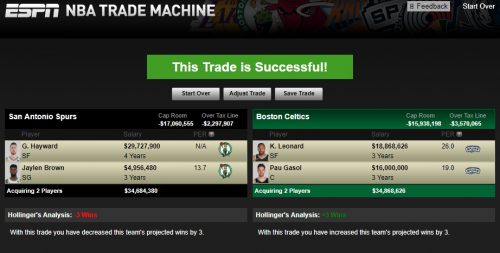 If you're Boston, isn't it worth the risk of moving on from Brown — who doesn't have the same sort of ceiling that Jayson Tatum has — and sadly/shrewdly cutting ties with Gordon Hayward in order to get Kawhi Leonard? Doesn't Kawhi (if healthy) raise Boston's ceiling to a level that only the Warriors can probably reach? Kyrie Irving, Al Horford, Tatum, Kawhi and someone out of a Marcus Smart/Terry Rozier/Marcus Morris trio closing games … yikes. Just imagine a healthy Kawhi Leonard getting Jaylen Brown's minutes and Pau Gasol taking the Aron Baynes/Greg Monroe minutes. That's a Celtics team that reaches the 2018 NBA Finals.
And doesn't Kawhi end up leaning towards re-signing with Boston in this scenario? Is he really going to leave an honest to God title contender to just to play in Los Angeles?
One thing to note: The Celtics still have a quite a few future 1st Round Picks. A deal centered around those picks could potentially be built for Kawhi Leonard as well. Or they could be preserved for future use. We'll see.
Trade #10 – Philadelphia 76ers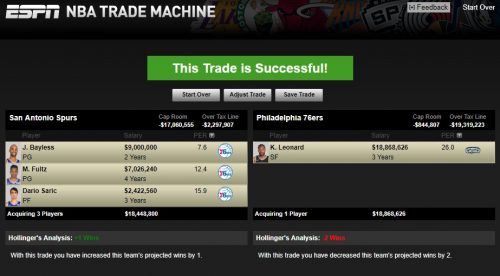 If Kawhi doesn't end up with the Lakers, I think this is the deal that ends up getting done. Philadelphia is expected to be aggressive this offseason, and they should be willing to part with anyone on the roster save for Joel Embiid and Ben Simmons this Summer in order to give themselves a chance to move up a tier heading into next season. Giving up Fultz, Saric, Bayless (needed for cap purposes) and the #10 Pick is necessary if it means bringing Kawhi Leonard to the City of Brotherly Love.
This trade not only nets the Sixers Kawhi Leonard, it also prevents the Lakers from getting Kawhi Leonard. I know that sounds super obvious, but this is both an offensive and defensive sort of trade for Philly. Whichever team ends up with Kawhi Leonard this Summer may end up with LeBron James as well. Philly and LA are currently the two favorites to land LeBron James in Free Agency, and for good reason. LA has noticeably better odds as of right now, but if Philly can move their chips into the center of the table and bring back Kawhi Leonard, those odds may shift yet again.