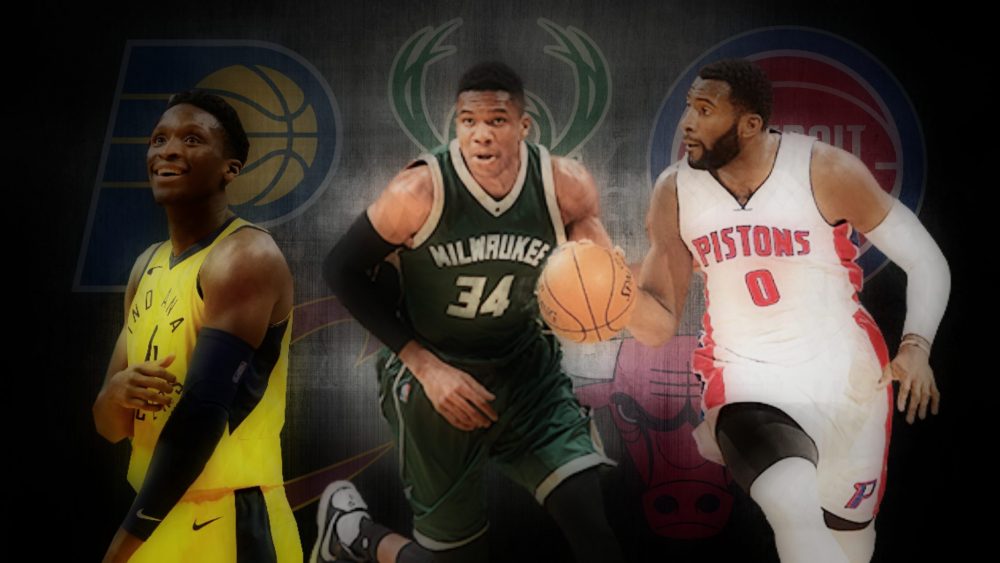 Here on the Handicapping Sports side of Hardwood and Hollywood, we'll be taking a look at all six NBA divisions and advising you not only who you should be betting to win the division, but also whether to bet the over or under on each team's Vegas-assigned win total. All odds are courtesy of Bovada.
October 2nd: Atlantic Division Preview 
October 3rd: Pacific Division Preview 
October 4th: Central Division Preview 
October 5th: Southwest Division Preview 
October 9th: Southeast Division Preview 
October 10th: Northwest Division Preview (DELAYED BECAUSE OF THE JIMMY BUTLER HOSTAGE CRISIS) 
5. Cleveland Cavaliers
Last Season: 51-31, 1st in Central Division, 4th in Eastern Conference
A View From Vegas: 30.5 wins, +3500 to win Central Division, +45000 to win NBA Title
Season Outlook: It's only been a little over four months since the Cleveland Cavaliers won their fourth consecutive Eastern Conference Title, but the it might as well have been decades ago. With LeBron James now in Los Angeles, it won't take long for NBA fans to be reminded why we were collectively going apeshit about The King's postseason performance last year.
The most exciting new additions to the roster are Collin Sexton and Sam Dekker; please, do your best to contain your enthusiasm as we move on. Even if you love Sexton (I'm a fan), he's going to have plenty of rough nights. Outside of those two, many of the spare parts that were dragged to the finish line by LeBron last year are back again this year. This isn't necessarily a good thing. Optimists will talk themselves into Kevin Love thriving with a bigger role offensively, but I'd advise not to forget that teams featuring Kevin Love as a #1 scoring option never won more than half of their games in a season. Those Timberwolves supporting casts Love went to battle with weren't great, but it was much better than what he's working with in Cleveland. And remember, it's been five years since Love took on that sort of workload. He's 30 years old.
Remember, the last time LeBron James left the Cavaliers they went from a 61-win regular season machine to a depressing 19-win catastrophe in the blink of an eye. The drop may not be quite as steep this time around, but it won't be a fun basketball season in Cleveland. But hey, the Indians are in the Playoffs and the Browns have won a game this season, so there's that.
Predictions: 27 wins (Under) and 13th in the Eastern Conference.
4. Chicago Bulls
Last Season: 27-55, 5th in Central Division, 13th in Eastern Conference
A View From Vegas: 29.5 wins, +3500 to win Central Division, +30000 to win NBA Title
Season Outlook: LeBron's exit to the West opened things up atop the Eastern Conference, but what exists after the top five or six teams on the inferior side of the league is still awfully familiar; there will be many nights where ugly basketball rules the earliest portion of the nightly League Pass schedule. Too many games will only be meaningful for NBA Draft positioning purposes, and by March minutes will be given to guys who make even the most dedicated diehards say, "Wait, who is that guy?"
The beauty of this situation is it means there is always a postseason spot or two open for surprise teams to snag. It may only take 38 or so wins to secure a Playoff berth … for some teams that just means good health and expectations that are only surpassed slightly. I tried to talk myself into the Chicago Bulls being that team this year — it seems as though many others out there are doing so — but I just can't get there.
There will be nights when the Bulls score in bunches, push the pace and look fantastic, particularly once Lauri Markkanen comes back from an elbow injury. There was one particular mid-December two week stretch last year where the Bulls did just that and won seven consecutive games, including four straight over Boston, Utah, Milwaukee and Philadelphia. It's just that those nights will be infrequent in comparison to the games where they'll clank shots and get ran off the floor.
Chicago will be an unequivocal disaster defensively. Kris Dunn is the most promising perimeter defender on the roster, but he isn't an efficient scorer from anywhere on the floor. Zach LaVine is a mess on that end and the addition of Jabari Parker won't help matters. If the Bulls pick up Parker's 2019-20 contract option, it will mean they committed $118 million to two horrendous defenders who have a combined three ACL tears and three seasons with over 60 games played.
Playing without Markkanen for nearly two months will be a huge blow to Chicago's chances at competing for a Playoff spot. He's the best player and most promising prospect on this Bulls team. He was going to be a threat to score twenty points per game this year.
Prediction: 30 wins (Over) and 11th in the Eastern Conference.
3. Detroit Pistons
Last Season: 39-43, 4th in Central Division, 9th in Eastern Conference
A View From Vegas: 38 wins, +500 to win Central Division, +30000 to win NBA Title
Season Outlook: Assuming that the Cavaliers drop out of the Playoff picture this year, the Detroit Pistons are their expected replacement to play in the NBA's second season. After making the Playoffs and pushing Cleveland in a closer-than-we-remember Round 1 series in 2016, the Pistons had back to back sub-40 wins seasons each of the last two years. As a result, Stan Van Gundy is out and Dwane Casey is in at Head Coach. This is undoubtedly an upgrade, but the biggest questions for Detroit needed to be answered on the court, not on the bench.
The Pistons were 22-18 last year, comfortably in the Playoff picture, when Point Guard Reggie Jackson went down with an ankle injury. Shortly after, the Pistons pulled the trigger on a deal for Los Angeles Clippers Power Forward Blake Griffin. Detroit went 17-25 in their final 42 games of the season. They were 11-14 when Griffin was in the line-up.
It's not all bad though … in just under 600 minutes together, the Pistons were stifling when Drummond and Griffin shared the floor. Their defensive rating projected to be the fifth best in the league over an entire season, and their net rating was +3.0. Griffin has familiarity playing with an athletically gifted, yet offensively limited Center. Drummond had never played in a frontcourt with a Power Forward who could create shots for others quite like Griffin can.
Though Griffin isn't the same springy posterizer he once was, there's still a lot to like about his game. He averaged over six assists per game once he joined the Pistons, and he hit 35 percent of his three-pointers in Motown too. 32 percent of Griffin's field goal attempts were three's last year. If he continues to shoot that percentage, it makes sense from Griffin to spend that time on the perimeter. We saw how stuffy things got in Los Angeles when he and DeAndre Jordan were both clogging the paint.
Casey will think outside of the box, and his team will have the green light to bomb three's. Toronto was third in three-point attempts per game last year. Even Andre Drummond has the go-ahead to let it fly from distance. I'm all about spreading the floor and embracing analytics, but I'll need to see Drummond connect on a few from deep before I get too excited about him taking them.
The lack of perimeter scoring is what really worries me about the Pistons. I don't love it that the Pistons may rely heavily on Luke Kennard, Reggie Bullock or Stanley Johnson for buckets. Even though Stan Van Gundy used it hardly at all last year, I'd love to see what Reggie Jackson and Ish Smith look like playing together in the Pistons backcourt.
Prediction: 39 wins (Over) and 8th in the Eastern Conference.
2. Indiana Pacers
Last Season: 48-34, 2nd in Central Division, 5th in Eastern Conference
A View From Vegas: 47.5 wins, +135 to win Central Division, +12500 to win NBA Title
Season Outlook: No team in the league played harder than the Indiana Pacers did last year, and that level of intensity led to 48 wins and a near upset of the eventual Eastern Conference champs in the 1st Round of the Playoffs.
The start to finish race between the Pacers and the Bucks for the Central Division crown will be one of the most interesting to watch. If someone were to argue for Indiana over Milwaukee I wouldn't be offended by it; Milwaukee improved their roster (and their coaching staff) in the offseason. Indiana may have done an even better job at filling roster holes.
The Pacers had a tidy and effective eight-man rotation last year, and you figure Tyreke Evans, Doug McDermott and Kyle O'Quinn will all get minutes after signing with the Pacers this past Summer. Evans had the best season of his career last year for a Grizzlies squad in shambles. O'Quinn is the fourth big that Indy lacked last year. McDermott has his warts, but he was a flamethrower from deep (50 percent!) in 26 post Trade Deadline games with the Mavericks last year.
The key for Indiana will be whether Victor Oladipo's 2017-18 campaign was a one-year aberration or a sign of things to come for the next five to ten years. If Dipo remains the two-way force and perennial All-NBA caliber player he was last year, the Pacers could be very good for quite some time. Watch out if the Myles Turner/Domantas Sabonis frontcourt (both guys are only 22 years old) makes a leap this season.
Prediction: 48 wins (Over) and 5th in the Eastern Conference.
1. Milwaukee Bucks
Last Season: 44-38, 3rd in Central Division, 7th in Eastern Conference
A View From Vegas: 48 wins, +120 to win Central Division, +10000 to win NBA Title
Season Outlook: Again, Milwaukee and Indiana are interchangeable in these two spots. The Bucks get the edge simply because they employ a player who has the third best MVP odds in the league. It's not just that Giannis is a bonafide MVP candidate, and will remain one for the next decade pending good health … it's that the Greek Freak plays like a real-life Monstar. He's just a little bigger and faster and more athletic and more skilled than everyone else on the floor. Watching Giannis play basketball is an experience unlike anything else I've ever been a part of.
Fortunately, we'll get to see Giannis with his best supporting cast this year, and that includes Head Coach. The upgrade from Jason Kidd to Mike Budenholzer is real, and it won't take long for it to be evident that going from a Hall of Fame Point Guard impersonating a Head Coach to an actual smart and seasoned Head Coach can do wonders for a team with this much talent.
I'm interested in seeing what sort of creative line-up's Budenholzer experiments with this year. Giannis is tailor made to be playing a handful of minutes as a small-ball Center, but the three bigs who should be getting the most minutes at Center this year — Thon Maker, Brook Lopez and Ersan Ilyasova — all need to be respected at the three-point line. Giannis gets to the basket at will and if the help defense is a step slower than it was last year, simply because Milwaukee can more effectively roll out Antetokounmpo + Four Shooters line-ups this year, he could score upwards of 30 points per game this year. He'll make defenses pay if they over-commit; it's unfair that he's got the passing gene along with every other desirable intangible too.
Prediction: 50 wins (Over) and 4th in the Eastern Conference.