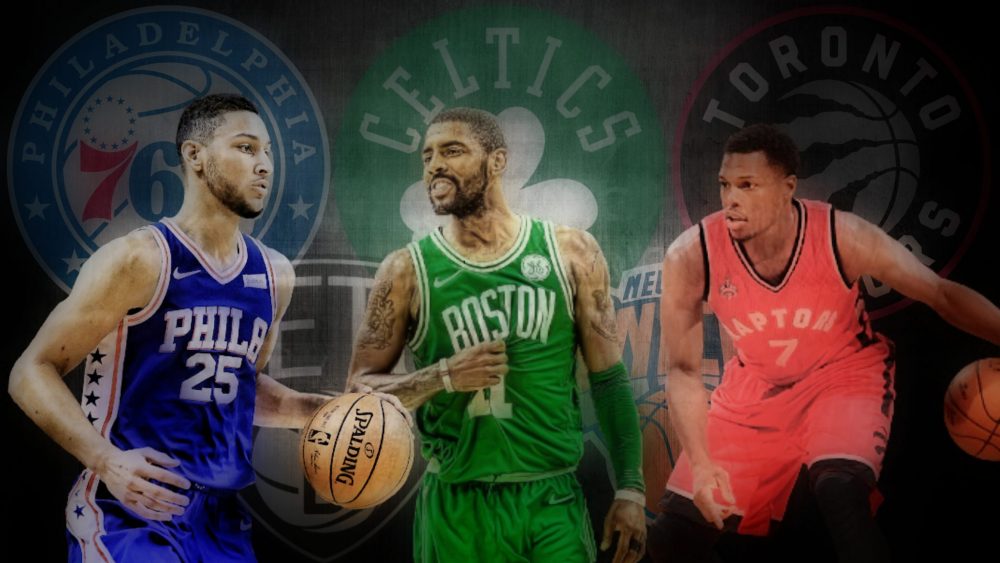 Here on the Handicapping Sports side of Hardwood and Hollywood, we'll be taking a look at all six NBA divisions and advising you not only who you should be betting to win the division, but also whether to bet the over or under on each team's Vegas-assigned win total. All odds are courtesy of Bovada.
October 2nd: Atlantic Division Preview 
October 3rd: Pacific Division Preview 
October 4th: Central Division Preview 
October 5th: Southwest Division Preview 
October 9th: Southeast Division Preview 
October 10th: Northwest Division Preview (DELAYED BECAUSE OF THE JIMMY BUTLER HOSTAGE CRISIS) 
5. New York Knicks
Last Season: 29-53, 4th in Atlantic Division, 11th in Eastern Conference
A View From Vegas: 29.5 wins, +15000 to win Atlantic Division, +40000 to win NBA Title
Season Outlook: The Wish List for Knicks fans for the 2018-19 NBA Season shouldn't be a lengthy one. Kristaps Porzingis is recovering from surgery to repair a torn ACL and the rest of the roster is filled with journeymen, role players, Kevin Knox, and unproven (i.e. disappointing) former lottery picks trying to turn their careers around. Even with a healthy Porzingis in the picture from day one, there is no guarantee that this is a roster that could secure a postseason berth.
With that said, Knicks fans should be hopeful that whenever Porzingis returns — there is speculation that his return could come for a Christmas day game at Madison Square Garden versus the Milwaukee Bucks, but I wouldn't count on it — he resembles the player he was last year with ending the year once again injured. In 48 games last season the Zinger averaged nearly 23 points per game, blocked over two shots per game, and hit just under 40 percent of his three pointers.
Additionally, if the Knicks could figure out which young Guard(s) will be a keeper(s) moving forward, that would be ideal. Trey Burke came to New York in January and showed flashes of what made him a lottery pick in 2013. Burke averaged 15 points and 6 assists per game over the last month and a half of the season. Frank Ntilikina displayed very little to be encouraged by offensively, but he was ahead of the curve as a defender. It feels like Emmanuel Mudiay will be the odd man out; even the Net Rating numbers from last year put Mudiay at a disadvantage.
Predictions: 26 wins (Under) and 14th Place in the Eastern Conference
4. Brooklyn Nets 
Last Season: 28-54, 5th in Atlantic Division, 12th in Eastern Conference
A View From Vegas: 32 wins, +12000 to win Atlantic Division, +45000 to win NBA Title
Season Outlook: The biggest win of the season for the Nets may end up being the offseason news that Brooklyn was one of the destinations Jimmy Butler preferred to be traded to. In the eyes of many, this marked the first major victory of the Sean Marks era in Brooklyn.
The Nets have slowly but surely clawed their way back to relevance after the trade for Paul Pierce and Kevin Garnett that was crippling the franchise nearly five years after the fact. Their cap situation is solid, the roster is so-so (an upgrade!) and they actually own two 2019 1st Round picks after being out of the 1st Round for years.
There will be a spot or two available in the Eastern Conference Playoff race that could go to teams that don't appear to be postseason bound. There's a scenario where the Nets overachieve, finish close-ish to .500 and grab an 8th seed. Laugh now, but it's possible. At the very least, the Nets should be competitive each and every night. They play hard for Kenny Atkinson, and some line-ups last year actually had some honest to God success playing together. The D'Angelo Russell/Allen Crabbe/Rondae Hollis-Jefferson/Jarrett Allen quartet outscored opponents by an average of 11.4 points per 100 possessions in 203 minutes played together last season.
Prediction: 33 wins (Over) and 10th Place in the Eastern Conference
3. Philadelphia 76ers
Last Season: 52-30, 3rd in Atlantic Division, 3rd in Eastern Conference  
A View From Vegas: 54 wins, +300 to win Atlantic Division, +1600 to win NBA Title
Season Outlook: Philadelphia's Process was fast-tracked last year, when a season that started with "Well maybe they could compete for a Playoff spot" chatter eventually turned into "Well maybe the Sixers are going to win the Eastern Conference" by April. Perhaps the NBA Finals talk was a bit premature, but it does indicate what Sam Hinkie and Process-Truthers believed the entire time: When healthy, this team has the pieces to contend for Conference Championships year after year for the next decade.
Philadelphia was 36-30 on the day the NCAA Tournament started in mid-March, and entered the Playoffs at 52-30 after winning their final sixteen games of the regular season. This run was no accident (though it was a bit surprising since missed the final eight games of the winning streak); the additions of Marco Belinelli and Ersan Ilyasova rounded out a Philly bench that was missing one or two guys. The core five — Ben Simmons, J.J. Redick, Robert Covington, Dario Saric and Joel Embiid — performed better than any other five-man unit in the league. That's no misprint. That line-up was over 20 points better per 100 possessions than opponents last season, and they logged over 600 minutes together.
Making the leap from 50 wins and a 2nd Round elimination to a near 60 win team and an appearance in the NBA Finals is dependent on the success of the high lottery picks Philly sacrificed multiple seasons for. Almost everyone had soured on Ben Simmons by the time the Playoffs had ended, but the Rookie of the Year averaged 15-9-10 after the All-Star Break last year. Even without the jumper, Simmons is just fine. Getting something out of Markelle Fultz in year two would be a nice development.
The biggest factor to Philly's success is Joel Embiid's ability to stay healthy. Embiid missed 19 games last year and the Sixers were only 11-8 without him. When healthy, Embiid was without question one of the ten best players in the NBA last year and there were plenty of nights against very good teams that he was far and away the most dominant player on the floor. He's one of the few guys in the league who has the potential to eventually supplant LeBron James as the best player in the world.
Prediction: 51 wins (Under) and 3rd in the Eastern Conference.
2. Toronto Raptors
Last Season: 59-23, 1st in Atlantic Division, 1st in Eastern Conference
A View From Vegas: 55.5 wins, +270 to win Atlantic Division, +1400 to win NBA Title
Season Outlook: Plenty has already been said about the Kawhi Leonard for DeMar DeRozan deal, but the jury is still out on who won the trade until we see what version of Kawhi Leonard resides North of the Border for the next nine months … and more importantly, if Leonard's time in Toronto extends beyond the Summer of 2019.
It's impossible to know what Kawhi's mindset is since the man rarely talks, and he apparently laughed for the first time in his entire life just one week ago. He'll likely continue to say all of the right things whenever he's asked about his free agency intentions, and we'll probably continue to hear from some of the most plugged-in insiders that Leonard is LA bound next July. That topic doesn't intrigue me all that much for now. What I'm eager to see is whether what equates to almost an entire year and a half off from basketball changed Kawhi in a noticeably negative way.
If it hasn't — if Leonard is the very same guy who was a 20+ point per game scorer and the best perimeter defender in the NBA by a wide margin — then we're looking at a Raptors squad that can absolutely make the NBA Finals.
The Raptors had the best record in the Eastern Conference last year and they return everyone on that roster, save for DeMar DeRozan and Jakob Poeltl who Masai Ujiri turned into Leonard and Danny Green. It's easy to forget about the sort of regular season Toronto had last year because LeBron and the Cavaliers swept them out of the Playoffs for the second consecutive year in Round 2, but the Raptors were the only team in the league with a Top 5 Offensive Rating AND Defensive Rating. There was nothing fluky about the 59 games Toronto won last year. It's a product of the team Ujiri has built.
On paper, Toronto possesses one of the most versatile and switchable rosters in the league; there are legitimately twelve dudes who could wind up getting important minutes during the regular season. If Leonard truly represents an upgrade over DeRozan (a 2nd Team All-NBA'er last year), and if Kyle Lowry (32 years old now) can remain a decent #2 scoring option, Boston won't run away with the Eastern Conference.
Prediction: 57 wins (Over) and 2nd in the Eastern Conference.
1. Boston Celtics
Last Season: 55-27, 2nd in Atlantic Division, 2nd in Eastern Conference
A View From Vegas: 58.5 wins, -130 to win Atlantic Division, +500 to win NBA Title
Season Outlook: Without arguably their two "best" players, the undermanned Boston Celtics came within minutes of advancing to the NBA Finals last year. There's no shame in falling to LeBron James in the Eastern Conference Finals; for eight consecutive years one very good Eastern Conference team has suffered that fate. The 2017-18 Celtics are the latest to be added to that list.
As a product of LeBron's Westward Expansion, the Celtics have become the undisputed favorite to represent the Eastern Conference in the NBA Finals. But don't be mistaken, this isn't a retread of the 17-18 season for Boston. Last year's Celtics had NBA Title aspirations, but there is no way even the most optimistic internal expectations could've projected that down Kyrie Irving and Gordon Hayward, youngsters like Jayson Tatum, Jaylen Brown and Terry Rozier would be ready for the bright lights that come with Playoff basketball. Without a proven go-to scoring option, the Celtics thrived on an equal opportunity attack that will pay off this year. Tatum, Brown and Rozier were all beneficiaries.
Entering the 2018-19 season, Boston's youngest contributors are now battle tested and the vets on the roster are hungry and (hopefully) healthy. The Kyrie Irving/Jayson Tatum/Gordon Hayward/Jaylen Brown/Al Horford five might be the best equipped group in the league to go toe-to-toe with the vaunted Death Line-Up of the Golden State Warriors, their likely opponent if they were to reach the NBA Finals.
There still may be kinks Boston will need to work out — ya know, the whole "there's only one ball" thing that is an issue about one out of every five times we think it might be a problem — and I think there are a handful of teams in the Eastern Conference being undervalued to varying degrees, but Boston enters the season as the rightful Vegas favorite to win the East for the 22nd time in franchise history.
Prediction: 60 wins (Over) and 1st in the Eastern Conference.