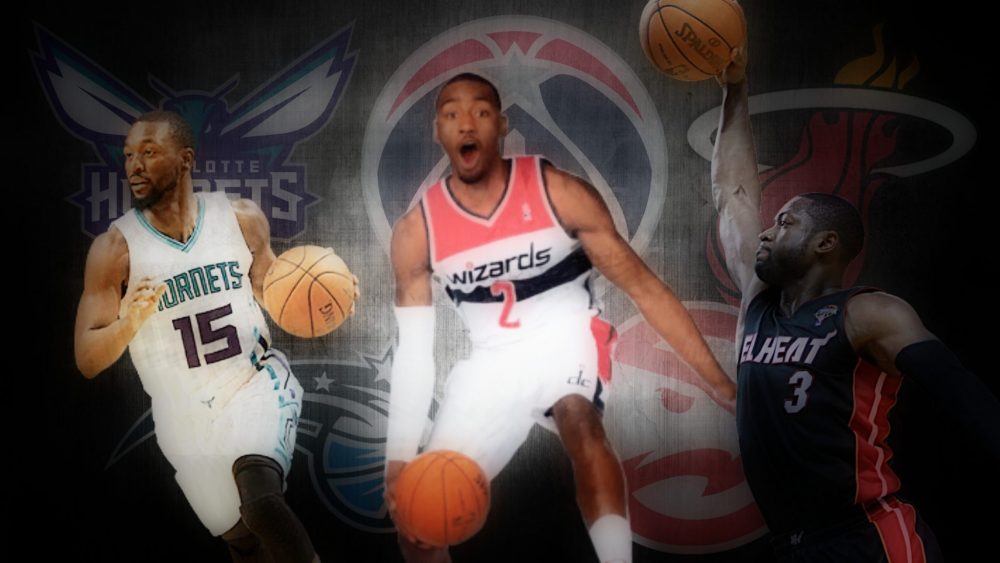 Here on the Handicapping Sports side of Hardwood and Hollywood, we'll be taking a look at all six NBA divisions and advising you not only who you should be betting to win the division, but also whether to bet the over or under on each team's Vegas-assigned win total. All odds are courtesy of Bovada.
October 2nd: Atlantic Division Preview 
October 3rd: Pacific Division Preview 
October 4th: Central Division Preview 
October 5th: Southwest Division Preview 
October 9th: Southeast Division Preview 
October 10th: Northwest Division Preview (DELAYED BECAUSE OF THE JIMMY BUTLER HOSTAGE CRISIS) 
5. Atlanta Hawks
Last Season: 24-58, 5th in Southeast Division, 15th in Eastern Conference
A View From Vegas: 23.5 wins, +5000 to win Southeast Division, +40000 to win NBA Title,
Season Outlook: As a franchise, the Atlanta Hawks have a plan, and regardless of how little that means in regard specifically to the 2018-19 NBA season, or even if you don't necessarily think their objective is achievable, all 7,000 Hawks fans out there can breathe easy knowing that there is both rhyme and reason for everything that their team has done in the last year and a half. Former Golden State Warriors Assistant General Manager Travis Shlenk was named GM of the Hawks in May 2017, and since then the Hawks have undergone a complete and total franchise overhaul.
Paul Millsap, the final piece leftover from a nearly decade long era of Hawks basketball that was both successful and underwhelming, walked in Free Agency without much effort on Atlanta's behalf to keep him. A 24-58 finish in the 2017-18 season ended a 10-year postseason streak, the second longest at the time behind only the San Antonio Spurs. Shortly after the season ended Mike Budenholzer was fired and eventually replaced by Lloyd Pierce, a former Warriors and Cavaliers Assistant, two weeks later. The Hawks selected Luka Doncic with the #3 pick in the NBA Draft and immediately traded him to the Dallas Mavericks for Trae Young.
(Personally, I think June 21st, 2018 will go down as one of the darkest days in the history of the Atlanta Hawks franchise. Trading Luka Doncic for Trae Young could, in my opinion be a move that eventually gets Travis Schlenk fired, but I digress.) 
When the Hawks traded away Dennis Schroder and Mike Muscala in July for nothing but a week with Carmelo Anthony in return, it was a ceremonial White Flag for the 2018-19 season. It's simple: the Atlanta Hawks are not a team that is attempting to be good this year. However, there is a plan in place for the future. Paul Millsap wasn't part of that future; he's going to be 34 in February. Neither was Schroder, a shifty and streaky Point Guard who may never top out as one of the fifteen best players in the league at his position.
Schlenk is swinging for the fences and I respect that. Like I said, I don't love the Doncic for Young swap, but if the Hawks were convinced that Young could be The Guy then they were smart as hell to snag a 2019 1st Rounder from Dallas in the process of selecting him. Schlenk drafted Young and Maryland sharp-shooter Kevin Huerter with the visions of those two becoming Splash Brothers East Coast. One last time, this is incredibly ambitious, but why not shoot your theoretical shot?
The Hawks will be bad this year, because nearly all minutes will be going to kiddos with minimal NBA experience — in this group I include Taurean Prince (who I like) and John Collins (who I am enamored by) — complimentary pieces, and old ass Vince Carter, who was drafted by the Toronto Raptors nearly three months before Trae Young was born.
The Hawks will shoot a ton of threes and get absolutely shellacked on many nights. Be patient. At least that's what Travis Schlenk would advise.
Predictions: 23 wins (Under) and 15th in the Eastern Conference.
4. Orlando Magic
Last Season: 25-57, 4th in Southeast Division, 14th in Eastern Conference
A View From Vegas: 31 wins, +1600 to win Southeast Division, +45000 to win NBA Title
Season Outlook: While Atlanta is entering the second year of an organizational culture change, the Orlando Magic are going into year seven of the post-Dwight Howard rebuild. No, this isn't a misprint. And neither is this: The Magic won more games in Dwight Howard's final three full seasons (170) with the team than they have in the six years since (157).
The Magic have been without direction or even a semblance of a plan for half of a decade now. They've made nine 1st Round selections since 2012 and only three of the players they selected with those picks are still on the roster. Steve Clifford will be their fourth Head Coach in this period, and it's unclear still if he's the long-term answer. The roster is filled holes that are so large, even Mo Bamba couldn't reach from one side of it to the other.
But hey, there's reason for optimism. John Hammond is entering his second year as the Magic General Manager after spending seven with Milwaukee, who is in very good shape at the moment. Even though his five year tenure in Charlotte brought back so-so results, Steve Clifford is well-respected within NBA circles. The Aaron Gordon/Jonathan Isaac/Mo Bamba trio is an interesting one to build around. The upside is high — though we heard about how the Victor Oladipo/Mario Hezonja/Aaron Gordon trio had a high upside too, and now only Gordon plays for the Magic — and the measurables are insane. Someone needs to be prepared to throw a bucket of ice water on Jay Bilas whenever the three share the court.
Whether or not that trio can be as successful as they are long remains to be seen. Even though no snap judgments should be made from this year alone, Gordon, Isaac and Bamba should be Orlando's most commonly used trio this season. Clifford and Hammond need to learn if those three are compatible. If they aren't then this frustrating rebuild will eventually continue.
Prediction: 29 wins (Under) and 12th in the Eastern Conference.
3. Charlotte Hornets
Last Season: 36-46, 3rd in Southeast Division, 10th in Eastern Conference
A View From Vegas: 35.5 wins, +1200 to win Southeast Division, +30000 to win NBA Title
Season Outlook: Even though the Hornets made a handful of changes in the offseason — ranging from securing a veteran Point Guard who looks really fricking weird in a uniform that isn't one belonging to the San Antonio Spurs, to signing a Spurs assistant to become their Head Coach, to bringing in the General Manager of the Shaq/Kobe era Lakers to run the Basketball Operations in Charlotte — it doesn't feel like much has changed in the Queen City.
The Hornets have won 36 games each of the last two seasons, and (spoiler alert) that's how many wins I have them slated to finish with this year too. Whether or not James Borrego and Mitch Kupchak represent upgrades at Head Coach and General Manager respectively remains to be seen; even if those two are the guys who run the show in Charlotte for many years to come, there is a fundamental roster problem that hasn't yet been solved.
For the record, things may be better on that front right away. For the duration of the Steve Clifford era, Kemba Walker was shackled in a conservative offensive system. Borrego will hopefully change this, and ideally Walker will benefit from playing with springier and more versatile running mates. It's easy to envision a Walker sharing the floor and pushing the pace with Malik Monk, Miles Bridges, Michael Kidd-Gilchrist and Marvin Williams; feel free to slot Nic Batum or Jeremy Lamb if you prefer what they bring to the table.
Here's an interesting subplot though: Kemba only has a year left on his deal and rumors circulated last February that he was very available. If Charlotte gets off to a disappointing start, will Kemba once again find himself on the trade block. If so, any fringe contender that could upgrade at Point Guard should consider doing so. Thinking about Kemba on New Orleans, Milwaukee or Denver makes me giddy.
Prediction: 36 wins (Over) and 9th in the Eastern Conference.
2. Miami Heat
Last Season: 44-38, 1st in Southeast Division, 6th in Eastern Conference
A View From Vegas: 41.5 wins, +175 to win Southeast Division, +30000 to win NBA Title
Season Outlook: It's hard to make any major judgment on what this Miami Heat season will look like without knowing if a deal for Jimmy Butler gets done sometime relatively soon. According to Adrian Wojnarowski and a few other NBA insiders, it sounds like the Wolves and Heat got about as close as possible to making a trade without it actually happening. Assuming Butler's talents do end up being shipped off to South Beach, we can expect a season in which Miami pushes towards a top 5 seed in the Eastern Conference.
However, since we don't know for sure that Butler will end up a member of the Miami Heat, my win total prediction reflects a season in which Butler plays in Minnesota or for 28 other franchises that aren't located in South Florida.
The Heat didn't lose anybody from last season or acquire anyone in the offseason who will be a meaningful contributor in the 2018-19 season. They will be treated to an entire season of Dwyane Wade and his farewell tour, and Dion Waiters enters the season healthy (yet reportedly out of shape after missing 52 games last year), but aside from that, this is the exact same group that won 44 games and got ousted in Round 1 of the Playoffs last season.
Even assuming that Butler is off the table, Miami is a prime candidate for a roster shake-up. Waiters could be on the move and Hassan Whiteside may have worn out his welcome in Miami. The Heat have a number of intriguing prospects whom they reportedly are hesitant to part ways with. I wouldn't be one bit surprised if this team looks differently in mid February than they do entering the season.
Prediction: 41 wins (Under) and 7th in the Eastern Conference.
1. Washington Wizards
Last Season: 44-38, 2nd in Southeast Division, 8th in Eastern Conference
A View From Vegas: 44.5 wins, -140 to win Southeast Division, +10000 to win NBA Title
Season Outlook: At the top of the worst division in the National Basketball Association are the Washington Wizards, a team that is actually the perfect encapsulation of what this sorry division is all about. Now it would be easy to suggest that the biggest problem with the Southeast Division, at least ever since LeBron James departed, has been a major lack in high-end talent. This isn't necessarily untrue. Since the 2014-15 season, the only players who remain in the Southeast Division who have made an All-Star Game are John Wall, Bradley Beal, Kemba Walker, Dwyane Wade (who, to be fair, was a legacy pick) and Goran Dragic (who, to be fair, was a replacement pick). But there's a bigger issue than a lack of All-Star or All-NBA caliber talent: The problem has been a complete distrust in the team building process or a complete inability to build a team.
Despite far different circumstances, the Miami Heat and Charlotte Hornets haven't been able put the pieces together to assemble a steady contender in these last four years. Bad contracts and poor roster planning have each team hovering in no man's land. The Orlando Magic were a contender seven years ago, but they traded Dwight Howard and had absolutely no plan for life post-Dwight. The Atlanta Hawks won 60 games in the 2014-15 season and almost immediately cut ties with that group, even after they advanced to the Eastern Conference Finals. They didn't even seriously considering finding a way to improve a 60 win team. Now the Magic and Hawks are two of the worst teams in the NBA.
The Washington Wizards are caught in a difficult spot. They have been more consistent than either the Heat or the Hornets each of the last four years, yet their ceiling was never as high as it was for the Magic or Hawks at their respective recent peaks. After this season, likely one that ends in the final week of April, the Wizards will be confronted with the reality that this roster, as currently constructed, isn't capable of winning or even coming close to competing for an NBA Championship.
The John Wall and Bradley Beal duo has never won fifty games in a season. We were anxious for the Lob City Clippers to blow things up, but at least those dudes were winning fifty or more games consistently. Wall and Beal have never hit that benchmark. There were rumors of tension between the two a few years back; those rumblings were eventually muted, but if you fail to meet expectations time and time again, there will inevitably be finger pointing. I think we're right at that point.
A random prediction: either Bradley Beal or John Wall won't be on the Wizards roster heading into the 2019-2020 season. And I have no idea if that's the right move to make.
Prediction: 44 wins (Under) and 6th in the Eastern Conference.