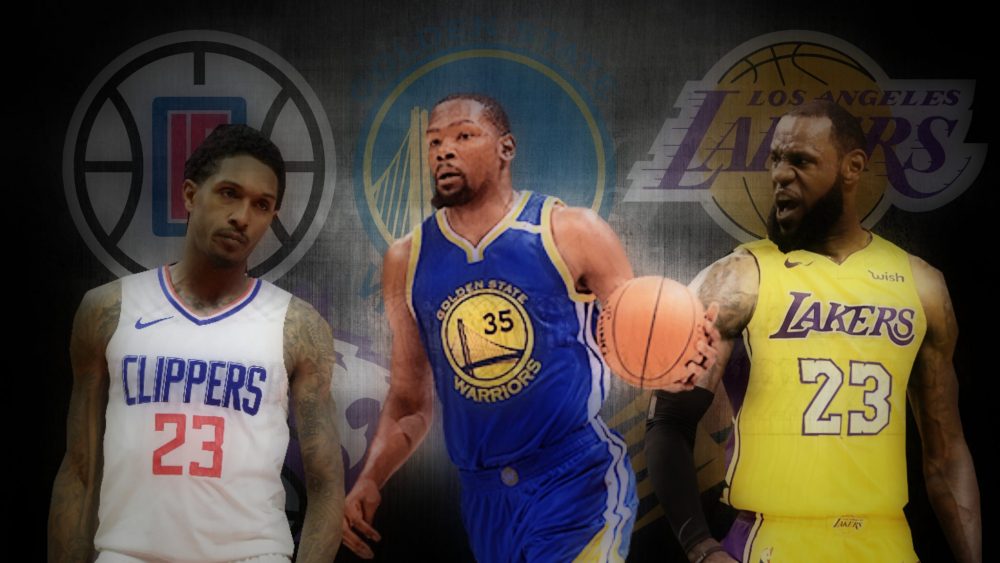 Here on the Handicapping Sports side of Hardwood and Hollywood, we'll be taking a look at all six NBA divisions and advising you not only who you should be betting to win the division, but also whether to bet the over or under on each team's Vegas-assigned win total. All odds are courtesy of Bovada.
October 2nd: Atlantic Division Preview 
October 3rd: Pacific Division Preview 
October 4th: Central Division Preview 
October 5th: Southwest Division Preview 
October 9th: Southeast Division Preview 
October 10th: Northwest Division Preview (DELAYED BECAUSE OF THE JIMMY BUTLER HOSTAGE CRISIS) 
5. Sacramento Kings
Last Season: 27-55, 4th in Pacific Division, 12th in Western Conference
A View From Vegas: 26 wins, +50000 to win Pacific Division, +50000 to win NBA Title
Season Outlook: Sacramento Kings General Manager Vlade Divac made some noise in the offseason when he claimed that his squad was "a superteam, just young." While I admire Vlade's candor and moxie, I can't say that I necessarily agree with his sentiment. Let's just hold off on all superteam distinctions until a .500 record has been reached, shall we? I won't even advise the Kings make the Playoffs before Vlade makes bold claims like this. Win half of your games, cool?
And before we get too excited about the youth movement in Sacramento, I'd like to know for sure that Dave Joerger understands that the Grit and Grind shtick didn't that worked with the Grizzlies in the early 2010's didn't need to be carried over from his time in Memphis. Sacramento was the slowest team in the league last year; they were the only team that didn't crack 95 possessions per game. With a lightning quick point guard, a handful of interesting wings and no shortage of young and athletic bigs, Sacramento should be increasing the tempo and playing faster than at least 25 other teams in the league.
If the Kings pushed the pace and tried winning games just based on hitting a level of effort that some veteran-heavy teams that are surely Playoff bound won't even think about reaching on a random Wednesday night in January, they could slightly surpass their very low expectations. Of course, this is also dependent on the continued development of the younger players the Kings hope can carry them into relevancy in the 2020's. De'Aaron Fox showed glimpses of future stardom last season. Bogdan Bogdanovic was a nice surprise in his Rookie year. Harry Giles III and Marvin Bagley III could make the Kings every Duke fans favorite NBA team if their expectations are eventually reached. I'm still holding out hope that Buddy Hield can find his way.
Predictions: 23 wins (Under) and 15th in the Western Conference.
4. Phoenix Suns
Last Season: 21-61, 5th in Pacific Division, 15th in Western Conference
A View From Vegas: 29.5 wins, +15000 to win Pacific Division, +40000 to win NBA Title
Season Outlook: Phoenix did the small market equivalent of swinging for the fences this offseason; they selected potential franchise Center DeAndre Ayton with the #1 pick in the NBA Draft, they spent a bunch of money on Trevor Ariza in Free Agency, and they traded for Rockets Forward Ryan Anderson. Do these additions move the needle in a major way for the Suns? Absolutely not. But basketball fans can't have it both ways. We can't skewer teams for blatantly tanking for an entire season, but also make fun of small-market franchises that actually try to improve their roster, even if it only leads to a jump from 21 wins to 31 wins.
The Suns were the worst team in the NBA by some of the most vital measures last season. They were dead last in offensive rating, defensive rating, three point shooting percentage, and most importantly, wins. Good health pending, there's no way that Phoenix will be as bad this year; a coaching change was welcome, the roster changes represent an upgrade, and there won't be the same sort of incentive to tank this time around thanks to changes to the NBA Draft Lottery procedures.
By virtue of playing in the Western Conference, the Suns will likely remain one of the bottom-tier teams in the NBA, but they won't be embarrassed on many nights, like they were last year. Devin Booker, coming off of offseason wrist surgery, should be back early on and he'll be scoring in bunches just as he did in 54 games last year (Phoenix was 5-23 in the 28 games Booker missed). There are playable guys at all positions now, and if Josh Jackson and DeAndre Ayton can progress at the same speed Booker has, the Suns will be out of the basement soon enough. Just not this year.
Prediction: 28 wins (Under) and 14th in the Western Conference.
3. Los Angeles Clippers
Last Season: 42-40, 2nd in Pacific Division, 10th in Western Conference
A View From Vegas: 36.5 wins, +10000 to win Pacific Division, +40000 to win NBA Title
Season Outlook: The Lob City Era in Los Angeles is officially in the books, but there's no telling what the mantra of whatever is next for the Clippers will be. The roster is a collection of steady role players and tradeable assets; there's no overly qualified number one scoring option on the roster, though Tobias Harris and Lou Williams can masquerade as such from time to time. Harris and Williams each had career best seasons last year; Harris's 2017-18 campaign was particularly encouraging since he's barely 26 years old. I don't know how this is possible since Tobias Harris has been in the NBA for twelve years now.
A roster similar to this one was able to hang around in the Western Conference Playoff picture until the final couple of weeks of the season last year, and it's possible this version of the Clippers could see similar success if they remain healthy. This of course is a Staples Center sized IF. Patrick Beverley, Avery Bradley and Danilo Gallinari have missed a combined *busting out a calculator* 228 games over the last two years, and if you remove those three from the equation the roster suddenly looks a whole lot thinner.
I wouldn't count on Doc Rivers to be able to rally this ragtag group, but crazier things have happened in the NBA. My guess is that by early February the Clippers will be willing to trade just about everyone on the roster in order to secure more cap space for next Summer.
Prediction: 35 wins (Under) and 12th in the Western Conference.
2. Los Angeles Lakers
Last Season: 35-57, 3rd in Pacific Division, 11th in Western Conference
A View From Vegas: 48.5 wins, +700 to win Pacific Division, +1000 to win NBA Title
Season Outlook: On July 1st when LeBron James announced that he would be signing with the Los Angeles Lakers, the question that everybody was asking was "Well what's the next move?" The assumption was there was no way LeBron would take his talents to Hollywood without reinforcements coming along with him, and while we weren't wrong, nobody expected that those reinforcements would be Rajon Rondo, Lance Stephenson, JaVale McGee and Michael Beasley.
As a very qualified, yet only self-proclaimed LeBron James Career Expert, I can safely say that this is one of the most baffling rosters he has ever played with. LeBron will spend most of his minutes on the floor with former rivals and unproven kiddos who are right around legal drinking age. Even more interesting than his teammates' current status within the league is their prospective fit alongside the greatest basketball of the 21st Century.
Anything more than just a brief look at the breakdown of the Lakers current roster suggests that LeBron James could end up playing a decent chunk of his minutes at Center with shooters and play-makers surrounding him. We're accustomed to seeing line-ups where LeBron is surrounded by 3 and D types — guys who are theoretically supposed to be able to talk advantage of the gravitational pull that LeBron has on opposing defenses — but we've yet to see LeBron embrace being a true "big." We've spent a decade now hoping to see LeBron embrace playing as a nominal Power Forward, and less time hanging out on the perimeter, and this may be the year we see him evolve the most in that way.
We know LeBron is comfortable playing in the post. Ever since his Miami days he's been one of the most efficient post scorers in the league, and last year was no different. On post-up field goal attempts last year LeBron James shot 54 percent, a tidy mark that was superior to that of Kevin Durant, Karl Anthony-Towns, Anthony Davis, Joel Embiid, LaMarcus Aldridge, Kristaps Porzingis and DeMarcus Cousins. Surround LeBron with shooters and an elite offense can be crafted just by entering the ball to him on the block.
The next addition to the offensive arsenal of LeBron James will be as a roll man in pick and roll sets. In the last three years LeBron hasn't averaged more than one possession per game as a screen setter for a ball-handler. If I were a betting man I would expect to see that number increase drastically this year. Luke Walton will put the ball in the hands of Lonzo Ball, Brandon Ingram and Kyle Kuzma and use LeBron as a screener.
These changes will be long-lasting and successful if the Lakers supporting cast can ease the burden LeBron normally carries. If there are severe growing pains, similar to the ones there were in LeBron's return to Cleveland, expect to see a more familiar looking LeBron James-led offensive attack.
Prediction: 50 wins (Over) and 4th in the Western Conference.
1. Golden State Warriors
Last Season: 58-24, 1st in Pacific Division, 2nd in Western Conference
A View From Vegas: 63.5 wins, -2000 to win Pacific Division, -195 to win NBA Title
Season Outlook: The big question heading into the season for the two-time defending NBA Champions is what sort of motivation they have to take this regular season seriously. Golden State's 58 wins last year were the lowest in Steve Kerr's four seasons as the Warriors Head Coach; it was a sign mostly of lack of purpose from October through April, but also that the league may be gradually catching up to the team that is/was light years ahead of the rest of the NBA.
Complacency will be the greatest opponent of the Golden State Warriors during the 2018-19 NBA season. There was no such thing in Steve Kerr's first year with the Warriors back in 2014. The Warriors stormed out of the gate and never slowed down, finishing the season with 67 wins and an NBA Title. The Dubs entered the 2015-16 season with the third best odds to win the championship and a chorus of "Well last year was just a fluke chatter." The Warriors won their first 24 games of the regular season, broke the 1995-96 Chicago Bulls record for regular season wins, and had a 3-1 lead in the NBA Finals. Then this happened …
Ah, good times.
After becoming a summertime punchline, the victims of countless 3-1 jokes, the Warriors entered the 2016-17 season with Kevin Durant and a renewed purpose. 67 wins and a damn near perfect postseason later, Golden State had won a second title in three years.
So what's the motivation this time around? Will DeMarcus Cousins' eventual return from injury/debut for the Warriors push Golden State toward a higher gear? Will Cranky Kev make a push for MVP, Defensive Player of the Year and every other award he feels like he hasn't been given multiple times because he's disliked by the media? Do the Warriors want to reassert how far ahead of the rest of the league they are? Or will they take note from last year and realize that good health and a reasonable amount of rest are the greatest achievements in the regular season?
Prediction: 61 wins (Under) and 1st in the Western Conference.