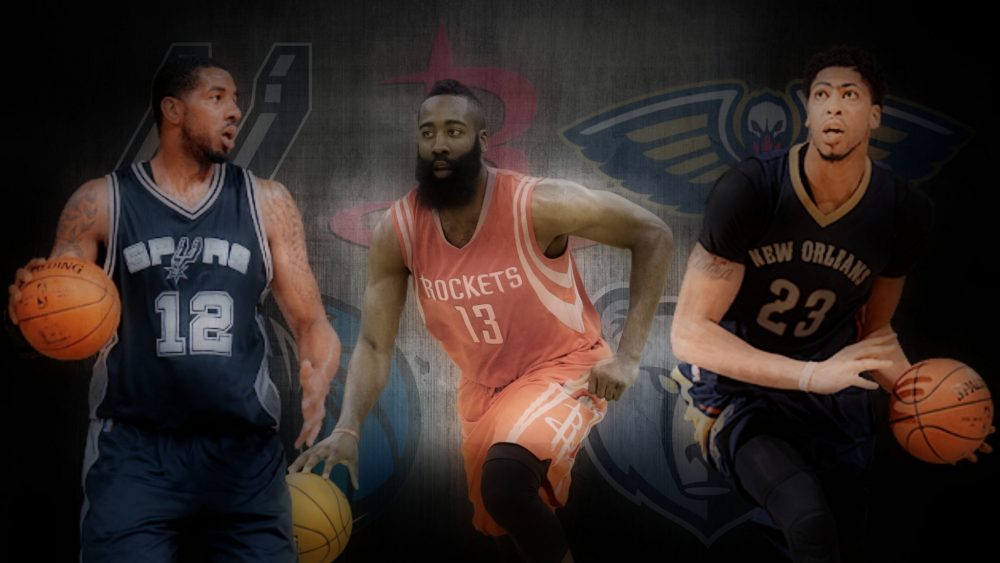 Here on the Handicapping Sports side of Hardwood and Hollywood, we'll be taking a look at all six NBA divisions and advising you not only who you should be betting to win the division, but also whether to bet the over or under on each team's Vegas-assigned win total. All odds are courtesy of Bovada.
October 2nd: Atlantic Division Preview
October 3rd: Pacific Division Preview
October 4th: Central Division Preview
October 5th: Southwest Division Preview
October 9th: Southeast Division Preview
October 10th: Northwest Division Preview (DELAYED BECAUSE OF THE JIMMY BUTLER HOSTAGE CRISIS) 
5. Memphis Grizzlies
Last Season: 22-60, 5th in Southwest Division, 14th in Western Conference
A View From Vegas: 33.5 wins, +6500 to win Southwest Division, +50000 to win NBA Title
Season Outlook: It's no secret that the 2017-18 season was a disastrous one for the Memphis Grizzlies. After making the NBA Playoffs for seven consecutive years, the Grizzlies would have been considered the worst team in the league had a tie-breaker with the Phoenix Suns not gone their way. Though it ended long before this past April, the end of last season marked the end of the Grit and Grind Era in Memphis. What a clunky and dated and magnificent time it was.
It wasn't just that the times caught up with the Grizzlies; Memphis was among the most banged up teams in the league. Mike Conley missed seventy games and Tyreke Evans, the Grizzlies leading scorer, missed thirty. Marc Gasol, Dillon Brooks, Mario Chalmers and Jarell Martin were the only Grizzlies who didn't miss twenty or more games last year. The only place you're going if those four players are your workhorses is to Secaucus, New Jersey on the night of the NBA Draft Lottery.
J.B. Bickerstaff returns as Head Coach after taking over for David Fizdale after Fiz and his glasses and his data got fired after only nineteen games. Bickerstaff will have his hands full while attempting to bring the Grizzlies back to the Playoffs. Even assuming Conley and Gasol can remain healthy all season long, it's going to be an uphill climb to even sniff the postseason. There's reason for optimism about 4th overall pick Jaren Jackson Jr., but the rookie is barely 19 years old. He'll probably be thrown into high pressure situations early — Bickerstaff will likely settle on a Gasol/Green/Jackson rotation in the frontcourt — and not all first year players are net positives early on.
The Grizzlies shored up their wing depth this offseason in acquiring Kyle Anderson, Omri Casspi and Garrett Temple. Those aren't household names but all three guys are playable. Dillon Brooks had a far better Rookie season than anybody realized, and Jevon Carter won't be any worse than a stellar back-up Point Guard. The problem here is Gasol is 33 years old and Conley will be 31 by the time the season begins. Their best days are behind them.
Prediction: 33 wins (Under) and 13th in the Western Conference.
4. Dallas Mavericks
Last Season: 24-58, 4th in Southwest Division, 13th in Western Conference
A View From Vegas: 34.5 wins, +6000 to win Southwest Division, +25000 to win NBA Title
Season Outlook: Listen, I'm already on record as saying that every team that actually passed on drafting Luka Doncic or had the chance to trade up for Luka Doncic but decided against it will regret that decision for years to come. The 19 year old reigning Euroleague and Liga ACB MVP is the biggest Draft sure-thing since Anthony Davis in 2012. It will take about two and half quarters until opposing GM's are having PTSD flashbacks to Draft night. WHY DIDN'T WE DRAFT DONCIC?!?! Luka is going to re-create Lob City with DeAndre Jordan in Dallas. He's going to win Rookie of the Year. And someday he'll win an NBA Title too. I'm sure Skip Bayless probably hates him.
Before my Doncic Fever gets too carried away, let's pull in the reins on this Mavericks season. Although the Dennis Smith Jr./Wes Matthews/Luka Doncic/Harrison Barnes/DeAndre Jordan five is awfully intriguing, there are still depth issues to worry about. Dirk Nowitzki, still armed with a beautifully timeless jumper, is entering his 21st NBA season. I might move better than he does right now. J.J. Barea remains one of the most confounding players in the league — how he gets to whatever spot on the floor he wants and lofts shots up over bigs who are feet taller than him is beyond me — but he's 34 years old. The rest of the bench is largely unproven.
Rick Carlisle will use sorcery to cook interesting things up each night and get more out of this collection of players than maybe any other Head Coach in the league could. Looking at my projected total I feel like I'm low-balling Dallas, but I don't know who above them to take wins away from. If Dennis Smith Jr. makes a substantial leap then I'm definitely too low.
Predictions: 36 wins (Over) and 10th in the Western Conference
3. San Antonio Spurs
Last Season: 47-35, 3rd in Southwest Division, 7th in Western Conference
A View From Vegas: 44.5 wins, +600 to win Southwest Division, +8000 to win NBA Title
Season Outlook: We're in uncharted waters here friends; this is the first San Antonio Spurs roster that doesn't include David Robinson, Tim Duncan, or Manu Ginobili since the 1988-89 season. Shit, even Tony Parker and Kawhi Leonard — the fourth and fifth most important Spurs of the last thirty years — are in different uniforms this year. Patty Mills and Marco Belinelli are the only two players left who were on the 2013-14 Championship team. No offense to Mills or Belinelli, but that's not the way it should've ended in San Antonio. That's like if the final scene of Breaking Bad featured Badger and Skinny Pete.
The rest of the pieces on this version of the San Antonio Spurs are hardly "Spursy" at all, and the days where the Spurs pinged the ball all around the floor for 16 seconds before finally settling on a uncontested look are in the past. The Beautiful Game is no longer … say hello to mid 90's basketball at it's absolute finest (and most frustrating).
For San Antonio to make the Playoffs for the 22nd consecutive year, a feat that would break the current NBA record held by the (wait for it) Portland Trail Blazers, LaMarcus Aldridge and DeMar DeRozan will have to be singularly excellent. Aldridge led the league in post touches per game last year with just a shade under 14 per contest. DeRozan is two years removed from leading all Shooting Guards in both post touches and isolations per game. It goes without saying, but I'll restate the obvious: DeRozan and Aldridge are both accustomed to playing with the ball in their hands.
To really maximize the potential of this Spurs season, Aldridge and DeRozan will have to fast-track the process of developing a pretty healthy chemistry. Dig into the numbers and you'll see that it's a partnership that could work. Aldridge wasn't exclusively working on the block last year. He was 10th in the league in possessions spent per game as the roll-man in Pick and Roll action. This has been the case in each of Aldridge's three seasons with the Spurs. Contrarily, DeRozan was the only player in the league who averaged at least five possessions as a Pick and Roll ball-handler that scored on at least 45 percent of those plays AND forced shooting fouls on a higher percentage of those plays than he committed turnovers.
The Spurs could lean on this DeRozan and Aldridge-centric offense and manage throughout the regular season. Sprinkle in enough shooting around those two and the Spurs should safely keep their postseason streak in tact. The problem once they get there will be the same one they've had for four years now … can they reach another level once the Playoffs begin?
Prediction: 45 wins (Over) and 8th in the Western Conference.
2. New Orleans Pelicans
Last Season: 48-34, 2nd in Southwest Division, 6th in Western Conference
A View From Vegas: 45.5 wins, +760 to win Southwest Division, +12500 to win NBA Title
Season Outlook: In February of 2017 the Pelicans went all-in on a trade for polarizing Sacramento Kings Center DeMarcus Cousins. It's an understatement to say the least that this was a bold move. When the rest of the league was zigging (playing small-ball) the Pels decided to zag, mortgaging future assets for a temperamental pseudo-star who had never won anything. The Pelicans took a shot on a possible chemistry nightmare, and they also embraced bully-ball in a time when most two-big line-up's would get run off of the floor.
Even though expectations were tempered, the Davis and Cousins experiment was still mostly underwhelming. Each of these two Kentucky Wildcat behemoths put up monster numbers, but before Cousins' achilles tear last year the duo was only 4.2 points per 100 possessions better than their opponents. That's not the kind of output you look for from the duo that is supposed to lead you into the next decade. In early February when Cousins was lost for the year, the Pels slim chances to make the Playoffs seemed to dwindle even more. After all, Boogie was playing the best basketball of his career and had been selected to the NBA All-Star Game.
Instead of falling apart, the Pelicans again zagged. Anthony Davis was unleashed, reaching a level of all-around brilliance that only a handful of players in league history ever have. The Brow averaged 30 points, 12 rebounds, 2 steals and 3 blocks per game after Cousins went down … I had him second on my MVP ballot. Equally important was the fact that the rest of the roster fell into place, and New Orleans ended up steamrolling Portland in Round 1 of the Playoffs.
There's no dispute that DeMarcus Cousins is an immensely talented basketball player. It's also impossible to dispute that after Cousins was injured Davis became the clear-cut alpha dog, Jrue Holiday's transition into the number two scoring option was silky smooth, and Nikola Mirotic proved to be the ideal number sort of frontcourt player to slot alongside AD. As a trio, Davis/Holiday/Mirotic outperformed Davis/Holiday/Cousins pretty significantly.
That trio remains, and though the Pels aren't super deep, there are just enough capable bodies to make me feel good about New Orleans's outlook this year. Julius Randle is criminally underrated and coming off the best season of his career. He's going to do very well playing next to either Davis or Mirotic. Elfrid Payton has Rajon Rondo Lite potential. E'Twaun Moore made it rain from three last season.
And most importantly: Anthony Davis is primed for his first MVP season.
Prediction: 47 wins (Over) and 6th in the Western Conference.
1. Houston Rockets
Last Season: 65-17, 1st in Southwest Division, 1st in Western Conference
A View From Vegas: 55.5 wins, -450 to win Southwest Division, +850 to win NBA Title
Season Outlook: It's always interesting to see how a team responds after a particularly brutal Playoff exit the previous season. In Houston's case, it had to be gut-wrenching to watch the Warriors outclass the Cleveland Cavaliers in the NBA Finals when they had eventual champions on the ropes in the Conference Finals, only to lose because Chris Paul strained his hamstring at the end of Game 5 and because the Toyota Center turned into a frozen tundra for the Rockets in Game 7.
Back in late February I actually had the courage to pick Houston to win the NBA Championship, but this wasn't just because the Rockets were on the verge of posting the 10th best Offensive Rating (points per 100 possessions) in NBA history. Instead, I looked at the Rockets drastic improvements defensively (6th in the league in Defensive Rating!) and saw a team that could both out-defend and out-shoot the Golden State Warriors on any given night. If you aren't capable of doing both of these things, you aren't beating Golden State in a seven-game series. Houston was the only team in the league last year good enough to do that.
This year, I'm not so sure. Losing two switchy/versatile defenders like Trevor Ariza and Luc Mbah a Moute is going to hurt. Slotting a turnstile like Carmelo Anthony into one of those forward spots doesn't help matters defensively. The Ariza/Mbah a Moute/P.J. Tucker trio was a big reason why I was convinced the Rockets were better than the Warriors. I stand by that pick and truly believe they would've gotten the job done if it weren't for Paul's injury. I won't go out on the same limb this year though.
The Rockets will win a bunch of games and they'll once again push towards a top ten all-time Offensive Rating — the 2016-17 Rockets are 11th on that list, one spot behind last season's Rockets team. Even though they'll be at the top of the league offensively, this isn't your father's Mike D'Antoni offense; they won't be outpacing the rest of the league like the Seven Seconds or Less Suns teams were. The Rockets played at only the 13th fastest pace in the league, and post All-Star Break they were one of the slowest teams in the league. D'Antoni was smart enough to recognize that building an iso-heavy offense around the two most efficient iso players in the league qualified as a savvy coaching decision.
That won't change this year. Paul and Harden will still break down defenses with the dribble and score at will. There are plenty of shooters to kick out to and Clint Capela, re-signed this Summer on a five year deal worth $90 million, will be dying to convert lobs into dunks. Where and how often Carmelo gets his shots remains to be seen. I'm hopeful that this is a better situation for Carmelo than Oklahoma City was, but I'm not counting on it.
Prediction: 56 wins (Over) and 2nd in the Western Conference.