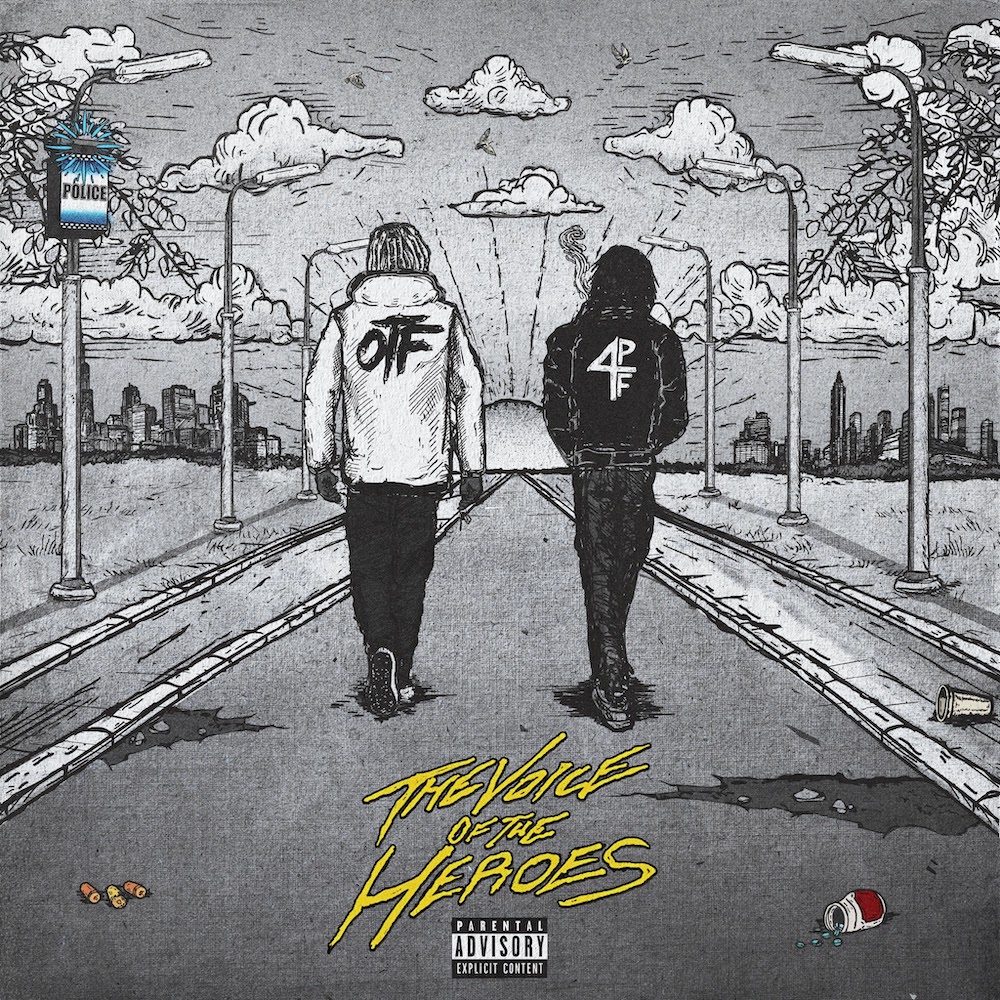 Two rappers of the mainstream world come together to make an album that has been highly anticipated for the past few months. That would be Lil Durk and Lil Baby coming together to make The Voice of the Heroes, an album that they respectively pushed back a week for the release of DMX's Exodus. Chicago and Atlanta's sound come together to create another collaboration album between these two artists. Lil Baby's and Gunna's Drip Too Hard was a solid project that solidified a solid 2018 summer of rap music. Lil Durk also has a collaboration album with Tee Grizzley back from 2017. Bloodas was an underrated album four years ago but generally looked over when talking about the best albums during that year. The Voice of the Heroes had some quiet hype before its release but a highly talented track on paper.
Breaking down the actual album, there are fewer features than expected considering there are 18 tracks that total around an hour of music. But the features included aren't bad at all. The list includes Travis Scott, Meek Mill, Young Thug, and Rod Wave. I also thought it was hilarious that Brooklyn Nets player, James Harden, was named an executive producer for this album due to some of the tracks being recorded in Harden's home studio. I would be curious to see how much Harden actually helped on the album or if it is more of a symbolic tribute since Lil Baby and Harden are known to be good friends. Breaking down the tracks, Voice of the Heroes and 2040 were well-made tracks. Lyricism and production were both fire and this is where I felt that the album was most well rounded. Things start to decline with Hats Off and Who I Want. These tracks came in with a typical trap beat and Lil Baby and Lil Durk seem to put verses together that don't seem to flow back and forth. It's almost like these were meant for different tracks and they were just put together.
I also didn't think the Travis feature was anything special. His voice with the auto-tune didn't pop out as much as it usually does on the album and only continued to trend in this direction till Please. I was glad to see that some other genre elements were included on another track on this album. I enjoyed the R&B components incorporated throughout the entire song. But unfortunately, not much variety was included throughout the rest of the album. I thought the rest of the features were only decent as well, despite being big names. Unfortunately not many of the other tracks have all these elements peaking at the same time. There were many tracks where the lyricism was top tier but the production was mediocre and vice versa. The rest of the album eventually hit a point where it all started to sound the same.
Overall, I would give this album a 4.8/10 with my favorite tracks being Voice of the Heroes and Please. I felt the production was much better on The Voice of the Heroes but the duo's lyricism and creativity has stayed about the same as prior albums. Some have pointed out that Lil Baby's flows on these tracks are nearly identical with some from his prior albums, as recent as My Turn that was released in early 2020. Lil Baby especially has done a better job at proving his versatility with his lyricism. He really showed that on Drake's Wants and Needs and J Cole's p r i d e . i s . t h e . d e v i l. I wouldn't call this a regression for Lil Baby, but there isn't anything throughout this album that shows any advancements in his musicality. Nonetheless, this album still fits the definition of "mid", a project that isn't garbage but a project that doesn't bring anything new or better to the hip-hop/rap genre.