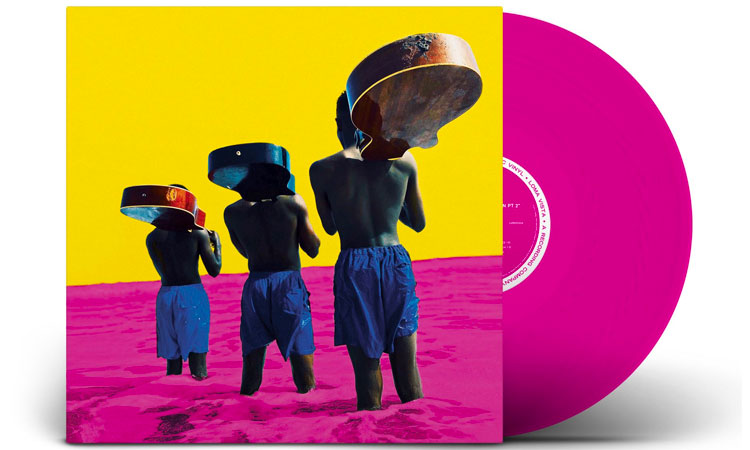 Lonnie Lynn, known professionally as Common, is back with the 12th studio album of his legendary career, A Beautiful Revolution, Pt. 2. A follow-up to 2020s A Beautiful Revolution (Pt 1), Common's latest project carries with it some high expectations, thanks in large part to the beautiful works of art Common has released throughout his career. From his breakthrough 1994 album Resurrection to his Kanye West assisted 2005 masterpiece Be, Common has been producing high-quality music for just under 20 years, which creates a high bar for all of his projects to reach.
The guest list for Common's latest project is quite similar to his 2020 EP with the same name, as both projects contain a guest verse from rap legend Black Thought, and a healthy helping of singer PJ (she has five guest appearances on Pt. 2 and six on Pt 1). Even with all of the guests on this project delivering solid performances, this album was a bit disappointing to me, as while I wasn't expecting another Be-level masterpiece, it fell short to me in a few areas. One of these was production, as while some tracks had really strong instrumentals (Imagine and Get It Right, to name a couple), some of the instrumentals felt a bit out of place on this record, and even annoying at times.
After hearing a spoken-word intro, the first track, A Beautiful Chicago Kid, has an instrumental that just feels like it's trying to do way too much. With a strummed guitar loop, and two different sets of drums, this beat just gets annoying as the song goes on since the drum patterns clash directly with one another. Another instrumental that felt out of place was on the song Poetry, where a blues-sounding beat feels like it should be crooned over rather than rapped on. The song Star Of The Gang has a similar issue to the first track on this album, as the drums don't match Common or the other sounds on the beat, which creates a song that never really finds its rhythm. While the rest of the tracks on A Beautiful Revolution, Pt. 2 have solid production, these three tracks either don't seem to belong on this record or struggle to find a consistent rhythm throughout.
One major bright spot on this record is the aforementioned features. Black Thought delivers a strong verse on When We Move, Brittany Howard sings a gorgeous hook on the slow jam Saving Grace, and both of the guests on the spoken-word intro and outro (Jessica Care Moore and Morgan Parker) read touching poems that bookend the album. However, the star of this whole record (yes, even over the artist who made it) was easily PJ to me. Before listening to any Common record, I had never heard of the LA-based singer and songwriter. After listening to this album, though, it became clear to me how talented PJ is. PJ delivers fantastic vocal performance after fantastic vocal performance on every song she is featured on and often steals the show from Common. My favorite feature from her has to be on the song Imagine, where she sings a beautiful hook that was stuck in my head for days on end.
Speaking of Common, another disappointing part of this album was Common's rapping throughout. While Common's rapping was good, I never felt like it was top-tier rapping, which is what Common has displayed time and time again throughout his career. So, even though his rapping was nowhere near bad, it felt like Common could've spit bars at a higher level on A Beautiful Revolution, Pt. 2. One song I enjoyed Common rapping on was the "closer" before the spoken-word outro, Get It Right, as I felt like Common meshed well with the instrumental and brought more energy than any other song on this project.
While it felt like this album struggled to find its identity and footing for the majority of the 38 minutes, I think the last two tracks, Imagine & Get It Right, were fantastic. These were easily my two favorite tracks on the project, as the strong PJ hook and instrumental on Imagine sounded well-done, and the sample on Get It Right gave Common the best beat on the project, and he provided his strongest verses on the project. So, I think that if this album was built similarly around these two tracks, it would've been a much better project as a whole.
Even though A Beautiful Revolution, Pt. 2 had some very high moments that saw great production combined with Common rapping at a very high level, these high moments were simply few and far between. Strong feature performances and the previously mentioned high points don't fully make up for the inconsistent production and a slightly lower level of rapping that Common displays. If you're a big Common fan, I'd still say you should check this album out, but if you're new to Common's music, there are far better places to start in his legendary discography. I'd give this album a 6.5/10, and I'd put it near the bottom of Common's discography.