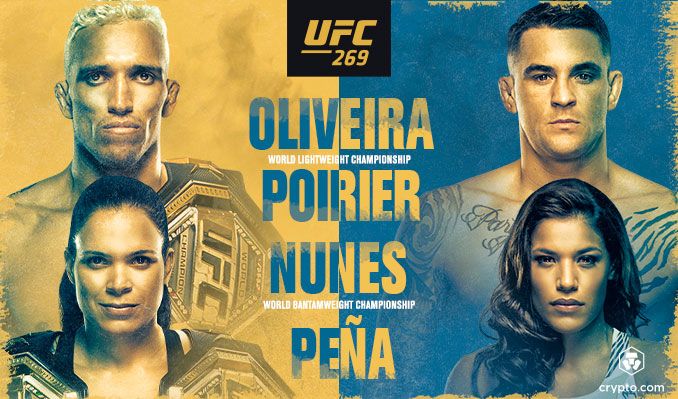 The UFC returns with its final pay-per-view card of the year in the familiar city of Las Vegas, Nevada at the T-Mobile Arena. Headlined by a long-anticipated title fight between Charles Oliveira vs. Dustin Poirier, there are plenty of familiar names all the way down to the early prelims. Submission specialist, Ryan Hall, makes a quick return after suffering his first loss in the UFC. His match comes against Darrick Minner, who has almost 40 professional fights. Andre Muniz and Erik Anders also square off in a middleweight showdown that should be filled with fireworks. The prelims are stacked top to bottom with a heavyweight banger between Tai Tuivasa and Augusto Sakai. Legend Dominick Cruz continues to defy father time as he's set to fight Pedro Munhoz. Josh Emmett also makes his return since June 2020 against Dan Ige. The early prelims start at 6:00 pm EST on ESPN+ and the prelims begin at 8:00 pm EST on ESPN2. Let's get into these main card predictions.
Previous Prediction Record: 26-11
Raulian Paiva vs. Sean O'Malley
The unranked champ makes his return against an unranked opponent. But that's no shot against his opponent Raulian Paiva. A former flyweight, Paiva has revived his career after back-to-back losses. He's won three straight fights thanks to his consistent grappling against Kyler Phillips and Zhalgas Zhumagulov. He'll have to rely on that in this fight. But everyone knows Suga Sean is going to come out with his gun-blazing style. I don't think that Paiva has the power and technicality to keep up with O'Malley. Basically, making him unable to knockout, this is an uphill battle for him already. Paiva's best chance is that Suga lacks experience in the grappling game. I expect O'Malley to finish this fight the victor, speaking to yet another reason why he needs to fight a ranked opponent.
Prediction: O'Malley by KO/TKO
Kai Kara-France vs. Cody Garbrandt
The flyweight debut for Cody Garbrandt is certainly interesting. He knocked out all the questions about actually making weight, which is extremely important considering fighters like Alex Perez thought he would never fight at flyweight. But he's here, and he has a very tough test in front of him. Kai Kara-France is the No. 6 contender in the flyweight division and is 3-2 in his last five fights. His heavy hands have earned him 10 knockouts, including a first-round knockout against Rogerio Bontorin in March. But Garbrandt comes into this fight with a decent height advantage and a resume of his own. Despite a slow-moving end to his Bantamweight career, this seems to be a fresh start and a new motivation. He showed a decent performance against Rob Font, but I don't think Kara-France shows the same level of elite striking as Font. I see Garbrandt earning another finish to his already long list of names. He'll also quickly establish himself as a flyweight contender.
Prediction: Garbrandt by KO/TKO
Geoff Neal vs. Santiago Ponzinibbio
Suffering his first loss against Li Jingliang after a three-year layoff, Santiago Ponzinibbio, won a hard-fought battle against Miguel Baeza. He has shown a lot of inspiration after his layoff and that he hasn't lost a step. His effective and specialized striking can cause problems for anyone in the division. He faces "Hands of Steel", Geoff Neal, who has lost back-to-back fights after a seven-fight winning streak. His losses came against Stephen Thompson and Neil Magny. Neal's biggest issue actually has nothing about his fight game as he was recently arrested for DUI and a weapons charge only 16 days before the fight. It is a major distraction no matter how serious the crime actually is. I think it throws off his momentum to rewire his career and this was already an extremely close fight to begin with. Ponzinibbio is at a new height in his career and I expect that to only get higher after this win.
Prediction: Ponzinibbio by Unanimous Decision
Amanda Nunes vs. Julianna Pena
There shouldn't be much debate on this fight. Amanda Nunes is one of the greatest fighters in the sports period, regardless of gender. She holds records that no one will likely beat. She's the first in the UFC to defend two belts as a double champ. She continues that journey today against Julianna Pena, who basically talked her way into a title fight. Pena has won three of her last five and is on a one-fight winning streak.  There is not much to say about her and her opportunities to win this fight. The best argument is that this is Nunes' first fight in Bantamweight in two years and the weight cut and COVID battle she faced could make Nunes' cardio an issue. Nonetheless, I think this will be another dominant win from Nunes and only more of a reason for the promotion to set the trilogy between Amanda Nunes and Valentina Shevchenko.
Prediction: Nunes by KO/TKO
Charles Oliveira vs. Dustin Poirier
Two of my favorite fighters come together in an important title fight to establish a new legacy left behind by Khabib Nurmagomedov. Charles Oliveira already won the belt against an undeserving Michael Chandler. Now on a nine-fight winning streak, Oliveira's story of having 27 fights in the UFC before his first championship bout conveys more than enough motivation. But Dustin Poirier's story also speaks volumes. Dustin has had 26 fights in the UFC and recently capped off his biggest win against Conor McGregor. But when breaking down recent opponents, it's hard to judge the talent level that McGregor still has. The first round of the trilogy was also much closer than expected. Oliveira, on the other hand has proved to be devastating with his submission game, but Poirier is more than aware of the dangers Oliveira presents. I do think Poirier will have a striking advantage. However, as tough as it is to say, I think Oliveira is going to pull some tricks out of his bag to get this done on the ground, creating a new legacy in the lightweight division. But this fight could very likely go either way and I would not be shocked at all if this was a legendary Poirier performance.
Prediction: Oliveira by Submission