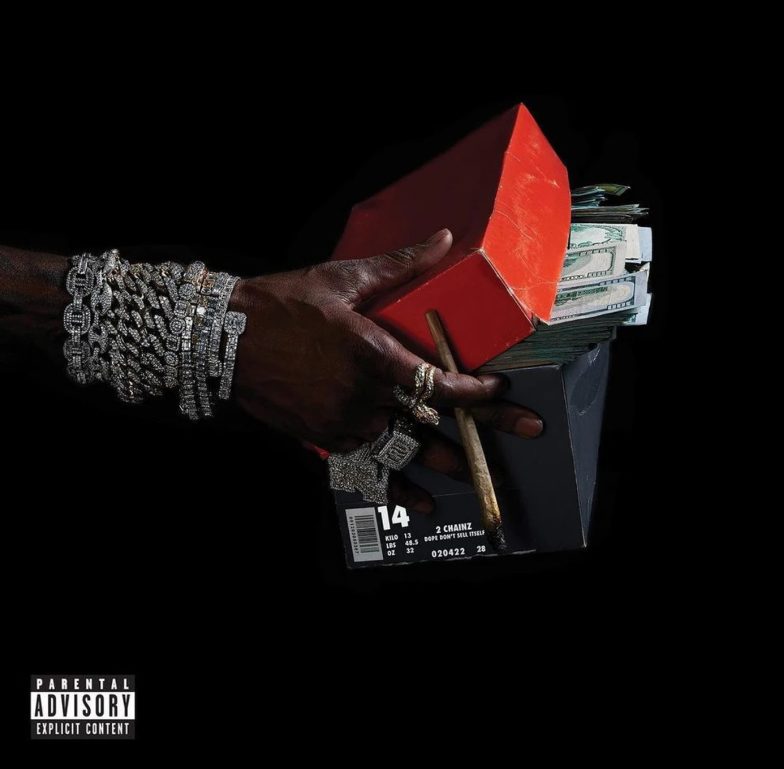 Tauheed Epps, better known as rapper 2 Chainz, returns with his seventh studio album Dope Don't Sell Itself. Following his solid 2020 release, So Help Me God!, 2 Chainz comes out with a shorter album (especially for today's trap music) that sits at 12 tracks and 33 minutes. Even in its short runtime, Dope Don't Sell Itself is filled with trap's biggest names; Roddy Ricch, Lil Baby, Lil Durk, YoungBoy Never Broke Again, and Swae Lee all appear throughout this album. Even though I was a fan of So Help Me God!, I was a bit concerned with how this project would turn out, and a big reason for that was the disappointing lead singles. The two songs 2 Chainz released before the album, "Pop Music" and "Million Dollars Worth of Game," felt lackluster and disappointing to me, and while the album was better than I expected after hearing these singles, I still felt like 2 Chainz took a step in the wrong direction on this project.
The album opens with the track "Bet It Back," which sees 2 Chainz rapping over an instrumental sounding like it was plucked straight from a retro video game. While the instrumental is really compelling, it felt very basic at the same time in terms of the drums and the 808s behind the video game-sounding sample, and 2 Chainz didn't really stand out with his bars on this one. Nonetheless, still a solid opening track, but the album's next track was a forgettable one. "Pop Music" features a very bland, basic instrumental, and the rapping by Chainz and guest Moneybagg Yo don't add much to save this song. This was easily one of the worst tracks on the project, but the album's next track more than made up for it.
From the second "Kingpen Ghostwriter" starts, you can tell that the beat is special. It's hard to disagree with 2 Chainz when he says "This shit hard, Buddha," as the booming drums and menacing beat instantly catch your attention, and the fantastic flows from 2 Chainz and Lil Baby make this track an instant highlight. "Outstanding" follows this track, and even though I really like the 2 Chainz verses and the beat, I think the Roddy Ricch hook really holds this track back. While it's not a bad hook, I just wish he would've put more energy and feeling into the hook, as it feels quite lifeless to me. Even with the poor hook, however, this is still a good song, as 2 Chainz fits really well with the production. The next two tracks on this project are two of the worst moments on Dope Don't Sell Itself, as both of the instrumentals felt very bland and low-effort, and the guest verse from 42 Dugg on "Million Dollars Worth of Game" was very abrasive on the ears.
After the very hit-or-miss first half of this project, the second half felt like a big step up in terms of consistency and guest verses. "Free B.G." kicks off the second portion of tracks, and the energy from 2 Chainz meshed well with the enchanting instrumental heard on this short song. Following this song, "10 Bracelets" features a solid guest verse from YoungBoy Never Broke Again, and "Lost Kings" contains even more satisfactory guest performances from Lil Durk and Sleepy Rose.
The trend of good guest appearances continues on the track "Caymans," as Swae Lee is found all over this song. Yes, Swae has a really good feature verse, but he also provides some ethereal background vocals and some perfectly placed adlibs throughout the track, cementing him as one of the best guests on this whole project. However, another highlight of the album follows this song, as "Vlad TV" is full of strong guest verses. Major Myjah delivers a great sung chorus, and Stove Good Cooks and Simba lay down some solid bars over the looped vocal sample heard in the instrumental. Capped off by another good 2 Chainz verse, this track is easily one of the best posse cuts of the early year. Dope Don't Sell Itself finishes off with "If You Want Me To," where the vocals from guest Jacquees complement the laid-back vibe and 2 Chainz's bars really well. This song feels like a really good close to an album that seemed to find its footing as it went along.
While I felt like the latest 2 Chainz project definitely found its footing as it went along, the shaky first half really weighed this album down to me. The production felt very hit or miss, with songs like "Kingpen Ghostwriter" and "Vlad TV" having fantastic beats, and songs like "Pop Music" and "Neighbors Know My Name" having bland and boring beats. The features were mostly solid, particularly in the second half, with some great vocal performances from Jacquees and Sleepy Rose, as well as some interesting guest verses from Stove God Cooks and Lil Baby. All in all, this album felt like a step backward for 2 Chainz, especially considering the consistency found on his previous project. I'd probably give this album a 6/10, with my favorite tracks being "Kingpen Ghostwriter" and "Vlad TV." While the highs were some really good tracks, the lows and the lack of variety from 2 Chainz's verses really kept this album from reaching its ceiling. Here's hoping 2 Chainz can bounce back and deliver another really good project with his next release!