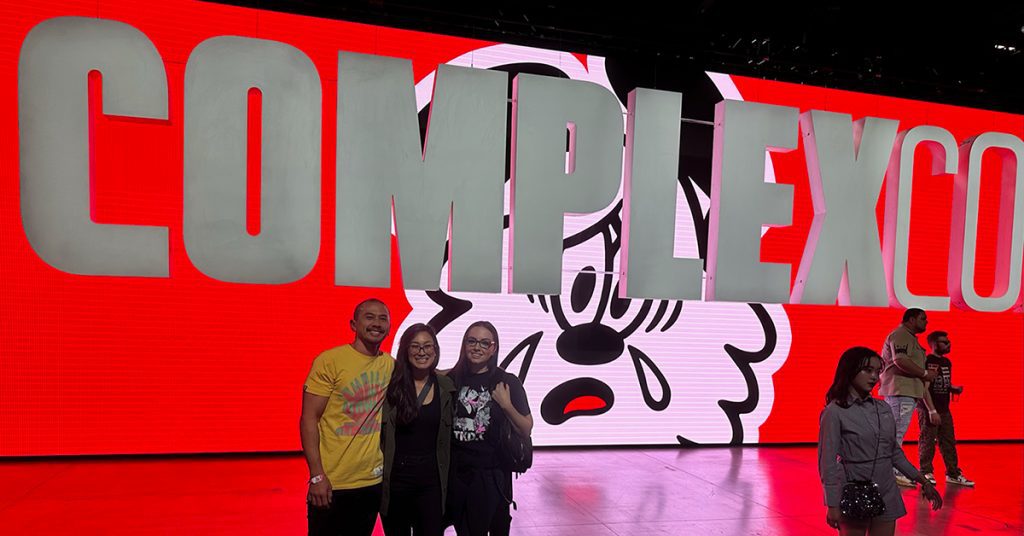 ComplexCon 2022 in Long Beach, California was a playground of fashion, pop culture, and food. As the escalator descends to the main floor, you're hit with waves of prismatic brands all showcasing their versions of the truth through artistic expression. It's as if you're stepping into–and becoming a part of–an art piece in constant flux (if you think about it, we always are, but it's more evident at events like this). A dizzying experience initially? Yes, but with the bass bumping at the Pigeons & Planes stage, the Good Trill Hunting scavenger hunt, incredible drops and collabs, and tasty grub, it became an adventure. 
Hosted by renowned designer Verdy, ComplexCon featured the first-ever Eat Your Feed Fest, ComplexCon(versations) with the likes of T.I., Pusha T, and Clipse, and meet-and-greet opportunities with everyone from Sean Evans to Vince Staples. Not to mention, there was a little film called Creed III that had a panel as well. Ending the weekend was a surprise on-floor appearance from Kanye West, as well as a jam-packed concert headlined by NIGO. 
So, what were the highlights from ComplexCon 2022? It depends on who you ask. But since you're reading this, I'll give you my take. 
Creed III Panel With Michael B. Jordan 
Arguably the biggest panel there was for Creed III, which is starring and directed by Michael B. Jordan. Joining Jordan was co-star Jonathan Majors, a tremendous talent in Hollywood who has done some amazing work in Lovecraft Country, The Harder They Fall, and Spike Lee's Da Five Bloods. Jordan is no stranger to ComplexCon, as he's promoted the other films in the Creed franchise here before. 
Jordan explained what he brought as a director to the third Creed film in the franchise.
"I just wanted to make it as honest and real as possible to the experiences that we're having as young men in our lives with our relationships, with our brother, with our family, things that I was personally going through with my life that I wanted to reflect through this film. I really wanted to show a part of Adonis that the world hasn't had a chance to see yet," Jordan said.
Majors discussed his process for finding his character and how he shaped him to be a formidable villain for the protagonist. 
"I'm dealing with Creed. And I'm dealing with Creed at his highest level. I kind of worked backwards, and was like, okay, what kind of relationship do I need to have with Creed to get the most out of Creed because if we get the most out of Creed, we'll get the most out of the baddie," Majors explained. 
The panel ended with Michael B. Jordan telling us to look under our seats. All of us found a pair of custom Grant boxing gloves autographed by the actors. And then I woke up. Truth: ten people found tickets to the premiere of Creed III and were invited to the stage for a photo opportunity with the stars.Unfortunately, I wasn't one of them and didn't get a chance to update my 2013 photo with Jordan. However, I will be getting my Creed III ticket the moment it goes on sale. 
Eat Your Feed Fest
The food spots at Eat Your Feed Fest were more than your average munchie meals. From beef empanadas at Carmen's empanadas to the KFC Sando at Chimmelier, everything hit the spot. The rule is that when the food tastes good whether you're sober or not, you know you have something special. Through extensive taste tests throughout the weekend, I can claim that all the food I consumed at the fest–a sample of at least 7 items–was second-helping worthy. 
If you are a fan of Hot Ones, not only were they giving away some delicious boneless chicken wing bites in cones, Sean Evans was making his rounds. Amiable as ever, Evans was at the Espolon Tequila bar making a Hot Ones x Espolon signature margarita. He was also spotted at the Hot Ones x Shake Shack collaboration. As he was making margs for his fans, it was time for them to ask him some solid interview questions.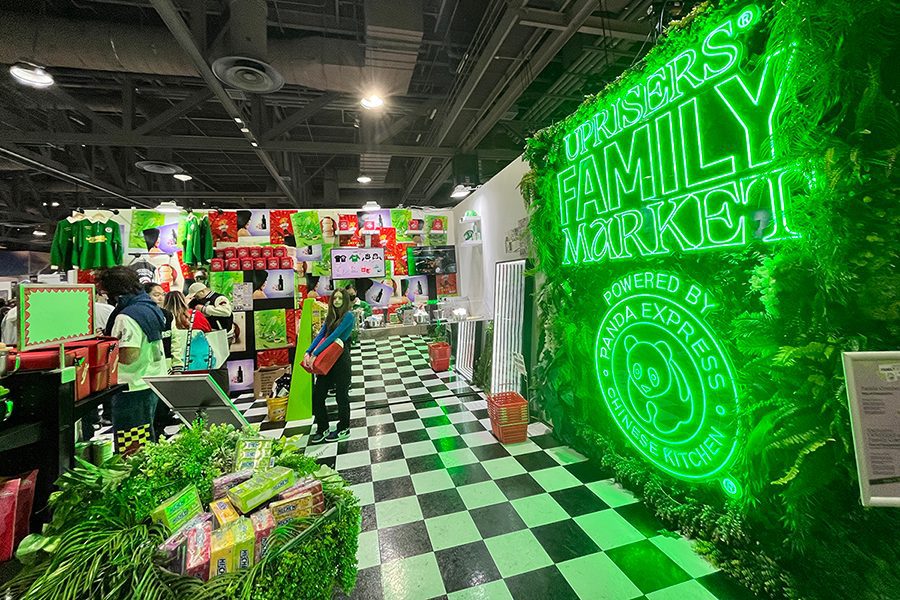 Good Trill Hunting & Giveaways 
Good Trill Hunting was back for this year's ComplexCon, giving a chance for guests to collect some rare loot. If you chose to go on this side quest, you simply had to visit the booths marked on the map. Each booth had a limited amount of loot to give out for the day. Without a doubt, this made walking the floor more fun, as you tried to grab all the freebies. Let's face it, we're all suckers for free loot, so keep it coming for next year! 
As per my previous statement, giveaways are good. But, it's even better when they're quality goods. At any convention, tote bags are big–and ComplexCon was no different. Hot Ones, Vandy, and Topps had some of the best tote bags in the biz. Vandy's silver stallion of a tote bag will turn heads at any grocery store. However, the Nike FC experience, which you needed to make reservations for, was the best giveaway. At this station, you were given a blank Nike soccer jersey and could choose the name, number, and Verdy designs to go on it. Hands down, this was the winner for me. 
Special Guests on the Main Floor 
If you skipped over Ye's name drop earlier on, here's a reminder. Kanye West strolled through the main floor of ComplexCon unannounced. As you'd expect, people on the floor went wild. Ye's surprise showing at ComplexCon comes after a tumultuous period for the artist, as he recently lost most of his professional partnerships, including Foot Locker, Adidas, and Balenciaga. However, Ye wasn't the only one who made a surprise appearance. Los Angeles Lakers point guard Russell Westbrook hit the main floor as well. Fans got some face-time with him, although it wasn't too surprising that he was there since he's a Long Beach native and known for being a streetwear fashion fan. 
Also on the floor were some scheduled appearances from the likes of Vince Staples and Angus Cloud. Staples was at the SUPERPLASTIC booth doing meet-and-greets with fans and even signing merch. Cloud, who plays Fez on the Emmy-winning TV series Euphoria, briefly stopped by the Rockstar booth to debut a new collaboration with Rockstar Energy and Billionaire Boys Club.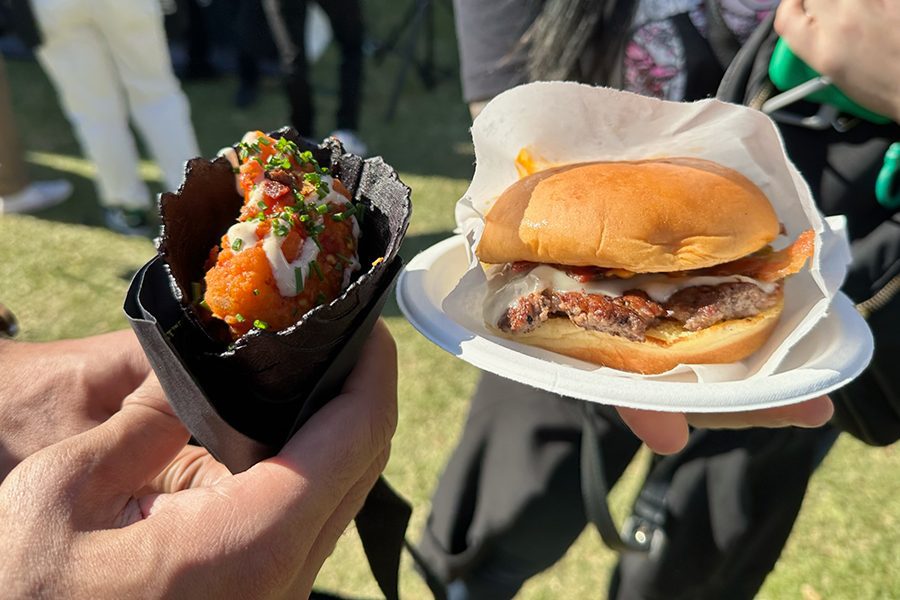 ComplexCon 2022 was one for the books. If you haven't been and you're into streetwear fashion, pop culture, or food, I highly recommend the experience. The hype is real.