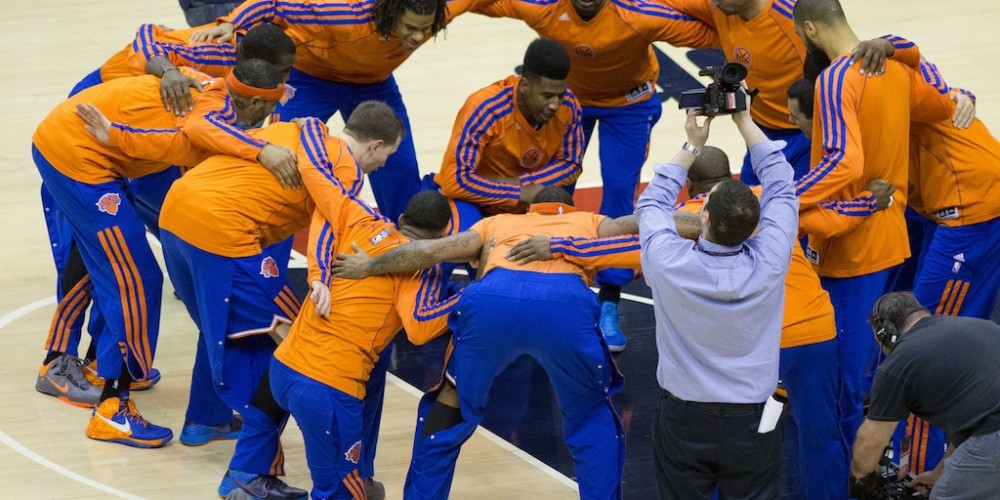 The 2013-14 NBA schedule was released on August 6th, and that means the predictions can officially begin, even though the predictions started right after the last buzzer sounded in Game 7 of this year's NBA Finals. This past season, the New York Knicks won the Atlantic Division and finished second in the Eastern Conference behind the eventual champion Miami Heat. They will look to improve on that in 2013-14, but with all the changes going on, especially across town with the Brooklyn Nets, it won't be an easy task. Let's look at 10 games that you definitely do not want to miss.
10. October 31 – NYK @ CHI
Happy Halloween! The Knicks start the season the previous night with a matchup at home against the less-than-star-studded Milwaukee Bucks. But the following night, the Knicks fly out to the Windy City for an early-season battle with former MVP Derrick Rose and the Chicago Bulls. Expect Iman Shumpert, a fellow Chi-town native, to guard Rose as best as anyone could hope to. Chicago won the season series against the Knicks last year without Rose, so expect coach Mike Woodson to get Carmelo Anthony and the crew extra pumped for this game. Trick or treat!
9. November 20 – IND @ NYK
I'll admit it, the Indiana Pacers kicked the Knicks' asses in the second round of last year's playoffs. They were bigger, tougher and hungrier, and this block by Roy Hibbert on Anthony was symbolic of how the Knicks got stifled. Bringing in Metta World Peace should help out with the toughness factor, and J.R. Smith will be refocused and back on his game. Paul George and Hibbert have established themselves as stars in this league, and they will be welcoming back Danny Granger from an injury-riddled 2012-13. The rivalry these teams had in the '90s is back in full effect.
8. December 5 – NYK @ BKN
It's already a crowded commute between Brooklyn and Manhattan, but this night it will be impossible. The Brooklyn Nets have totally reloaded and brought monster talent to Kings County. The additions of Kevin Garnett, Paul Pierce, Jason Terry and Andrei Kirilenko have definitely sprinkled hot sauce on a matchup that was already spicy. Former Nets legend and first-time head coach Jason Kidd played with the Knicks last season, and hit this amazing shot to beat the Nets. This will be the most talked-about matchup in the NBA this season and the best is yet to come.
7. December 25 – OKC @ NYK
Merry Christmas! The Knicks lost a tough one at home to the Oklahoma City Thunder last year, on a missed shot by J.R. Smith that would have won it. They played that game without Anthony, but Amar'e Stoudamire had a very strong game, including this facial against defensive wall Serge Ibaka. Anthony will be ready for action and he'll have to be at his best against OKC's dynamic duo of Kevin Durant and Russell Westbrook. A good game is on my wish list for Santa Claus and I'm sure he will deliver. Ho ho ho!
6. January 9 – MIA @ NYK
This is the first game between the number one and number two teams in the Eastern Conference last season, respectively. The Knicks played very well against the Miami Heat in the regular season, winning three out of the four matchups. LeBron James and Dwyane have both had some epic performances in Madison Square Garden, so that's something to look forward to. Carmelo Anthony has the talent and has proven that he can have epic performances as well, and playing the Miami Heat usually brings out the best in everyone on the team. This game will be epic I tell you, EPIC!
5. January 20 – BKN @ NYK
MLK Day. On a day that we honor one of the greatest human beings that has ever lived, Dr. Martin Luther King, Jr., we get the opportunity to watch what may build up to be one of the greatest rivalries we've ever known. The second installment of the "East River Rivalry" is going to have every sports bar from Canarsie to Harlem filled to the gills. This town isn't big enough for two teams to rule. The game should give a clear indication of who wants it more, and who's going to get it. Grab a MetroCard and make sure you're in the building.
4. January 26 – LAL @ NYK
When Kobe Bryant comes to town, make sure you circle the date on your calendar with a bright marker. The Los Angeles Lakers have a new look since Dwight Howard decided to take his talents to the Houston Rockets, and that may not be a bad thing. We've all seen what Kobe can do in Madison Square Garden, games like this 61-point masterpiece. Even returning from Achilles surgery, don't underestimate what The Black Mamba can do. Another interesting plot twist will be former Laker and New York City native Metta World Peace, who is now a member of the Knicks. Expect MWP to be highly motivated to his show his former team what they gave up by amnestying his contract. Two teams from the two largest markets playing in one of the most storied arenas in sports makes for an exciting evening of basketball.
3. January 30 – CLE @ NYK
The Black Mask returns. Last season Kyrie Irving put on a gem of a performance in a close loss to the Knicks, scoring a career high 41 points and providing highlight after highlight at the expense of Raymond Felton and the other Knicks guards. Irving is coming off a summer trying out for coach Mike Krzyzewski and Team USA, where he's all but a lock to be selected to play in the FIBA World Championships. He's looking sharper than ever so I'll be looking for Uncle Drew to drop more buckets next season. This game has always been, and will always be, about BUCKETS.
2. February 28 – GSW @ NYK
If you thought Kyrie Irving put on a show, then Stephen Curry orchestrated a Tony Award-winning Broadway production. I think Raymond Felton has nightmares about this torching he got from the hands of "Spicy" Curry (no … no, please no more threes) last season at home. Curry will be shooting for sure, and fellow Splash Brother Klay Thompson along with newly acquired Andre Iguodala will be out to get a piece of the action also. One thing's for sure, this will be pure excitement and a joy to watch.
1. April 15 – NYK @ BKN
The final installment of next season's East River Rivalry, which also happens to be the second-to-last game of the season. By that point it may be a meaningless game in terms of playoff position, and all seeding may already be set. But don't be surprised if the Atlantic Division title is decided in this game. Besides, every game between these two ball clubs from here on out will never be classified as meaningless. This game will be the culmination of another long and tough season, so emotions will be at an all-time high, and both teams should be firing on all cylinders heading into the playoffs. Hold on to your seats for this one, it's going to be a bumpy ride.
What games are you looking forward to? See the entire 2013-14 NBA schedule here.