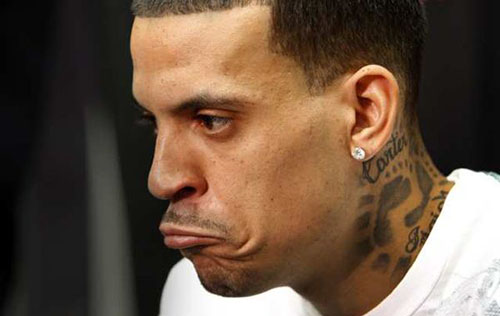 When I first heard that Matt Barnes was talking bad on the Los Angeles Lakers, my initial reaction was, "And …?"
The forward has never been shy about his opinions and he let loose about Lakers fans via Instagram. The entire quote read:
"Y'all laker fans are funny. y'all get out of the past.. Your run is over, 16 titles is amazing & the clippers may never surpass that, but like I said #StopLivingInThePast.. It's our time now whether you like it or not. LA will always be a Laker town, the #Clippers are just the best team in town now. #DealWithIt"
What's surprising about this isn't the questionable grammar (though, it's not terrible), or the fact that Barnes is so vehemently supporting the Los Angeles Clippers. It's that it says a lot about him as a person and how loyal he is.
Granted, the Lakers didn't re-sign him a year ago, so he doesn't need to show any loyalty. It's still odd, though, to diss the first team to give you a multi-year contract throughout your whole career, and with whom you also had no falling out.
In case you don't know anything about Matt Barnes, he is the definition of an NBA journeyman:
2002 – Drafted by the Memphis Grizzlies with the 46th pick of the NBA Draft, was immediately traded to the Cleveland Cavaliers as a part of a deal that went down in 1999. He was then waived by the Cavs in October of that year.

2004 (January) – Signed by the Los Angeles Clippers after fulfilling two 10-day contracts with them.

2004 (October) – Signed by the Sacramento Kings as a free agent. Barnes was then traded to the Philadelphia 76ers.

2005 – Signed by the New York Knicks as a free agent and was later waived. Barnes then made his way back to the 76ers.

2006 – Signed by the Golden State Warriors.

2007 – Signed for another year by the Warriors.

2008 – Signed by the Phoenix Suns.

2009 – Signed by the Orlando Magic

2010 – Signed by the Los Angeles Lakers to his first ever multi-year deal (for two seasons).

2012 – Signed by the Clippers.

2013 – Signed by the Clippers for three years.
He's played for every team in California, and many others around the league.
The Lakers gave Barnes a deal after he'd had a lackluster season in Orlando, following a 10-point average in Phoenix the year before.
Kind of risky on their part, but they felt that he was worth it.
Boy were they wrong.
Barnes fell into a significant decline those next two years, and went from averaging 8.8 points per game to averaging 6.7 and 7.8, with only a small reduction of his minutes. The Lakers thought they were getting a healthy forward who had played 81 games in Orlando, but instead, he was injured and missed about 30 games the first season, and 20 games the following year.
They could have waived him after that first season, since he was only signed to a minimum deal, and the salary cap wasn't a dire issue. But they chose to hang on to him, hoping that he'd help out.
Instead, they got a Barnes who was on a contract year but didn't play like it, though his three-point shooting did improve to 44 percent.
The Lakers didn't re-sign Barnes after that, which can be attributed to a whole slew of things, but the main thing is that Barnes balled out for the Clippers the next year and averaged a career-high 10.3 points per game.
This journeyman just recently inked a three-year deal with the Clippers, which he totally earned, but what does that mean the Clippers got in return?
Look to when Barnes played for the Warriors. He was there for two years, though on separate contracts. They were pretty quick to sign him for the second year, which likely made Barnes feel comfortable there. He only played a handful fewer games than the year before, but his points-per-game went from 9.8 to 6.7, only seeing roughly four fewer minutes per game on average.
In regard to the Clippers, they have gotten an older, but still very in-shape version of Barnes, and they should expect less than what they got last year out of him. He'll likely be trading off minutes with Antawn Jamison, who is also good, but not great.
If you're looking for great things from Barnes, you're looking in the wrong place.
Expect average. Expect less than you hope for. But it's the NBA, and anything can happen.