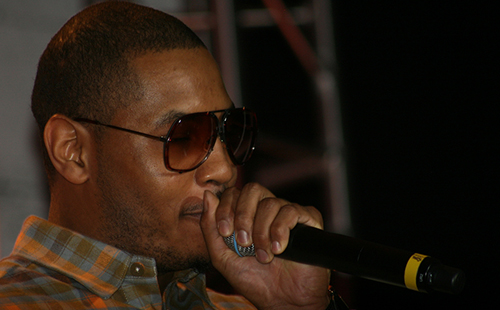 The New York Knicks lost and I didn't enter a crippling depression — I love the preseason!
The Knicks had a big lead late, but after letting the maybe-Knicks take over, everything went to hell as Quincy Acy and crew opened up a game-breaking can of whoop-tushie. Toronto Raptors fans rejoiced, and all over the world, the children cried.
But let's not dwell too much on a game that doesn't matter. To the notes!
– The starting lineup gets one bullet since they weren't too notable (that's a good thing). Let's start with Carmelo Anthony. He was himself, shooting a tic over 50 percent for 24 points, recording three steals because he felt like playing D. It should be noted that one of those steals came right after an awful turnover, and if I had been keeping score, it wouldn't count. If anything, it would go in its own category, which I will henceforth refer to as "revenge steals."  Raymond Felton also was a man who played basketball for the Knicks, but he was not too involved due to excessive Melo dribbling. Usually that would bug me, but hey, it's the preseason. Besides, the other point guard, Pablo Prigioni, was glorious. He had two of his trademark tricky inbound steals and also got three rebounds somehow. I feel genuine, profound love for him and wish to purchase his jersey. Moving over to the tall folk, Tyson Chandler had a decent game, getting one 'oop from Felton and also blocking two shots with extreme prejudice. My barometer of Tyson health is how effective his "Tyson Tap-Out" game is, and tonight it was, with one exception, non-existent. Rest and heal, sweet Chandler. You'll need your strength.
– Andrea Bargnani gets his own note, since he's a man of much intrigue. As you'd expect, he was booed pretty badly by the Raptors faithful, and it seemed to get to him a bit. He had a few shots that were some definite 2K C+ late releases, one of which actually went in. All in all he did fine, going 4-for-9 with 10 points, but Barg is still very tentative on defense next to Chandler, which I can only assume will improve over time. He had a couple of horrendous non-contests and switches that made me write down "Novak tall," which I guess means that he's tall, but it doesn't help him any.
– Iman Shumpert didn't shoot as well as he did last game—because last time he was perfect—but he made up for it by making his presence felt on the boards, snagging nine in 25 minutes of play. He also had three steals, which I did not notice while watching, but it makes sense, for he is Shump. I know it's only two fake games in, but it's getting harder and harder to make the argument that he should be coming off the bench. This team is just better when he's on the floor.
– Metta World Peace took almost twice as many shots as he did last game, but only made one more, finishing 6-for-17 with 13 points. I'm inclined to blame his line on the fact that after a whistle he took a shot on his own hoop, thus angering the NBA Gods. Regardless, it's becoming very clear that with him and J.R. Smith in the mix, there is going to be a lot of "WHY?!" being screamed at the television. But despite his awful shooting night, Peace, as Clyde calls him, did his thing with six boards, two steals and an assist, in addition to playing cruel defense on Landry Fields and just plain hustling as a Metta World should.
– Beno Udrih had a couple of nice drives and a sick pass to Bargnani for a score, but overall his play looked very rushed and out of sync with his teammates. To be fair, he played a lot of time with the scrubs, but five turnovers in 22 minutes is never a good sign, particularly for a team that's supposed to thrive off, you know, not doing that. I know it's early and preseason doesn't matter, but the Knicks really are going to miss Jason Kidd this season. At one point Beno had four fouls in five minutes, eventually fouling out. In the future, try not to be so pushy, Beno. Think of Pablo's knees. He doesn't use ice for God's sake.
– Tim Hardaway, Jr. ended up playing 30 minutes, going 5-for-11 and 3-for-8 from downtown, finishing with 13 points. Not quite as good as his game-winning-shot game—Hardaway already has a trademark game, as far as I'm concerned—but a solid performance in which he took exactly what the offense gave him and made the most of it. He even scored off the dribble! But as you'd expect, it was another shaky game defensively. Landry Fields absolutely destroyed his ankles on a crossover and would have dunked very, very hard had Josh Powell not saved the day with a block. Hardaway knows he has to improve his D and has made it abundantly clear that that's what he's most focused on, so I'm satisfied.
– It was good to see Landry and Steve Novak again, even if neither of them recorded a single field goal. Not sure why, but Novak really looks like he belongs in a Raptors uniform. Couldn't explain it if you asked me to. Just getting a "but you've always been the caretaker, Mr. Torrence"  "Shining" vibe there. Also, I should probably confess that in Landry Fields' rookie season, I predicted he'd be an All-Star in a few years. I was wrong.
– It's not an accident that I put the Knicks scrubs bullet beneath a Raptors bullet. For the most part, they stunk. Here are my notes for Ike Diogu: "Failed. Miss. Stripped. Let guy score. Awful shot." I don't like Diogu. Powell looked a bit better, but still managed to record four turnovers and six fouls in 13 minutes. Kind of negates the two blocks and two boards. But hey, Cole Aldrich got three rebounds in five minutes. And Toure' Murry got to play! In nine minutes he recorded a sick reverse layup, a defensive board and drew a charge. He also got beat badly by Terrence Ross on one defensive possession, but in a way, didn't we all?
That's it for today folks. Next up, the Knicks take on the Boston Celtics again, this time in Boston.
Photo courtesy of Julio Enriquez/Flickr