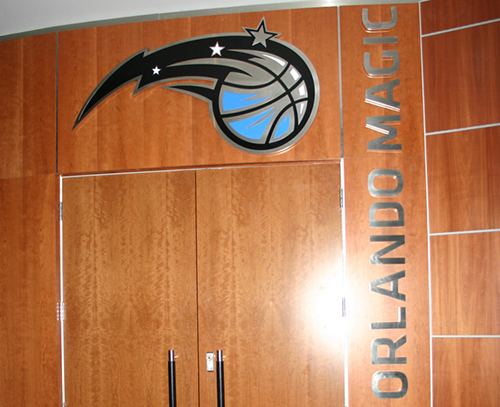 When the Orlando Magic convened for training camp on October 1st, most players knew where they stood as to making the roster or not. The Magic invited four players—Manny Harris, Mickell Gladness, Kris Joseph and Solomon Jones—to camp on non-guaranteed contracts. The team also has their previous two second-round picks, Kyle O'Quinn and Romero Osby, on similar non-guaranteed deals. The six players are competing for an estimated two roster spots, though a third position may surface if the Magic and Hedo Turkoglu can come to terms on a buyout. The Turkish forward is owed six of the remaining $12 million on the final year of his contract.
POSITION PLAYERS
PG: Jameer Nelson, Ronnie Price, E'Twaun Moore
SG: Arron Afflalo, Manny Harris,* Victor Oladipo, Doron Lamb
SF: Maurice Harkless, Hedo Turkoglu, Kris Joseph, Tobias Harris, Romero Osby
PF: Glen Davis, Andrew Nicholson, Jason Maxiell
C: Nikola Vucevic, Kyle O'Quinn, Solomon Jones, Mickell Gladness
*Italics—players competing for final spot
Whoever the team selects will help with the overall depth, some at multiple positions. While it would seem someone like Manny Harris is a long shot to make the roster, DeQuan Jones, who made the roster as a camp invitee last season, was also considered a long shot. All six players fighting for their lives are looking to have good training camps and take advantage of the opportunities given to them.
The question remains … what can these guys bring to the team? How can they make them better for the future? What must they do to make the roster?
Manny Harris
What he brings: Scoring, ability to create shots
How he can make the team better: The Magic ranked 23rd in the league last season in bench scoring, averaging 29 points per game. Harris averaged over 16 points per game all three years at Michigan and had per-36-minute averages of 12.4 and 13.7 points in his first two NBA seasons.
What he must do to make roster: Show improvement and more consistency in his shooting. He shot 37.4 and 40 percent from the field his first two seasons. If he's able to score and shoot at a more efficient rate, he could make the team.
Final Thoughts: Harris is an interesting option for the Magic. While they have good depth in their backcourt, especially at the shooting guard spot, they don't have a player who can create at a consistent clip right now. Harris most likely isn't that player, but he could evolve into a decent scoring option off the bench given the right situation. Due to the current state of the team and pure number of players at the guard position, it's hard to see Harris making the team right now.
Kris Joseph
What he brings: Wing depth, toughness
How he can make the team better: He's willing to go down and bang in the paint. He showed flashes at Syracuse of being a plus rebounder for his position, and could help one of the league's better rebounding teams from last season.
What he must do to make roster: Show an ability to score the ball better. In college, he saw his shooting percentage drop with an increased usage rate in his last two years.
Final Thoughts: Joseph has a lot of things to work on if he wants to succeed in the league. If he makes the team he would be insurance for Maurice Harkless and Tobias Harris at the small forward spot. He hasn't had a real opportunity to show what he can bring, but are camp and preseason games enough to prove he's worthy of one of those last few spots?
Romero Osby
What he brings: Athleticism, strong rebounder, versatility
How he can make the team better: The high-flying Oklahoma product can bring a lot to the table for the Magic. He's extremely athletic and not afraid to throw his body around. He can bring a certain toughness that the Magic might have missed last season once Glen Davis went down for the season with a foot injury.
What he must do to make roster: Continue to build off his strong Summer League performance and continued progress in college. The NBA is a whole different ball game, but Osby saw his shooting percentage and scoring output increase in each of his four years in college. He's got a high motor, so he must show off his hard-nosed work to make the team.
Final Thoughts: Going into the draft, not many knew about Osby and what he could bring to the table. HOOPSWORLD's Alex Kennedy hyped up the high-flying forward as a potential second-round sleeper, and general manager Rob Hennigan, who has a nose for talent, sniffed him out late in the draft. He impressed in the Summer League and could bring an aspect to the team they're missing. It would be surprising to see him not on the team's opening-night roster.
Solomon Jones
What he brings: Shot-blocking presence, rebounding, center depth
How he can make the team better: Give the Magic another option at center to allow Nikola Vucevic to rest more during games. Vucevic saw a 16-minute per-game jump last season from his rookie year. While he was healthy most of the season, having someone who can step in and start would be big if he were to get hurt.
What he must do to make roster: Prove to the team he can be a defensive anchor on the second unit. He showed the ability to erase shots at a high clip in college, blocking 2.1 and 3.1 shots per game his two years at South Florida.
Final Thoughts: Jones isn't a flashy player or someone who's going to score many points, but he could bring a hard-working mentality to the team. He's a solid post defender, which could help him in the end. If the third roster spot opens up, I would think Jones makes the team, but he must show he's worthy over the next two weeks.
Mickell Gladness
What he brings: Defensive presence, center depth
How he can make the team better: Gladness is almost the same case as Jones. He gives the team yet another big body to help take some stress off Vucevic. He's a defensive presence as well. However, unlike Jones, Gladness is much less experienced, with 26 games under his belt.
What he must do to make roster: Be a defensive presence. He's proved that he's capable of being a shot-blocker, averaging 4.7 per game in college and 1.8 per game in the D-League, but can he translate that to the NBA? Adding a shot-blocker of his stature would give the team a presence they didn't have last season.
Final Thoughts: Gladness doesn't bring a whole lot to the table outside of his defensive abilities. He was never a real threat on the offensive end in college or his short stint in the NBA and D-League. If he were to make the roster, the odds of him getting playing time would be slim. While he's like Solomon Jones, Jones' experience gives him the upper hand over the young big.
Kyle O'Quinn
What he brings: Toughness, energy, rebounding
How he can make the team better: He's a tenacious, hard-working, high-energy player. He showed some very bright signs in his rookie year after four solid years at Norfolk State. He's going to work hard every time he's on the floor and try to give the team the best chance to win.
What he must do to make roster: Continue to build on a strong rookie season as a backup. Showing an ability to play with starting center Nikola Vucevic could be a key for the second-year big man. He's got a great motor that shows every time he's on court. He's also a good defender. He averaged 2.2 blocks per game in his four years in college.
Final Thoughts: It's hard to see O'Quinn not making the roster. He was one of the team's brighter spots last year and has the work ethic to be a solid backup center in the league. He's versatile, able to drop down to the power forward spot if the team chooses to go with a bigger lineup. However, O'Quinn must work on his tendency to foul if he wants to continue to get playing time once he makes the roster.
At the end of the day, only two, potentially three, of these players can make the roster. It would seem as though the former second-round picks of the organization, O'Quinn and Osby, would be the favorites. But at this point, the spots are up for grabs.
Photo courtesy of Jeff Kern/Flickr