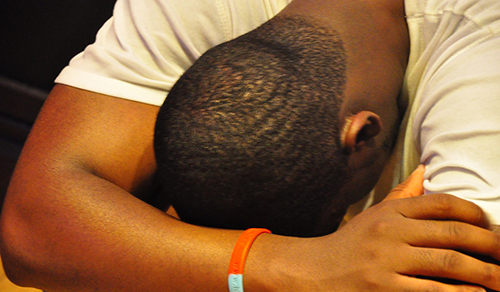 Languishing first-round draft busts usually don't have famous medical histories. Nobody in Dallas cared that ex-Tar Heel Brandan Wright might have a tricky shoulder when the Dallas Mavericks signed him in 2011. And why would they? Not only was the guy just one more in a long line of college stars to see his game not translate to the next level, he was only brought in on a lark. Nothing much was expected out of him, so naturally, his background never really made it to the foreground.
Then a guy that looked like nothing more than an obligatory early-season junk signing crept his way into the collective consciousness of the fan base. Pretty floaters, soft hooks and high-flying dunks slowly amassed, and, all of a sudden, a faceless jersey toward the end of the bench had turned into a key role player and a fan favorite. Then that obligatory junk contract expired, and the draft bust had earned himself a new contract worth eight figures. For the first time since he was originally drafted in 2007, Wright now faced fan expectations. Additionally, it was learned during the run-up to the NBA preseason that Wright had put on 15 pounds of muscle in preparation for his new, expanding role.
Wright couldn't have looked more promising during the Mavs' first preseason game. He played visibly stronger than he did last season while seemingly losing no touch. In particular, he displayed some chemistry with newly acquired Monta Ellis that raised eyebrows. I noted in my postgame wrap-up that Wright looked capable of easily outplaying my 2013-14 predictions for him. On further reflection, it also seemed feasible that he could not only be the consensus first guy off the bench at the 5, but also make an intriguing replacement for Shawn Marion in long lineup situations.
All was rosy, especially for a guy like me who's made some of the most rose-tastic predictions for the upcoming Mavs season of anyone in the NBA blogosphere. Then I was awoken Wednesday morning by a sad trombone. Not only was Wright one of a few players coach Rick Carlisle planned to sit in Memphis for the team's second preseason game, but his benching was due to a shoulder injury sustained during practice the day before. Per Eddie Sefko of the Dallas Morning News, a subsequent MRI revealed a "small, non-displaced fracture" in his left shoulder. What's more troubling, the Mavs front office isn't making any projections about his recovery.
If this weren't disconcerting enough, Wright's heretofore irrelevant medical history reveals a player whose early career struggles may have been largely the result of just such injuries to the specific shoulder in question. In fact, surgery to his left shoulder caused Wright to miss the entire 2009-10 NBA season. One thing the Mavs are telling us is that surgery is not expected this time around, but that's hardly an encouragement to Mavs fans pining for Dirk Nowitzki to get just one more faint sniff at the Larry O'Brien Trophy before hanging up his shoes or, God forbid, pulling a Karl Malone and accepting "bench décor" status for a contender.
But is Brandan Wright really that crucial? Is he worth thusly emoting about? Well that's relative to one's team expectations. I for one can remember that Dallas' 2011 title run was completely unforeseen and still seems shocking in hindsight. Certainly, that Mavs team didn't enter the 2010-11 season with as low expectations as they have this season, and I've already conceded elsewhere at BallerMindFrame.com that the Western Conference is notably more competitive now than it was then. But 2011 taught this fan that hope springs, if not eternally, at least more often than the "experts" say it should. Brandan Wright is a particularly unique cog in Rick Carlisle's machine, and any team intent on disproving critics can't afford this sort of loss.
Alas, my writing this will probably rearrange the cosmos, resulting in a new report next week that Wright's injury was less significant than originally thought, and that his return to action is imminent. Wouldn't that be nice.
Photo courtesy of Ben Sutherland/Flickr