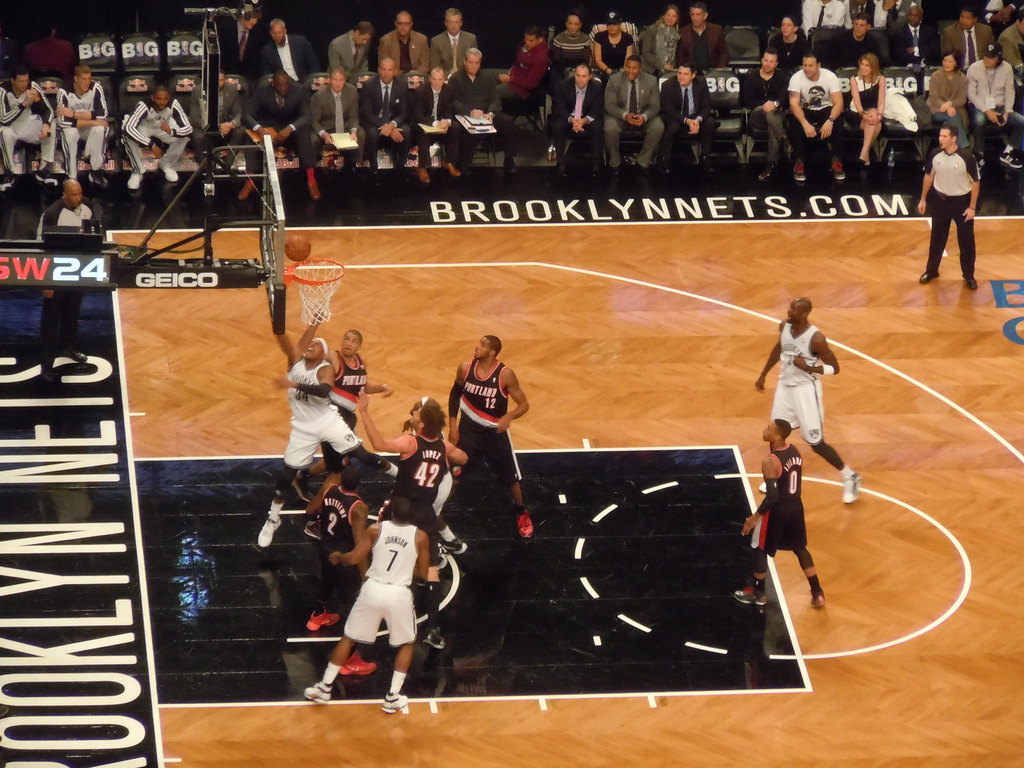 The Brooklyn Nets have three wins in 10 games for a .300 average rate of success, which would be great if this was baseball, but it's not. This is basketball, but not any old regular basketball—it's hoops in the greatest city in the world. Here, expectations are high and when you're down, you have to expect to get kicked. And there's only one way to get back up in the eyes of New York City sports-loving citizens—win. It's just really tough on the Nets right now.
The team came into the season with whispers of taking over the N-Y-C from the New York Knicks, being championship caliber and bringing about a change in attitude, spirit and culture. New coach in Nets legend Jason Kidd, new players with NBA title credentials in Kevin Garnett, Paul Pierce and Jason Terry, and even a bargain signing with Andrei Kirilenko because he wanted to win a chip and Brooklyn gave him a great possibility of doing so.
Fans of the Nets were in a tizzy with the excitement percolating, enthusiasm getting brolic with predictions and betting online that the team had arrived ready to take down the champion Miami Heat like it was a foregone conclusion. It was just going to happen. No question. Why even ask if they'd win? It would just be rhetorical in nature.
But it was all words. On paper. Online. On the part of the mind that eats the hype.
To be fair, the Nets have not been 100 percent healthy this early part of the season, with every All-Star level starter not named Joe Johnson missing time due to injury. Deron Williams, whom many felt needed to raise up his game now that he has the personnel, coach and system to succeed, missed most of the preseason and has missed several games already. Brook Lopez, perhaps the touchstone for all things that could go well or bad this season, has missed the last couple of games and his injury still a mystery in regards to severity, recalling the day when all of sudden he was out for the 2011-12 NBA season.
Fortunately, some of the bench warmers have played well, given time. Shaun Livingston has been amazing. Mason Plumlee has been a very pleasant surprise. Tyshawn Taylor has even shown flashes. However, Jason Terry has been relatively quiet, Andray Blatche is falling in love too much with his crossover dribble and then settling for long twos, Mirza Teletovic has built a house with all the bricks he's been chucking and, finally, Kirilenko has constant back spasms and hasn't played for what seems like an eternity.
Regarding the coaching production of Jason Kidd, it's been a struggle to give him and this new situation time to grow. The learning curve has essentially been pulled to become a straight line with calls for his firing and proclamations of him being the worst coach in the NBA thus far. Time and patience are foreign concepts in the big bowl of New York City sports and the negative ramifications just feed the rest of the world.
It's too early to predict with any degree of certainty how the season will conclude for the Brooklyn Nets, but extreme notions of emotion are a given at this point. Yes. There's certainly anger hanging in the air around the Barclays Center, but the prevailing feeling surrounding the Nets is one of disappointment thus far.
Photo courtesy of squirrel83/Flickr