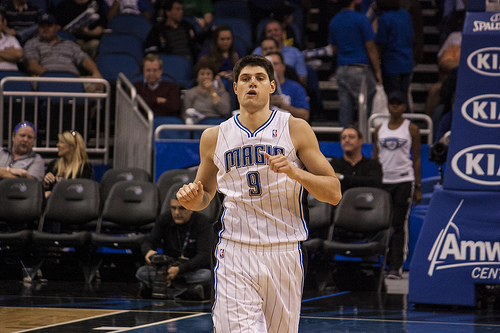 strong>Game 12
Who: Orlando Magic vs. Miami Heat
Where: American Airlines Arena
When: Saturday November 23rd, 7:30 PM
Projected Starters

Orlando:
PG: Jameer Nelson
SG: Victor Oladipo
SF: Arron Afflalo
PF: Moe Harkless
C: Nikola Vucevic
Miami:
PG: Mario Chalmers
SG: Dwyane Wade
SF: LeBron James
PF: Shane Battier
C: Chris Bosh
Inactives:
Orlando: Glen Davis (foot), Tobias Harris (ankle), Kyle O'Quinn (ankle), Hedo Turkoglu (NWT)
Miami: Greg Oden (knee)
The Facts
The Magic fell to the Heat in their meeting on Wednesday by a whopping 28 points. The Heat have been on a roll as of late with a five-game winning streak. Much of this can be attributed to the super-efficient play of LeBron James, who has been putting up big numbers for his team, which now finds itself in fourth in the league in points per game and first place in assists per game. Pair this with the fact that the Heat are also eighth in the league in points allowed and it serves as a tough matchup for the Magic, who have now lost five of their last six games.
The last time out, head coach Jacque Vaughn came out with a change in the starting lineup, which had previously stayed consistent all year. This change was to incorporate rookie Victor Oladipo at shooting guard, shifting Arron Afflalo to the 3 spot, Moe Harkless to the four and Jason Maxiell to the bench. It's not clear whether the poor outing against Miami was due to this change, or the fact that Orlando was simply facing superior opponent.
While it was encouraging to see Vaughn show confidence in Oladipo, his performance merited mixed results at best. Oladipo tallied eight turnovers with just two assists. This came after a game against the Mavericks where he ended the night with nine turnovers. It was expected that there would be some growing pains for the Indiana product, making the jump to the NBA while making the switch to the point guard position, but if Oladipo continues to turn the ball over at this rate, it will be tough for his team to find many victories.
If there is one bright spot in Oladipo's game thus far into the season it has been on the defensive side of the ball. In his last game against the Heat he notched five steals and two blocks. If the youngster can keep up his play on defense and limit his turnovers, Orlando will have a much better chance of winning the contest. Oladipo looks at Dwyane Wade as a role model and will finally get his chance to face off against him as Wade is expected to suit up in tonight's game.
Magic Keys to Victory

Afflalo must stay hot
Arron Afflalo dropped 30 points against the defending champions last time out, and needs to have another big game for Olrando to have a shot at winning. The UCLA product has been enjoying a big year, and at time has even looked like the best shooting guard in the league. Not only is he contributing with efficient scoring numbers, but he maintains his reputation as a lockdown perimeter defender. Afflalo has been especially impressive from beyond the arc, so the Heat will be looking to run him off the line tonight. This should open up the driving lanes for Afflalo. If he can take advantage of that, he should be in for another big night.
Keep Vucevic out of foul trouble
Nik Vucevic found himself in some early foul trouble on Wednesday night and was never able to get into a groove. Vucevic after the game: "I really couldn't get going because I was in and out so much." Vucevic is an integral part of Orlando's success, not only on the offensive side of the ball, but on the boards as well. The young center broke an Orlando Magic record for most rebounds in a single game last year against the Heat with 29 boards. Jacque Vaughn would love to see his big man stay in the game for as many minutes as possible as Miami killed Orlando on the boards last time out, 40-25.
Defend the three-point shot
Miami shot 52.5 percent from deep Wednesday night, in large part because of James Jones going 5-for-7. Not only did the Heat shoot a good percentage, but they hit 15 of them. Orlando will be well-served to run out on the shooters in tonight's matchup and try to contain the three-point shot. It's a tough task considering LeBron James is so good at finding the open shooters he is surrounded with, but it is almost impossible for Orlando to stay in a game when the opposition takes and makes three pointers at such a high rate.
Image courtesy of RMTip21/Flickr