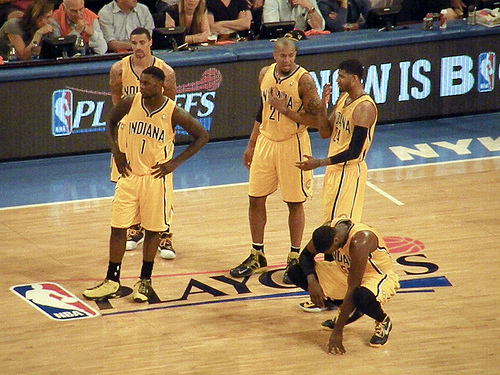 The Indiana Pacers went 2-1 on their road trip, with wins against the Boston Celtics and New York Knicks. Their loss came in an ugly beat down in the Windy City against the Bulls earlier last week. Finishing 2-1 on a road trip any time during the season is a positive, and just because this trip included the end of a season-opening winning streak does not mean it wasn't successful.
Last night the Celtics put up a fight for the first two quarters and the Pacers found themselves down at the half. This has happened in every game but two this season. Facing a 50-42 halftime deficit, the blue and gold took advantage of some very sloppy play from the Celtics in the second half, including 16 turnovers.
The pressure defense that has become a trademark of Indiana helped them outscore the Celtics 25-8 in the third quarter. It was never really close after that. Paul George scored 22 in the second half, finishing the game with 27. Lance Stephenson recorded a triple-double, with 10 points, 11 rebounds and 10 assists. The second half was vintage Pacers basketball in which they built a 20-point lead and cruised to a 97-82 victory.
Today they face the 76ers at Bankers Life Fieldhouse. Three of their next four are at home. They are tied with San Antonio for the best record in the NBA at 11-1 and have a four-game lead in their division over the Bulls. The team is on pace to win over 60 games this year. The only thing that seems to be able to stop them is themselves, as was witnessed in the Bulls fiasco.
Their team-oriented, hard-nosed defensive attitude has served them well over these first 11 games. They have played championship-caliber basketball and have given the hometown basketball crazies here in Indiana something to cheer about. The blue and gold will have a couple of tough tests this week with Minnesota and the Clippers on the schedule. As the games come and go, we should have a firm grasp on how poised and prepared Indiana truly is for a championship run.
Image courtesy of Matthew D. Britt/Flickr