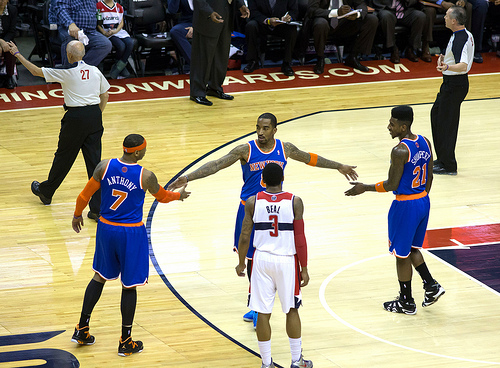 Thanks to a slow start and a barrage of negative press that includes allegations of nepotism, threats of a Carmelo Anthony departure and a constant stream of Iman Shumpert trade rumors, it's easy to forget that the New York Knicks are only two and a half games out of the top spot in the Atlantic Division.
Yes, the Atlantic Division—and the Eastern Conference at large, for that matter—is that bad. All that stands in the Knicks' way of hanging their second consecutive banner are the dysfunctional Boston Celtics, the perpetually mediocre Toronto Raptors, the promising, but rebuilding Philadelphia 76ers and a Brooklyn Nets team that looks like it might have peaked in June. Right now, they're the Knicks' biggest threat to home-court advantage in the first round of the playoffs. Does topping those guys really seem like an insurmountable goal?
If you've watched the Knicks play recently, you may be tempted to answer that question with an emphatic yes. Fair. Thus far, the children of Dolan have shown a complete inability to defend the basket, and their offense is a stagnant, dribble heavy, iso-(insert name here) mess that is as boring to watch as it is ineffective. As such, NY talk radio callers have been screaming some variation of the following over the last several weeks:
"The Knicks need a point guard!"
"The Knicks need interior D!"
"The Knicks need to spread the floor!"
Fortunately, help in two out of three of those categories is on the way. Tyson Chandler will return to the lineup in a matter of weeks, and if his play before his untimely leg injury is any indication of what's to come, the Knicks D is going to receive a major boost. The perplexing switches and half-hearted traps that have doomed them thus far are still going to be infuriating to watch, but they will undoubtedly result in fewer points thanks to Tyson's presence down low. As for the offense, Raymond Felton should provide a major boon to the Knicks' ball movement upon his return, while also giving his teammates clean, open looks thanks to his ability to drive and kick. Healthy Felton is a much better player than Playing Through Injury Felton, and there's every reason to expect the Knicks to be at their best when their starting point guard and center are back in the fold.
If the notion of this roster playing at 100 percent doesn't sound that encouraging, it's probably because any other year, it wouldn't be. This Knicks are not a great team by any stretch of the imagination, but in the 2013 Eastern Conference they don't have to be. Aside from the Miami Heat and the Indiana Pacers, every team is imminently beatable come April. Frankly, I wouldn't be the least bit surprised to see the Knicks get out of the first round and at least make it interesting in the conference semis. As awful as their season has gone so far, they have nowhere to go but up, and in the Eastern Conference, up is not all that high. Again, the Knicks are only two and a half games out of the lead in the Atlantic Division. Two and a half games. In 2013 that carries a hell of a lot more weight than 3-9.
Image courtesy of Keith Allisson/Flickr