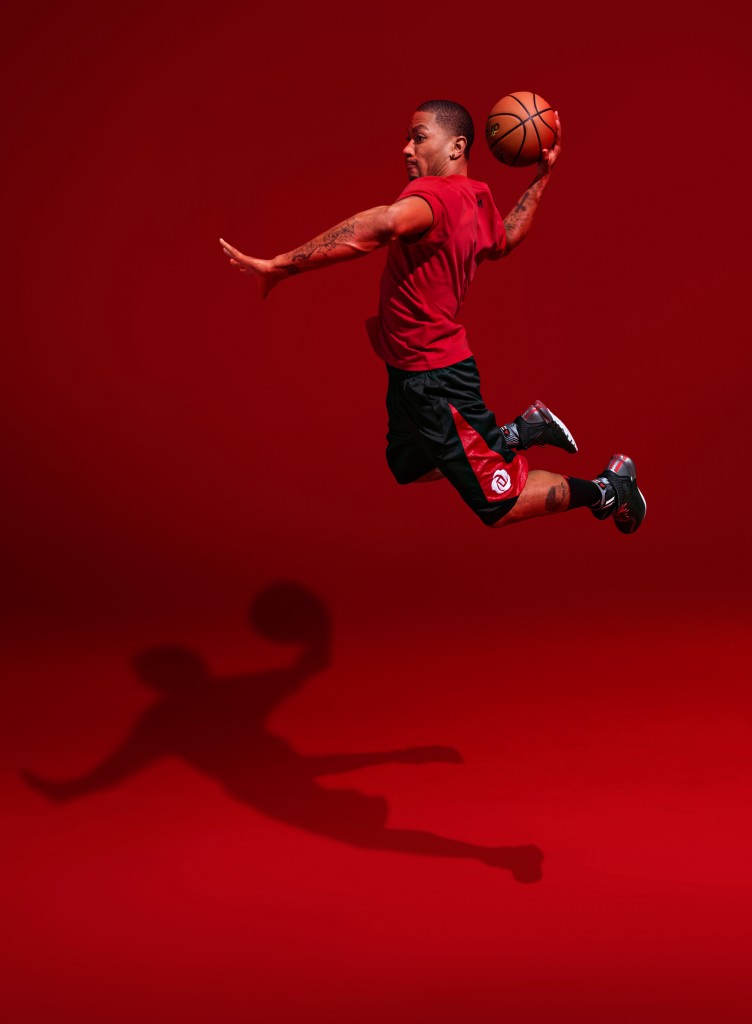 Down Derrick Rose has gone.
Felled indefinitely by another non-contact knee injury, Rose exited the game against the Portland Trail Blazers at the Moda Center having torn the meniscus in his right knee (his ACL tear occurred in his left knee in April 2012).
It's troubling. After 18 months of rehabilitation and training, having the whole basketball world look upon him with a strange mixture of undying support and indignant hate, Rose is gone indefinitely. We don't know how he is going to look in his return or when he'll even return, but we do know for sure that he has been outfitted excellently each year that he's played in the NBA. His signature adidas sneakers have only gotten better, unfortunately as he's been prone to injury.
To be spectacularly clear—Rose's own shoes are not a reason for concern over his injuries, as they have only become stronger and significantly better as each model has debuted and each year has passed. What's really interesting is how Rose will now be missing significant time in two of his greatest sneakers, two of the best performing models in adidas history. I have been fortunate to spend time with each of his primary-numbered shoes, up close and personally.
Starting with the adidas adizero Rose 1 (debuted in his second NBA season), it was a good start. Non-stretch synthetic upper, a GEOFIT cut-out collar, and a PureMotion outsole that encouraged a more natural kind of feel. It wasn't a perfect shoe at all, but it was effective.
The adizero Rose 2 was a leap up. It was thicker in the sole, which was excellent, considering how thin its predecessor's sole was. It was bouncy and really a strong shoe. It has a luxury feel, with elasticized eyelet straps that hugged the ankles, but was cut low for a greater range of motion. It used the SPRINTFRAME, as the first adizero Rose did, but was also a heavy shoe. Nevertheless, it was a great sneaker.
Unfortunately, no one ever saw Rose play in his third shoe, the Rose 3. He never appeared in a game in the shoe, but at the time of its release, was maybe the great shoe to come out of adidas' basketball division. It was shaped and styled like an iconic Air Jordan, with premium synthetic micro-suede. It was high, but it was flexible and strong, due largely to the Rose 3's spliced upper—a more traditional application of adidas' SPRINTSKIN—and the reoccurrence of the SPRINTFRAME which gave the shoe significant support underfoot. It was cushy, with the foam being even better in the midsole than the prior version; it was soft and snappy, yet it didn't give too much. Even the collar and the laces were soft and comfortable and firm to the foot.
And so, as Rose recovered from his damaging injury and made himself strong in force, he has played the 2013-14 season in his latest, the D Rose 4. In my opinion, not as attractive as the Rose 3, the D Rose 4 is a better performer. It employs everything great about the Rose 3 and has become something even more like Rose the player. The addition of a more intricately-grooved sole has made the D Rose 4 the best of the bunch—but he has fallen again.
What's interesting at the end of this all is that adidas has spent time creating better shoes for Rose, but he has yet to really spend significant in any, starting from 2.5 to the 3 to the 3.5 to the current 4. That's four shoes of unfulfilled promise on a flagship athlete. These days, brands like adidas have gotten more creative about marketing their product outside of their signature players.
When former NBA superstar Tracy McGrady started to succumb to multiple injuries in the midst of his own signature shoe run, adidas made Team Mac shoes to spread the name. When Anfernee Hardaway missed out on much of the last great years of the late 1990s, Nike still made Air Penny sneakers and commercials with Chris Rock to make up for his absence. When Michael Jordan retired for two years in 1993, Nike just made his shoes available to carefully selected Nike players throughout the NBA, not unlike what adidas did with Damian Lillard when Rose was injured for the entire 2012-13 season.
What remains to be seen, though, is if Rose continues to get injured, what happens to the quality and time invested in creating one of the great performing shoes in basketball? Will adidas ever divest in the Rose line or will it continue to shine brightly, even as the player himself continues to build himself back up into his former MVP condition? That all depends how Rose can recover and play when he returns to the hardwood.
Images courtesy of adidas