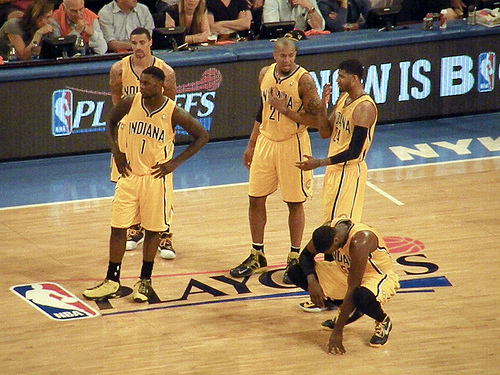 For the second straight night, and only the third time this year, the Indiana Pacers gave up more than 100 points in a game. This time they could not overcome the focus and desire of a Portland Trail Blazers team that seemed determined not to lose. The 106-102 loss to Portland marked only the second time this year the blue and gold found themselves on the wrong end of the scoreboard.
The Pacers played well for three quarters, but never led in the fourth, a quarter that had been very good to them all season. Led by power forward LaMarcus Aldridge and his 28 points and 10 rebounds, Rip City played solid offensive sets and never folded under the pressure of what is statistically the best defense in the NBA. Even Roy Hibbert, arguably one of the league's best defenders, could not contain Aldridge.
Despite Paul George's herculean effort of 43 points, the Pacers just didn't seem to have a full team effort last night. George Hill finished the game with 11 assists, but only six points. Lance Stephenson finished with only two points on 1-of-3 shooting from the field. In addition to the lack of production, their usually stellar defense seemed to be lacking,. Both Luis Scola and C.J. Watson had good nights off the bench, but in the end it was not enough to overcome a Portland team playing inspired ball at home in the Moda Center.
The blue and gold continue their road trip on Wednesday night when they arrive in Utah to play the Jazz in a first place/last place matchup. The Jazz have had few bright spots this season with a 4-15 record, although they are 3-1 in their last four games. Former Butler standout Gordon Hayward leads the team in scoring at just under 17 points per game.
Those types of games are always scary for the better team, particularly in this case when the Pacers could get caught looking ahead to their next matchup on Saturday against the San Antonio Spurs. It would be easy to look ahead with a game like that looming on the horizon, but head coach Frank Vogel will undoubtedly keep them focused on the task at hand.
The rumbling is beginning about Indiana not playing quality opponents, and that the majority of their wins came against clubs with losing records. More specifically, their two losses have come against, at the time, teams with winning records. A solid performance against the remaining teams on their current road trip should work to dispel most of the chatter. But it's one game at a time—they can't play the entire season at once.
Image courtesy of Matthew D. Britt/Flickr