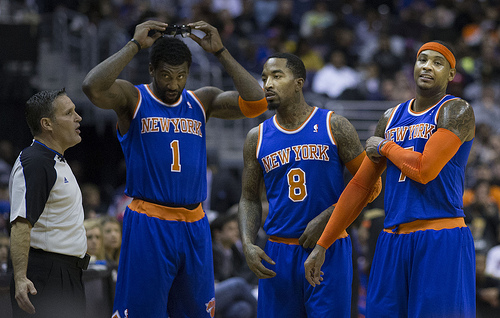 "What do you mean you can't scan my ticket?" I asked, holding out my StubHub-apped iPhone. My girlfriend could tell I was getting pissed so she started massaging my other hand. I'd downloaded these tickets to see the New York Knicks play the New Orleans Pelicans about thirty minutes before game time in an act of romantic spontaneity, and although the website warned me that I should print out the tickets just in case, we didn't have time and I figured I could just use the StubHub app since every sports arena and airport in the first world accepts e-tickets.
The MSG ticket lady looked at me like I was on acid. "You need to print out your ticket, sir."
Fuck. "Great, where can I do that?"
This puzzled her. She thought for a moment before pointing in the general direction of the entrance. "Ask someone over there."
It was about five minutes to tip off at this point, so naturally, my head was about to explode. My girlfriend and I rushed over to the ticket window and saw a young woman who appeared to be conscious, "Where can we print out our tickets?"
"Oh, um, we don't have printers. Just go across the street to the Hotel Pennsylvania and they'll help you."
I didn't bother to ask why they don't accept e-tickets, why they didn't have a StubHub kiosk, or why, in this newly renovated testament to failure, did they not have a single printer available for customer use—I was too infuriated to engage. I simply walked off in a huff, fully expecting the usual, "Calm down, you're over reacting, this isn't helping, what do you talk about in therapy, again?" speech from my girlfriend, but was pleasantly surprised to see that she too had been affected by the sheer incompetence of the Knicks organization.
"This is insane, Nick."
I wanted to kiss her.
***
After exiting the arena and crossing the honking, polluted stream of cars that is 7th avenue, we arrived in the lobby of Hotel Pennsylvania. I ran up to the front desk and was greeted by a kindly middle-aged man. "Printer?" I asked.
His face sank, and in an instant, his expression had changed to that of a funeral director, eager to be helpful and warm, but at the same time, wanting to be respectful of the tragedy you've endured. "Around the corner. Media Room." He nodded solemnly.
His morbid tone was apt because the Media Room of the Hotel Pennsylvania is the closest thing on earth to purgatory. It is a whitewashed, fluorescent-lit, 13'x13′ chamber that's walls are lined with about a dozen tightly packed Windows XP supported computers. Three of them work, and not well.
When my girlfriend and I walked in, the room was filled with sad, sweaty men and their orange and blue-clad offspring, all making a desperate attempt to get a hold of one of the computers.
"Where's the card? Have you been able to get the card working? Excuse me sir, how do you get on the Internet?" An old man's son watched him plead for assistance with equal parts scorn and embarrassment.  In my mind they had been here for 1,000 years, paying recompense for their earthly sins.
"Nick, we need a card."
"Right." I looked around the room and saw that spread across the floor were hundreds of white card keys, like sawdust in a crappy bar. I picked one up and approached the sad brown machine that at Dave and Buster's would be called an awesome box, with detailed instructions on how to insert rad points onto your gaming card.
This machine had no instructions and appeared to be a product of Soviet Russia. It wouldn't accept my dollars until I got lucky and inserted the right sequence of furious keypad mashing. But now I had five dollars on my card and, praise Christ, a computer had opened up.
Of course, it couldn't be that easy. The Internet kept timing out, and the StubHub site was down, which I knew actually meant, "The computer you're using is too shitty to process the most basic data the Internet has to offer. Would you prefer to access something more compatible with your device, perhaps the original Space Jam website?" I watched as the five dollars on my card slowly dwindled away. "Fuck, fuck!"
I finally got the site working and managed to send the tickets to the printer. With the hidden printing fees, I was left with 10 cents on my sawdust card. Thankfully, the tickets actually came out of the printer—I shudder to think of what would have happened to my brain had they not—and my girlfriend and I were free to return to MSG and watch another terrible performance by the Knicks.
Relative to my maddening experience with MSG customer service, 48 minutes of Woodson-orchestrated dysfunction was a goddamn joy to behold.
Image courtesy of Keith Allison/Flickr