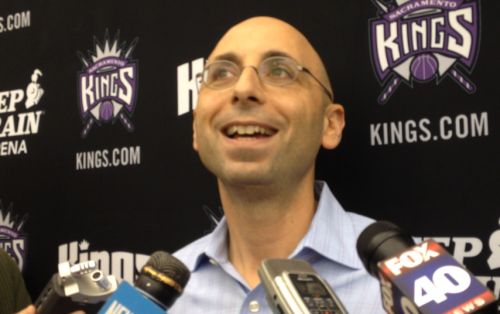 The Sacramento Kings practice facility was quieter than usual Tuesday.
In the last two weeks, a whirlwind of trade activity has sent five Sacramento players elsewhere – 10 players were at practice Tuesday, only six of whom were on the team last season.
The winds of change have eroded a roster inherited by the new regime in May, morphing it into something new in a matter of months.
Amongst all the dynamic personnel movement, Pete D'Alessandro couldn't feel more at home.
"I love change – I love change – especially when … the excitement of taking over as general manager of Sacramento is that you embrace change," D'Alessandro said. "If you don't embrace change it's going to be how many more years of the same old thing?"
Not much has changed on the court for the Kings over the better half of a decade. Sacramento hasn't finished with a winning record or a defensive rating better than 20th in the league since the 2005-06 season.
Two games removed from a six-game losing streak and a 4-13 start to the season, the Kings have already made two significant trades this season, but D'Alessandro isn't hesitant to mix things up with a team sitting near the bottom of the Western Conference.
"I'm an attorney, so in my background they say we're supposed to be conservative. That changes when you're in a position that you can't be that," D'Alessandro said. "When you're working on a team that has 57 wins, it's different; you just kind of tweak it. You take out a piece, you plug in a piece – the machine runs. We're trying to build a machine."
In the first 19 games of the season the Kings have looked much more human than robotic. Mental miscues in the middle of games routinely sunk them early on and more recently lapses in execution down the stretch have lost them games.
The acquisition of Rudy Gay gives the Kings someone with experience in closing games, Malone said. Gay also adds more athleticism to an increasingly athletic team, something the front office sought in trading for Derrick Williams.
An excited DeMarcus Cousins said that, in the last two weeks, the team has gone from one "of old men to being probably one of the most athletic teams in the league."
Still, Malone will be happy when the basketball potential of that athleticism is realized.
"Yeah, it's exciting, but I'm not a track coach, I'm a basketball coach," he said. "I'll be excited when we get stops on a more consistent basis, when we shoot a higher percentage from the field. We've done some good things this year, but obviously we have a long way to go."
From the top down, the organization has expressed plenty of enthusiasm for the new acquisitions, but there's been an elephant in the room whenever Gay's name has been brought up.
Since the news of the trade, there's hardly been a conversation involving Gay that doesn't, at some point, turn to his inefficient play. In 18 games with Toronto this season he averaged 18.6 shots to produce 19.4 points a night on 38.8 percent shooting.
That, along with his sizeable contract, is the reason he's changed homes twice in the last year. But the Kings aren't worried about Gay's reputation.
"I read everything that everyone reads. We have our processes too and we see things differently. That's just the nature of that ever-growing and expanding game. We look at him differently than, maybe, others do," D'Alessandro said. "I feel that a lot of times with certain players, it's where they get involved, it's where they're scoring and what position they're playing. I think we have a good idea of what positions that we'd like to put him in."
Malone said that Sacramento's unselfish play of late should help prevent the ball from stopping more than desired.
"One thing I'm proudest about is that we're really sharing the ball," Malone said. "We haven't shot the ball as well as we'd like this year, but the ball movement and unselfishness has been there, and that's going to be my challenge to this group – we have to check our egos at the door."
It won't take long for the new-look roster to be tested, as Gay and company are expected to be ready to take on the Utah Jazz tonight.
Practice was quiet Tuesday, but Sleep Train Arena figures  to give the team's latest additions a loud welcome.