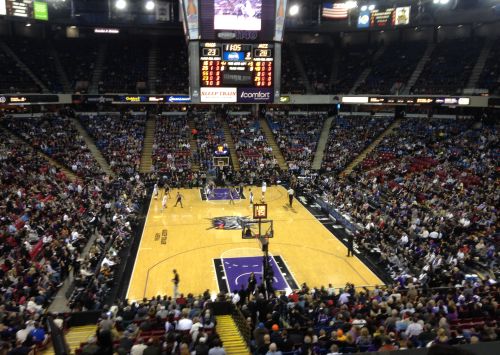 Monday, the Sacramento Kings did more with less, outpacing the Dallas Mavericks in a surprising blowout victory.
Wednesday night's result made more sense.
The short-handed Kings weren't able to replicate Monday's success and fell 122-101 to the Utah Jazz.
Playing with what was essentially a seven-man rotation for most of the game, Sacramento looked lost and lacked cohesion, struggling on both ends of the floor.
"You can't do anything if you don't give energy or effort. For us, it was our worst game of the season by far, in terms of energy and effort," Michael Malone said.
The Kings got off to a slow start and once DeMarcus Cousins, who finished with 21 points and 11 rebounds, picked up his second foul in the first quarter, the rails came off.
Cousins was taken out with about five minutes left in the opening quarter and didn't reappear for the rest of the half. Without Cousins, the Kings offense lost any identity it had before. Lacking a reliable offensive centerpiece, Sacramento players took an individual approach, attempting to breakdown the defense by dribbling, which left the Kings wont of production.
"It's extremely frustrating. You take steps forward in the game before against Dallas and then we come back tonight and look like a totally different team," said Cousins, who acknowledged losing his cool and drawing a technical foul. "I believe it was a terrible team effort all-around from the players. We can't continue to come out every night and make these same mistakes. It's getting old."
On the other end the Jazz (5-19) did what the Kings (6-14) failed to do, pristinely executing on offense in a 35-assist performance. Utah guards found seams in Sacramento's defense, opening it up to kick-outs.
Utah's wing players punished Sacramento for bad rotations or getting sucked in defensively, routinely knocking down three-point shots.
"It's team defense. It's never one guy's fault," Derrick Williams said. "(If) one guy gets beat, one guy has to slide over and when he slides over somebody needs to help him. The whole game they caught us with that third help. It wasn't just one guy – I got caught a couple times. … I think we're all to blame for that."
Richard Jefferson had an outing akin to what he might've produced when he starred for the New Jersey Nets. He did most of his damage from beyond the arc and finished with 20 points on 7-9 shooting, but also seemed to direct traffic for his less experienced teammates.
Sacramento, on the other hand, received decent solo performances, but the few peaks were sporadic. Ultimately, the box score didn't reflect the night, as any individual successes failed to translate into a positive team result.
Players in the locker room avoided using the depleted roster as an excuse, despite how clearly it impacted the game, but they won't have to worry about playing with 10 men for the foreseeable future regardless.
Barring a catastrophic Greivis Vasquez physical today, the Kings will finally take the floor with their new acquisitions Friday, when they matchup with the Phoenix Suns.
By the looks of it, Sacramento will need all the help it can get.