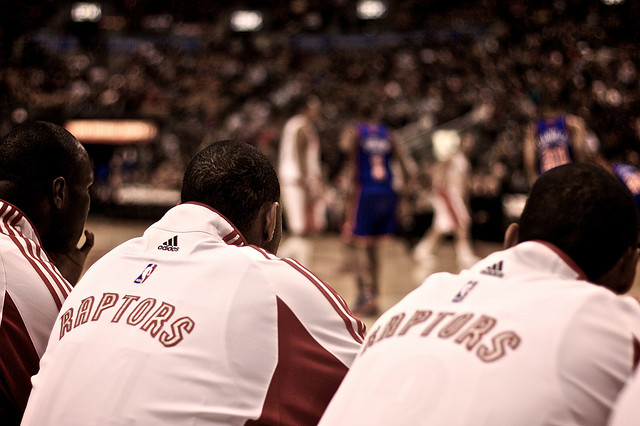 With the Rudy Gay era beginning in Sacramento last night, the Toronto Raptors began their own new era, one without an overpaid chucker who shall remain nameless. Greivis Vasquez, Patrick Patterson and John Salmons all played their first games as Raptors (Chuck Hayes still has more tests to complete). This is how they fared.
Greivis Vasquez had the best game out of the three new guys, scoring 12 points, grabbing 3 rebounds and dishing out 2 assists on 5-for-7 shooting. Some say he looks like a better scoring version of former Raptor Jose Calderon. His game is similar to Calderon's in the way he finds open big men on pick-and-roll situations. With Kyle Lowry's future in Toronto seemingly coming to an end very soon, Vasquez could be the next starting point guard for the Raptors and could quite possibly be the starter for many years to come.
Patrick Patterson had 5 points and 5 rebounds in this game and John Salmons hit a three-pointer, that's all there is to say about their lackluster performances.
DeMar DeRozan was the MVP of this game, continuing his great play this season with 27 points, 6 assists and 5 rebounds on 9-for-19 shooting from the field. In a weak Eastern Conference, DeRozan is looking to become a first-time All-Star this year. On the year he averages roughly 22 points, 4 rebounds and 3 assists, with his numbers improving more now that Rudy Gay is off the team. If he makes it to the All-Star game, he will have to be voted in by the coaches because he is not an shoo-in All-Star starter.
Jonas Valanciunas had a pretty good game himself, scoring 12 points and hauling in 13 rebounds, but it came on an abysmal shooting night in which he went 3-for-10 from the field. Once again he started the game off hot but his teammates forgot about him halfway through the first quarter. His numbers will start to improve very soon because when this Raptors roster goes into full tank mode, Jonas becomes the main focal point on offense.
Terrence Ross started at small forward for the second time this season and improved tremendously from the last game against the Spurs. He had 24 points and 5 rebounds in this game and shot a great 10-for-16 from the field, making four three-pointers in the process. With a game like this, Terrence Ross' stock rises quite a bit and makes Masai Ujiri's job a lot harder. The problem for Masai is if Ross starts to do this on consistent basis as does DeRozan, does he keep both or trade DeRozan when his stock is at an all-time high and try to get great draft picks for him?
With Kyle Lowry more than likely being traded very soon, don't be surprised to see DeMar wearing a different uniform by year's end.
Next up for Toronto are the Chicago Bulls, whom they face tomorrow in Chicago. With Derrick Rose out, the Bulls have begun to look like a lottery team, just scraping by the incredibly terrible Milwaukee Bucks last night. Valanciunas will have a tough time with Joakim Noah's hustle and energy in this game but Toronto will look to counter with Lowry outplaying whomever the Bulls end up starting at point guard, if Kyle is still on the team.
Image courtesy of Adam Bailey.