Post-mortem, according to the dictionary is defined as:
an analysis or discussion of an event held soon after it has occurred, esp. in order to determine why it was a failure
Occurring or done after death.
Examples listed were mostly on the medical practice, but if we included a non-medical section, some would put the Minnesota Timberwolves' playoff chances right there.
The Timberwolves have been a team that most cannot figure out, an enigma to be precise. They're 15-15 right now, ninth in the Western Conference and two games back of the Dirk-led Dallas Mavericks. They have been above average in points allowed per possession on both sides of the court, ranking 11th in OffRtg and 13th in DefRtg per NBA.com's stats database. Via Basketball Reference, they have a Predicted Win-Loss record of 19-11, a better record than Dallas and Phoenix who occupy two of the three final playoff spots. Their Simple Rating System is 9th in the NBA at 4.57, and since the 2002-03 season where the NBA adopted a Best of 7 format for the first round, teams with a SRS greater or equal to 4.50 have made the playoffs one hundred percent of the time.
This would be evidence of a playoff team, yet it doesn't feel like one. There's been a bit of a dark cloud on the T-Wolves season, with hysteria surrounding: Kevin Love and his supposed stat padding being detrimental to the team, Ricky Rubio and his apparent quest for winning the title for worst shooter of the modern NBA, their anemic bench and the Kevin Love/ Nikola Pekovic frontcourt on defense.
Let's be clear: some of the things listed above are problems, and their anemic bench is nearing Code Red danger levels. The Kevin Love stat-padding storyline is not a new development, with Love even having to defend himself on this issue previously. Love is having a phenomenal season, the best of his career. He's a top 5 MVP candidate who's setting career bests in TS%, eFG% and PER while averaging 26-14 a night. He has been the linchpin of the Wolves offense, and more than anything, he's been their anchor. His shooting has helped the Wolves offense maintain its production despite having a limited amount of quality shooters, and whenever Love is off the court, their offense is the worst in the NBA.
Yet the talk of stat padding is still a thing with Love. He may, in fact, be doing that because who am I to say either way that it's happening, but something that's interesting to note is his rebounding opportunities and his post defense. Via NBA's Player Tracking, Love has been grabbing the second most Contested REB per game at 5.3 with a contested REB% of 38.2. Watching Kevin Love on defense and the first thing that's abundantly clear is he rarely contests shots in the post: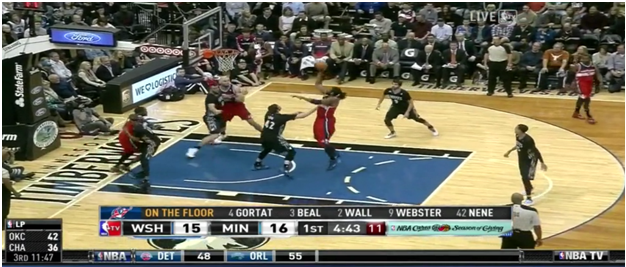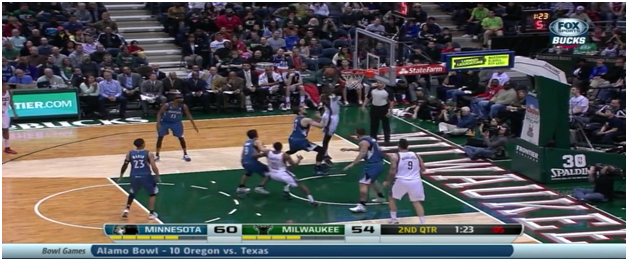 [youtube]http://www.youtube.com/watch?v=Nlx3M5drngE[/youtube]
This isn't exactly a new development with Love as he's never been someone to block shots, having a career 0.5 BLK per game mark, yet opponents have not been producing. Per Synergy Sports, Love's PPP on post-up defense is actually solid at 0.79, ranked 44th in the NBA. He was ranked 32nd in 2011-12 in the same category employing a relatively same gameplan. The Love/Pekovic two-man lineup has given up a 102.2 DefRtg, an above average mark that however underlies some serious problems with the duo. Opponents are shooting 63.6 percent in the restricted area when the two are on the floor per NBA.com and teams at a combined 15.2 FGA at the rim are shooting 59 percent at the rim via NBA's Player Tracking.
These are really concerning numbers and it becomes glaringly obvious that the lack of rim protection is a problem between the two. Pekovic is an average defender who probably veers towards below average, who combined with Love doesn't exactly put fear into an opponent's heart. Pekovic, in particular, is slow in his recovery ,which yields numerous mid-range jumpers for opponents. Conceding mid-range jumpers in general is typical in today's NBA, and the Wolves right now are 15th in opponent mid range percentage, but when this is combined with poor defense near the rim, it's not good enough to compensate. Merge this with their lack of speed in transition defense, and it's amazing that the Wolves have an above average DefRtg with the two on the floor.
The two though have been dynamite offensively, and it's been the case whenever the two are healthy. The spacing Love provides, combined with the post-up production both produce has proven to be vital for a squad that quite frankly sucks at shooting. Despite having the 12th highest 3PA, the Wolves are 24th in 3P% and other than Kevin Martin and Love, no other Wolves player is above or at league average. Something you'll see from the Wolves to try and negate the lack of shooters is post ups in semi transition: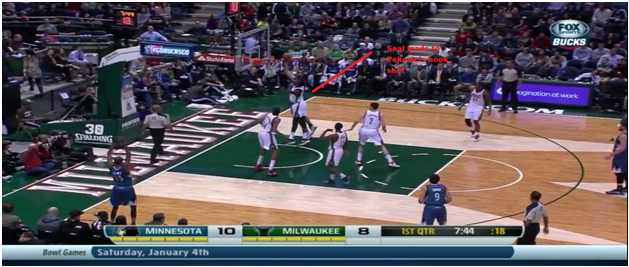 [youtube]https://www.youtube.com/watch?v=MPjbn2FkGWY[/youtube]
Inbounding and running with pace after made buckets is something teams will try to use to extract points, and the Wolves use it to set up their post play to try and cancel out non-shooters in Corey Brewer and Ricky Rubio.
And here's where we have to finally talk about Rubio. He is having a bad shooting season. He's shooting 39.6 percent in the restricted area, 16.9 percent below league average. He is near anemic on the left side of the court and it can get rather depressing seeing Rubio brick semi-makeable layups. Teams sag off on him in the PnR greatly, going as far as having the point guard stick with Love/Pekovic and negate any possible chance for a pass, forcing Rubio to either take a mid-range jumper, a wild layup with no chance of it converting, or having to run around the court and in the process kill time off the shot clock. He has never cracked a TS% of 50 percent in a season and in only one month (March 2013) in his career has he cracked an over 50 percent TS%. It's sad that his shooting (and/or reluctance to shooting) has gotten to the point of a circus act cause he's an adorable little genius, basketball's equivalent to Mozart. He and to a lesser extent Kevin Martin are great entry passers, fitting in so well with Rick Adelman's offense, and he's a plus defender who can pick pockets like not many can. But his shooting is a problem, though calling him the worst shooter in NBA history might be much, considering he's still recovering from an ACL injury and there are nine players this year with a worse TS% than Rubio.
Minnesota's bench is third to last in points, three-point field goal percentage, dead last in FG%, and they lack more than anything an electric spark. There's no shooting with their bench, and the one play that's been dependable for Minnesota has been a pick and pop on the left side with either J.J. Barea or Rubio and Dante Cunningham shooting from the left wing. He's shooting 48.1 percent from that area, which is 7.4 percent above league average. Alexey Shved is a catastrophe who's on the books this year and next at over $6 million combined. Barea has always been average, and in an attempt to hide some of these deficiencies, most of their non-starter lineups have had at least two starters. A healthy Chase Budinger would solve a lot of these issues, and that's the hope with the Wolves bench, cause there's not much there to get excited about otherwise.
The Wolves have been an above average team who have been until recently dogged by a hard schedule. They have the tenth best NetRtg in the NBA and their upcoming month should see an uptick in their record. Their crunch time numbers have been abysmal, but considering that they have the best overall NetRtg of anyone with a negative crunch time NetRtg, this should normalize a fair bit. There are issues to be concerned about, and if Budinger can't make a full recovery from his knee issues, that's a real blow to their bench who desperately needs his shooting and driving ability.
The T-Wolves upcoming month includes a home and home with the Utah Jazz, games against the Sacramento Kings, Philadelphia 76ers and Charlotte Bobcats. Taking advantage of their January schedule would be huge for the Wolves playoff aspirations, and vital for their chances in keeping Kevin Love in the Twin Cities past 2015.