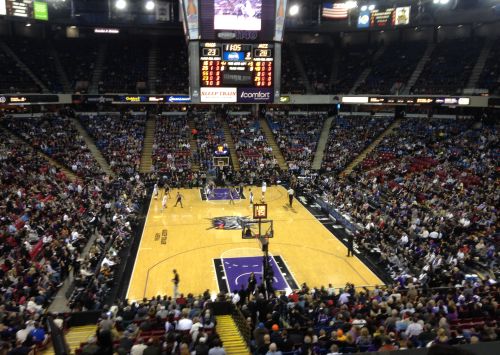 The Sacramento Kings couldn't get enough of DeMarcus Cousins on Thursday.
No really, they could not get enough of him. Foul trouble limited Cousins to just 28 minutes and, on a night like Thursday when he put up 33 points and grabbed 14 rebounds in his relatively short time on the floor, a few more minutes may have been the difference.
But without a full appearance from Cousins, among other issues, the Kings fell 113-104 to the Philadelphia 76ers.
Cousins was nigh unstoppable, going against the overmatched likes of Spencer Hawes and Daniel Orton for much of the night. Philadelphia could do little, if anything, to stop Cousins, who attacked his defenders in the paint early and often.
Ultimately, Cousins was a bigger deterrent to his own game than any opponent. He received a technical in the first half after a tussle with Evan Turner and a pair of avoidable offensive fouls padded his total, forcing Michael Malone to take him off the floor.
As little resistance as Cousins received from the 76ers, the Kings matched on their defensive end.
Philadelphia, 27th in the NBA in three-point shooting entering the game, played to its strength, attacking the paint. Guards and forwards alike avoided the perimeter, for the most part, in favor of driving through the lane, something the Kings struggled to defend.
Tony Wroten did his best impression of Lance Stephenson by utilizing a violently up-tempo pace when attacking the defense's interior, while Turner, Thaddeus Young and Michael Carter-Williams—all of whom enjoyed size advantages for most of the night—followed suit.
The combination of Cousins' restricted minutes and the Kings' porous defense had Sacramento behind by as many as 18 points in the third quarter.
Jimmer Fredette caught fire in the fourth quarter, scoring 12 consecutive points over a 2:20 stretch, but it only lasted so long and the second unit eventually relinquished whatever ground it gained during his hot streak.
In the first game of the new year, Sacramento displayed the same old problems on defense. The numbers matched the execution, as the Kings surrendered 61 first-half points.
It hasn't mattered much whether they face a shooting team or, like the 76ers, a team that focuses on penetration, the Kings' rotations and one-on-one defense have been generally poor regardless.
The nature of the NBA is that no matter who the opponent, you'll be tasked with guarding someone talented night in and night out. Sacramento hasn't been able to do that consistently yet.
Their next chance to prove otherwise will be Saturday, when Kemba Walker and the Charlotte Bobcats visit Sleep Train Arena.