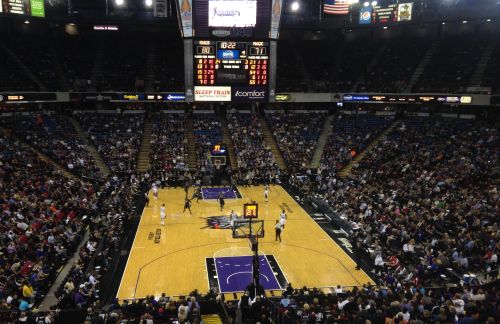 Most nights, Glen Davis looks like a portly, surprisingly agile 6-foot-9 basketball player. Friday, he looked more like DeMarcus Cousins' dinner.
The Orlando Magic was without Nikola Vucevic, who recently sustained a concussion, and Davis was forced to fill in. Cousins devoured the Magic's temporary center in the post, driving past Davis, shooting over him and holding him to 4 of 12 from the field in a 103-83 Sacramento Kings victory.
With Davis at center, Tobias Harris shifted over to power forward, creating mismatches throughout the frontcourt, which the Kings exploited by frequently attacking the paint.
"I thought our starting frontline was terrific tonight," Michael Malone said. "About 61 points and 30-something rebounds between Rudy (Gay), Jason (Thompson) and DeMarcus. I thought that they set the tone for us."
Sacramento's starting frontcourt led off strongly and the bench followed.
Jimmer Fredette and Derrick Williams provided the team with energy and scoring when the first unit was taking a breather.
Fredette tallied 11 points in 13 minutes – even utilizing the Hakeem Olajuwon's patented "Dream Shake" on a couple occasions – while Williams asserted himself and his athleticism in his second-consecutive 14-point performance.
"I told him, 'Whatever you did that day, whatever you had for lunch, continue to do the same thing and play in an attack mindset,'" Malone said of Williams' game against the Portland Trail Blazers. "I was very impressed with Derrick Williams."
The offensive efforts from the Kings' first and second units produced a 51.3 percent shooting night, but more impressive, and perhaps more important in the win, was Sacramento's defense.
The Kings are last in the league in defensive efficiency and over the last 10 games they've allowed 112.2 points on average, but they stifled the Magic Friday.
Its size advantage and improved defensive rotations helped Sacramento to hold Orlando to just 33.3 percent shooting from the field.
"I think we did a good job defensively. We did have a little stretch where we let them make a run, but I mean, that's the game of basketball; teams make runs," said Cousins, who had three steals on the night. "I think we did a good job of stopping the bleeding. It was a good defensive effort overall."
The win was only Sacramento's 12th of the season, and being on the good side of a blowout is an even rarer occurrence. So rare, in fact, the Kings didn't seem to know how to handle it.
"The weird thing with our team is – we're up by like 15 points at one time, and in one huddle we were acting like we were down. There was no joy, there was no emotion. I said, 'Fellas, I'm still trying to figure you guys out,'" Malone said with a smile. "I continue to learn and try to figure this Rubik's cube out. I'm very happy with the win, and the guys are happy as well, but we just have to continue to find joy when we have success and, more importantly, when our teammates have success."
For Zach Oliver's take from the Orlando Magic's perspective click here.