The Emmys are, if anything, unreliable meters of televised quality. In all fairness, it's a hard competition to judge.
No one, voters included, has the time to keep up with the onslaught of quality television that is now often creeping from the darkest corners of the TV universe' corners with funny names like "Cinemax" and "Sundance Channel." And so, when it comes time to vote, Academy members are stuck watching single, out-of-context episodes of shows they've often never even heard of.
The results are as one might expect: Name recognition plays a large role in the voting process, as does the cultural pervasiveness of a series.
Yet, any celebration of television right now has added intrigue because of the dearth of quality mentioned above.
Which is why we've posed two questions to our panel of TV experts: Who will win for each of the major categories? And who will win?
Outstanding Lead Actor In A Drama Series
Bryan Cranston – Breaking Bad
Kevin Spacey – House of Cards
Jon Hamm – Mad Men
Jeff Daniels – The Newsroom
Woody Harrelson – True Detective
Matthew McConaughey – True Detective
Bryan Brandom:
Matthew McConaughey will win. Thanks mostly to his excellent performance, but also to voter fatigue. Like MVPs in sports, sometimes people get tired of same ol', same ol'.
Anyone but Jeff Daniels should win. He's a fine actor, but his Newsroom part is too tired and boring of a character for the honor he received last year. Personally, I'd love to see Jon Hamm pull this out after a being shut out for the entirety of Mad Men's epic run. But I couldn't complain about Rust or Walt.
Honorable Mention: The entire cast of FX's The Americans is dazzling, but Matthew Rhys in particular is being overlooked. He deserves a nomination over Kevin Spacey's overindulgent Frank Underwood and Daniels' Will McAvoy.
Claire Mangan:
Tough, tough! Cranston WILL because Breaking Bad is over.
McConaughey SHOULD because he's the intuitive "little priest", and was the most spellbinding part of True Detective.
T.J. Macias:
Who Will Win: We all know that Cranston will take it home because not many men can run around looking that pitiful in tidy-whiteys that hang halfway off his rear and still be the most feared man in the room. Plus, it's Mr. White's final year. Plus, would YOU deny Heisenberg? I think friggin' not.
Who Should Win: I WANT to say that Kevin Spacey SHOULD win as his post-Keyser-Soze-ish (with that factious southern accent dripping with pure distain) character Frank Underwood, but that's just my captivating fear of the man talking. Truth be told, he's just pretty much playing the same character Kevin Spacey unusually plays. Only, you know, more utterly terrifying. Who should actually win? Alright, alright – McConaughey.
Outstanding Lead Actress In A Drama Series
Michelle Dockery – Downton Abbey
Julianna Margulies – The Good Wife
Claire Danes – Homeland
Robin Wright – House of Cards
Lizzy Caplan – Masters of Sex
Kerry Washington – Scandal
BB:
Julianna Margulies will win. The show is a steamroller and she's at the controls.
She probably should win. But then again if Keri Russell were nominated or Tatiana Maslany's Orphan Black were on a channel other than BBC America, this might not be the case
CM:
Robin Wright WILL win.
Robin Wright SHOULD win because she's Claire Underwood, dammit. And Claire Danes already won last year. And also because I've never watched any of these other shows.
Claire Danes is great, but this most recent season of Homeland was such an unrecognizable mess it's barred from consideration.
TJ:
Who Will Win: I have a feeling that it will be Margulies since she's been nominated a billion times and has only nabbed it twice. Plus, she was snubbed last year and members love a good comeback in this category. I wouldn't be surprised if Claire Danes wins it for the umpteenth time for her portrayal as the annoyingly weepy Carrie Mathison, especially since her character a went through a wide range of changes this past season, including witnessing some key deaths, and stopping that damn chin of hers from quivering for at least two minutes.
Who Should Win: Buttercup…er, Robin Wright. Only because when I watch her in "House of Cards" I can't, for the life of me, picture her famous character in "The Princess Bride". Her brilliant portrayal of Claire Underwood makes you not want to turn off the lights at night. Her elegance helps mask her nefarious intentions, especially when she is put in a highly vulnerable position. I've never seen Wright so, well, smooth.
Outstanding Lead Actor In A Comedy Series
Jim Parsons – The Big Bang Theory
Ricky Gervais – Derek
Matt LeBlanc – Episodes
Don Cheadle – House of Lies
Louis CK – Louie
William H. Macy – Shameless
BB:
In this pool, I can't see anyone other than Parsons walking away with it.
Although I'd argue against Louie being a "comedy series," the times Louis CK and his show decided to be funny still make for more net hilarity than any of these other characters' season-long comedic efforts.
CM:
Jim Parsons WILL win because he won the last few years and this is the sort of award the gets doled out to the same comedian. Plus Jon Crier is no longer in the running to throw an upset Parsons' way.
Louis CK should win, because c'mon!
TJ:
Who Will Win: It's always Parsons. ALWAYS. While I do enjoy his character on the comedy and while you'd think it would get old (it truly doesn't), I'd like to see some new blood take home the statue.
Who Should Win: Claire is dead on here—Louis CK needs this, ESPECIALLY after this ground breaking season. I have never witnessed a male comedian tackle hot button issues with such brilliance (watch the nerve-touching, double-standard episode "Fat Girl" along with highly controversial "Pamela: Part 1").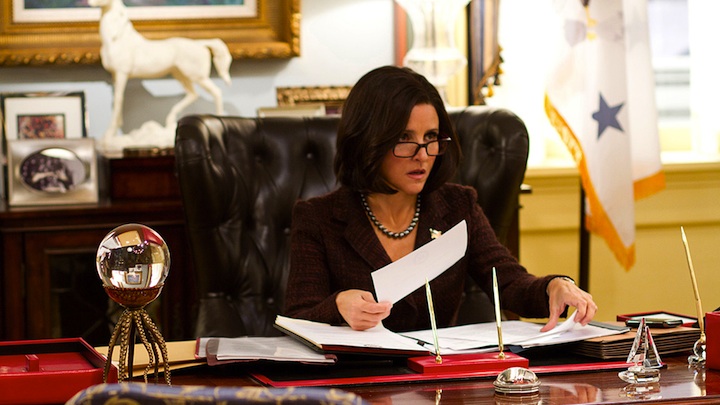 Outstanding Lead Actress In A Comedy Series
Lena Dunham – Girls
Melissa McCarthy – Mike & Molly
Edie Falco – Nurse Jackie
Taylor Schilling – Orange Is the New Black
Amy Poehler – Parks and Recreation
Julia Louis-Dreyfus – Veep
BB:
I've got JLD pulling this one down …
… even though it hurts me to see Amy Poehler get passed over again. Maybe she'll get it next year with a last-season swell combined with the "she's due" bump and JLD voter fatigue.
CM:
Will Win: Taylor Schilling, because everyone talks about this show all the time
Should Win: Amy Poehler. It's about damn time that Leslie Knope is rewarded.
TJ:
Who Will Win: Three words: President Selina Meyer. One minute she's making sailors blush with her aggressive vocabulary, the next she's sitting in a corner, lost in a haze of dismal awareness. Julia Louis-Dreyfus is hilariously so human in this off-the-wall series, that she puts Elaine to shame. She's still utterly the same when it comes to her genius of physical comedy, but her range of emotion shines through Selina's lows so much during the show, that you sort of hope her character loses from time to time so you're are presented with Louis-Dreyfus' impassioned, yet subtle, dejected expressions. Plus, who hasn't wanted to offer Buster Bluth a tampon to stop his bloody nose?
Who Should Win: Uh, duh—Louis-Dreyfus. I would say Taylor Schilling, but I spent half of my time watching Orange is the New Black blinded by her amazing set of choppers.
Outstanding Lead Actor in a Miniseries or a Movie
Chiwetel Ejiofor – Dancing on the Edge
Martin Freeman – Fargo
Billy Bob Thornton – Fargo
Idris Elba – Luther
Mark Ruffalo – The Normal Heart
Benedict Cumberbatch – Sherlock: His Last Vow
BB:
Billy Bob absolutely haunted the entire season of Fargo. Exciting, frightening, and hilarious all at once. He will win, as he should.
CM:
Will Win: Mark Ruffalo, because AIDS.
Should Win: Idris Elba, because Idris Elba! (But really, I'd be thrilled with a Chiwetel win as well. These are two of England's most talented exports.)
TJ:
Who Will Win: I want to agree with Claire here and say Ruffalo because of her reason, but everyone thinks the sun shines out of Fargo's ass and the show is expected to win Best Miniseries. But, I have to say, after watching a few episodes, I almost have to agree. I'm going with Billy Bob on this one.
Who Should Win: Oh, AIDS —AIDS all the way. Go, Ruffalo.
Outstanding Lead Actress In A Miniseries Or A Movie
Jessica Lange – American Horror Story: Coven
Sarah Paulson – American Horror Story: Coven
Helena Bonham Carter – Burton & Taylor
Minnie Driver – Return to Zero
Kristen Wiig – The Spoils of Babylon
Cicely Tyson – The Trip to Bountiful
BB:
Jessica Lange will and should win. She checks off two of the classic Emmys predictors: a movie star "coming down" to TV, and a previous winner.
I thought Allison Tolman should have been submitted as a lead actress, though. Her Molly Solverson was more of a central character to Fargo than Lead Actor nominees Billy Bob and Martin Freeman. If she's in this category, she runs away with it.
CM:
Will Win: Cicely Tyson, because she's old and this movie was probably important
Should Win: none of these other options sound all that amazing. Wiig in Spoils of Babylon was nothing unique from an SNL character and I missed watching the entire AHS run.
TJ:
Who Will Win: Truth be told, either sports were on, or I was distracted by shiny objects when these aired. I DID catch the first two episodes of The Spoils of Babylon and I have to ask—why the f**k is Wiig nominated for this? Given, I adore the ground she walks on and believe she's a comedic genius, but, c'mon. Will agree with Claire and go with Cicely Tyson.
Who Should Win: Jesus, was this really the list?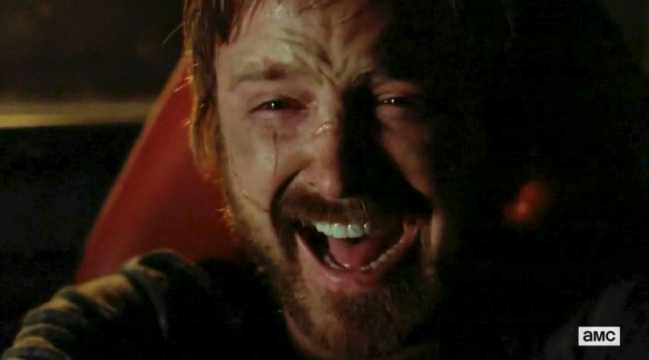 Outstanding Supporting Actor In A Drama Series
Aaron Paul – Breaking Bad
Jim Carter – Downton Abbey
Peter Dinklage – Game of Thrones
Josh Charles – The Good Wife
Mandy Patinkin – Homeland
Jon Voight – Ray Donovan
BB:
To Dinklage! PD's Tyrion Lannister won him the award in Season 1, but Season 4 absolutely belonged to the character. The consistently strong Aaron Paul unfortunately wasn't given a lot to do in Breaking Bad's final season.
However, if one were to swap Dinklage out for Charles Dance, the actor that played his father, I'd be disappointedly unsurprised when he didn't take it home. He was often the strongest character of the season, and carried it for stretches.
CM:
I don't watch any of these shows, either, but there's a lot of buzz around Jon Voight (and not just because of his 1989 LeBaron convertible), so I'll say he will win.
Should Win: Josh Charles, because his character was killed off on Good Wife, and that was apparently shocking.
TJ:
Who Should Win: Jesse Pinkman, bitch. Yes, I get that joke is outdated, but I don't care. He needs to win solely because his character was forced to attend the most awkward dinner in history with Walt and Mrs. White. Paul's portrayal of a man broken rips at your heart—which made his final scene all the more brilliant. Though, I have to give Peter Dinklage some serious props because it's insanely hard to love any Lannister in "Game of Thrones" but he manages it beautifully with his performance as the sarcastic Tyrion Lannister. If George R.R. Martin decides to keep his character alive, I see Dinklage taking one of these little beauties home in the next couple years.
Who Should Win: Yeah, science!
Outstanding Supporting Actress In A Drama Series
Anna Gunn – Breaking Bad
Maggie Smith – Downton Abbey
Joanne Froggatt – Downton Abbey
Lena Headey – Game of Thrones
Christine Baranski – The Good Wife
Christina Hendricks – Mad Men
BB:
This is a toughy, but I see it going to Gunn for the second year in a row.
But it should go to Headey. Everyone's favorite incestuous alcoholic was particularly incestuous and alcoholic this year, and Headey kicked used that extra blood alcohol content to stunning results. She's complicated, intolerable, yet almost always kinda-sorta-justified-only-a-little-bit-OK-not-really-but-c'mon.
CM:
Will Win: Christina Hendricks, because Joan Holloway deserves to be taken seriously
Should Win: see above
TJ:
Who Will Win: Oh, this will be Gunn. She annoyed the absolute hell out of me with her "oh, I care about my kids too much to be married to a drug kingpin, but the money is rather lovely" but I'll admit, Gunn was phenomenal during Breaking Bad's final run. Her raw emotion in the final episodes will make even the toughest drug dealer crumble. But, for the love of god, watch that baby! Why does she only appear when it's covenant? AND WHY DOES SHE NEVER CRY??!
Who Should Win: Ohhh, Hendricks. Hendricks all the way. She's finally worked her way up the ladder at Sterling Cooper Draper Cambell Dewey Cheatem and Howe or whatever they're named now. Hendricks finally needs her recognition here.
Outstanding Supporting Actor In A Comedy Series
Andre Braugher – Brooklyn Nine-Nine
Adam Driver – Girls
Jesse Tyler Ferguson – Modern Family
Fred Armisen – Portlandia
Tony Hale – Veep
Ty Burrell – Modern Family
BB:
Unfortunately it will be Ty Burrell, if only because it appears that ballots get to voters with everything Modern Family already check-marked. Don't get me wrong, he's fantastic. But the show is definitely on its downslope.
As far as should-win goes, it's a Hale and Armisen toss-up. Fred gets the tie because it's time Portlandia wins an Emmy for something other than costume design.
CM:
Will Win: Adam Driver. Everyone talks about him all the time, everywhere.
Should Win: Andre Braugher, because Captain Holt is an amazing character.
TJ:
Who Will Win: BUSTER! I mean, Tony Hale. C'mon—remember the tampon?
Who Should Win: Again, Selina's right-hand purse-holding man.
Outstanding Supporting Actress In A Comedy Series
Mayim Bialik – The Big Bang Theory
Julie Bowen – Modern Family
Allison Janney – Mom
Kate Mulgrew – Orange Is the New Black
Anna Chlumsky – Veep
Kate McKinnon – Saturday Night Live
BB:
Again, the Modern Family Corollary.
With its deepest and funniest cast of females in the show's long history, I'd love to see Kate McKinnon earn Saturday Night Live love.
CM:
Will Win: Kate Mulgrew. Again, everyone loves this show. Hearts for everyone.
Should Win: Kate McKinnon. She's just fabulous and multifaceted and fearless.
Honorable Mention: Allison Janney! While I'm glad that she's on TV, because she's an amazing actress, this show is trite and predictable, so I guess it's important to note that she's being singled out for what she's able to do with this role.
TJ:
Who Will Win: If Red doesn't win this, I'll go drop-kick a baby giraffe. Yes, you heard me—A. Baby. Giraffe. Kate Mulgrew was heart shattering in OITNB (not as heart shattering as Uzo Aduba, who just nabbed Best Guest Actress as her portrayal of Suzanne "Crazy Eyes" at the Creative Arts Emmys). She's one of the strongest actresses on the show and makes you have so many feels.
Who Should Win: While I love Anna Chlumsky in Veep and Blossom playing a love-struck geek in The Big Bang Theory, I'm gonna stick with Mulgrew here.
Outstanding Supporting Actor in a Miniseries or a Movie
Colin Hanks – Fargo
Jim Parsons – The Normal Heart
Joe Mantello – The Normal Heart
Alfred Molina – The Normal Heart
Matt Bomer – The Normal Heart
Martin Freeman – Sherlock: His Last Vow
BB:
Will and should: Colin Hanks.
Are you noticing a trend here? Fargo will probably sweep every category its nominated for, and rightfully so. FX can thank HBO for submitting the anthology series True Detective as a series and not a miniseries.
CM:
Will Win: Anyone who was a part of The Normal Heart.
Should Win: Sure, let's stick with this prediction.
TJ:
Who Will Win: Probably Tom Hanks' mini-me since Fargo is expected to sweep.
Who Should Win: Anyone of those dudes from The Normal Heart.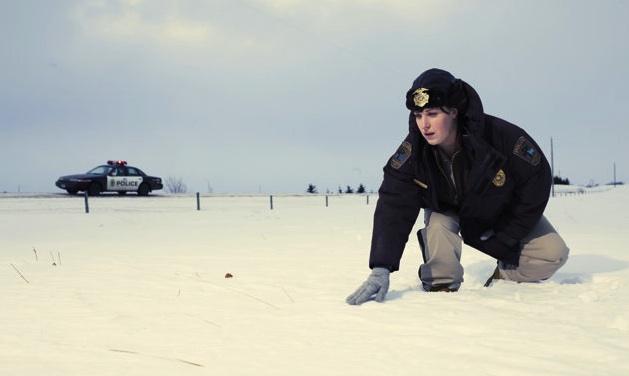 Outstanding Supporting Actress In A Miniseries Or A Movie
Frances Conroy – American Horror Story: Coven
Kathy Bates – American Horror Story: Coven
Angela Bassett – American Horror Story: Coven
Allison Tolman – Fargo
Ellen Burstyn – Flowers in the Attic
Julia Roberts – The Normal Heart
BB:
See above regarding the Fargo sweep. But of all its likely wins, this is hands down the most deserving award the show will win. Tolman's unflappable Molly Solverson was a delight to watch for a season. I'm excited to see the misadventures of the character's father in the '70s in Season 2.
CM:
Will Win: Julia Roberts, because AIDS and doing a cable movie
Should Win: I guess the Runaway Bride. But really, Ellen Burstyn for Flowers in the Attic would be an amazing coup.
TJ:
Who Will Win: Was Flowers in the Attic really nominated? I hate to break it to you, but the book seriously blew monkey chunks and was horribly written. I'm pretty sure there is better written prose with incest themes (Nabokov's Ada or Ardor comes to mind). No offense to Ellen Burstyn, by the way. I'm going to go with Allison Tolman here.
Who Should Win: Roberts. Roberts all the way.
Outstanding Television Movie
Killing Kennedy
Muhammad Ali's Greatest Fight
The Normal Heart
Sherlock: His Last Vow
The Trip to Bountiful
BB:
No clue. Normal Heart? HBO?
CM:
Should/Will Win: The Normal Heart. It's not TV, it's HBO. And it's taking all of your trophies.
TJ:
Agree with Claire on both levels. Wasn't too impressed with the others.
Outstanding Drama Series
Breaking Bad
Downton Abbey
Game of Thrones
House of Cards
Mad Men
True Detective
BB:
Well, let's see. The best series of the last five years just had its best and final season. I think that should all about wrap it up for Breaking Bad.
CM:
Will Win: True Detective. So, so buzzy. People are still debating the finer points of the plot
Should Win: House of Cards. What an amazing climb up the ladder for Frank this season!
TJ:
Who Will Win: This is the first time in Emmy history that I wouldn't be disappointed with whoever is the winner. But truth be told, it will be Breaking Bad. I have never watched a series that was pitch-perfect from episode one to the final curtain. Creator Vince Gilligan created the drama series, not like a television show, but like a film—beginning, middle and end. No swaying, no writing himself into a corner, no gimmicks, no polar bears.  Nothing but pure and utter genius.
Who Should Win: Say my name …
Outstanding Comedy Series
The Big Bang Theory
Louie
Orange Is the New Black
Silicon Valley
Veep
Modern Family
BB:
Preparation for Veep includes several unfilmed rehearsals, which is unique for a comedy series. And it shows: particularly starting with the second season and carrying right on into the third, it remains the tightest yet still one of the most off-color comedies on air. It will and should win.
CM:
Will Win: OITNB, because you know what I mean by the initialism alone
Should Win: Silicon Valley. That show is so friggin' funny! And because Mike Judge and because of the IT Crowdish opening credits, and because T.J. Miller is vastly underappreciated for his comedic abilities.
TJ:
Who Will Win: It better not be Modern Family. C'mon. I'll say Veep.
Who Should Win: Toss up—while I loved the crassness of Veep, I want to the prismatic acting in OITNB to pull through. The final episode of season two should be enough to help nab that statue. Always so rude, that one. Go ahead, it's okay to get chills.
Outstanding Miniseries
American Horror Story: Coven
Bonnie & Clyde
Fargo
Luther
Treme
The White Queen
BB:
See above. The wonderful Fargo will and should win.
CM:
Will Win: AHS, because it got a lot of ink in the press this season.
Should Win: Fargo, I guess because it's an interesting adaptation of the movie.
Sidenote: Treme is still on TV? Bonnie & Clyde, that was a thing that people watched?
TJ:
Who Will Win: Ugh, again—Fargo.
Who Should Win: Why are a majority of these even a thing? Do better next year with this category, TV. Give Fargo a run for their money.
*     *     *
That wraps up this year's PCS Emmys Roundtable. Be sure to tune in on Monday night. And remember to forget our picks and how wrong they all are.