2014-15 NBA SEASON PREVIEW CONTENT LIST
Atlantic: Celtics | Nets | Knicks | 76ers | Raptors |Division Preview
Central: Bulls | Cavaliers | Pistons | Pacers | Bucks | Division Preview
Southeast: Hawks | Hornets | Heat | Magic | Wizards | Division Preview
Pacific: Warriors | Clippers | Lakers | Suns | Kings | Division Preview
Northwest: Nuggets | Timberwolves | Thunder | Trail Blazers | Jazz | Division Preview
Southwest: Mavericks | Rockets | Grizzlies | Pelicans | Spurs | Division Preview
Top 10 by Position: PG | SG | SF | PF | C
Top 10 Lists: Sixth Men | Sophomores | X-Factors | Rookies | Games to Watch | Comeback | Contenders | Breakouts
Articles: Assessing the Cavaliers Trio | Important Season for James Harden | Return of Paul George? | Trading Rajon Rondo | Are the Nuggets This Season's Suns? | NBA's Best Starting Five | NBA's Worst Starting Five | Now or Never for Durant and Thunder After Injury
Fantasy Basketball: Top 10 PGs | Top 10 SGs | Top 10 SFs | Top 10 PFs | Top 10 Cs | Sleepers, Studs, and Sinkholes | Analyzing the Schedule | BMF Mock Draft | Cavs and Cav-Nots | Like A Bosh | Rajon Injury Impact
Media Day: Clippers | Hawks | Kings | Knicks | Magic | Mavericks | Nets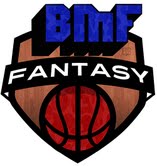 The three-team blockbuster deal of the offseason is officially in the books and this chapter in the protracted Kevin Love story is finally over. He is now a member of the Cleveland Cavaliers, joining LeBron James and Kyrie Irving in their hunt for an NBA title this coming 2014-15 NBA season. Yes, the Cavs are now favorites to win the East and, arguably, the favorites to win it all. Of course the defending champion San Antonio Spurs will likely be contesting the latter. For reference, here is a recap of who goes where:
Cleveland Cavaliers receive: Kevin Love*
Minnesota Timberwolves receive: Andrew Wiggins, Anthony Bennett, and Thaddeus Young
Philadelphia 76ers receive: Luc Mbah a Moute, Alexey Shved, and a future first-round pick
*Kevin Love has not committed to a contract extension and will become an unrestricted free agent in 2014-15
That's in real life. There are even more questions left unanswered in the realm of the game of fantasy basketball. What stats will Cleveland's "Big Three" produce this season? Is Andrew Wiggins or Anthony Bennett, for that matter, worth picking in drafts this year? With LeBron gone, how will the players of the team he left behind, the Miami Heat, perform this season?
Fret not. We've got you covered.
THE CAVS
Current projected depth chart (via ESPN):
PG: Kyrie Irving, Matthew Dellavedova, John Lucas III
SG: Dion Waiters, Mike Miller
SF: LeBron James, Shawn Marion,* James Jones, Joe Harris
PF: Kevin Love, Tristan Thompson, Erik Murphy
C: Anderson Varejao, Brendan Haywood, Alex Kirk
*Marion has agreed to sign with Cleveland and his addition should follow soon
For obvious reasons, our sights are firmly set on the team's top three players as they bring the most fantasy impact. They are solid contributors across multiple categories, the main source of their fantasy value. Here are some of the factors that should affect their statistical production:
The coach and his system
Head coach David Blatt is expected to employ the Princeton-style, motion offense he used with great success in Europe. The system is about setting screens, players cutting, and finding the player who is open to take the high-percentage shot.
The offense should still flow through LeBron's hands as he gets the lion's share of the touches, but because of how Blatt's system works, the ball should (ideally) not stay with him for too long. The offense does reward unselfishness with the constant motion of the players resulting in one or more of them finding themselves free for an easy lay-up or an open trey.
We should see a dip in the assists per game of the team's "Big Three," but a slight rise in the averages of their supporting cast. While that generally creates a negative impact on the stars' fantasy values, the trade-off is that more open shots should result in better shooting percentages from the field.
Too much of a good thing
The team is scary and should easily dominate more than a few teams in the Eastern Conference. This dominance will translate into the occasional blowout game, where Cleveland simply busts out an early lead and does not look back. In these situations, our precious stars will end up sitting out the closing minutes of the game and will end up logging less than their average minutes per game, resulting in lower than average fantasy production. While such blowouts won't occur too often, the aforementioned dips in performance could cost their owners a key match-up for the week. Considering the overall value that James, Irving and Love are expected to bring, this variance is a price worth paying.
Scoring
James, Love, and Irving are all capable scorers. In 2013-14 they each averaged more than 20 points per game and were their team's primary scorers (James: 27.1 PPG, Love: 26.1 PPG, Irving: 20.8 PPG). Now that they are playing together, it should not be expected that these stars will maintain the same scoring output.
Projections for 2014-15:
LeBron James: 25.8 PPG
Kevin Love: 22.9 PPG
Kyrie Irving: 18.9 PPG
Passing
All three stars were key facilitators in their former teams' offense, with each of them averaging 4.4 assists per game or higher. As mentioned earlier, we should see a dip in their dimes. For fantasy basketball purposes though, they should still deliver good enough averages to keep their owners' teams competitive in that category.
| | | |
| --- | --- | --- |
| Player | 2013-14 Averages | Projections for 2014-15 |
| | | |
| LeBron James | 6.3 APG | 6.1 APG |
| Kyrie Irving | 6.1 APG | 5.5 APG |
| Kevin Love | 4.4 APG | 3.3 APG |
Rebounding 
As forwards, this category impacts James and Love more than it does Irving. That said, Irving was no slouch on the glass last season and his 3.6 rebounds per game puts him in the top 10 rebounding point guards in the NBA. Kevin Love was third in the league in rebounding with 12.5 boards. James saw his third lowest rebounding averages of his career in 2013-14 at 6.9 rebounds.
Love took a career-high 6.6 attempts from downtown last season. He was also Minnesota's most reliable three-point shooter and was counted on, time and again, to spread out the defense, making him fantasy's premier stretch four. In Cleveland, we expect him to spend bit more time in the post, with James, Irving, and Dion Waiters being capable of knocking down the trey. The thing is that he will be sharing the paint with Anderson Varejao who is averaging 7.3 rebounds over his last four seasons. That said, Love is still the superior and more intelligent rebounder and should get the bulk of the action on the boards.
Projections for 2014-15:
Kevin Love: 13.1 RPG
LeBron James: 6.5 RPG
Kyrie Irving: 3.1 RPG
When do we draft them?
James – Early first round, between picks 3-4
Love – First round, between picks 5-6
Irving – Late second round
As far as their supporting cast is concerned, Varejao, who has a notorious history of being injury-prone and who we expect to suffer from sharing the paint with Kevin Love can be picked as a last-round flier pick in standard leagues. Unless Waiters significantly improves his attitude and/or his three-point shooting, he will be the odd man out. Shawn Marion, who delivered mid-round value last season as a starter with the Dallas Mavericks, now loses much of his fantasy luster as a reserve in Cleveland. He should hold value only in deep leagues.
THE CAV-NOTS
Andrew Wiggins is the new centerpiece of the Timberwolves franchise. Expect him to get a baptism by fire and to be given significant minutes (likely off the bench at the beginning) from the get-go. He is a fantastic draft target for dynasty league drafts, but is at best a late-round pick (for his potential) in standard re-draft leagues.
Minnesota was originally expected to ship off Anthony Bennett in the process of acquiring Thaddeus Young. Their decision to keep Bennett significantly hurts his value. It's best to stay away from him in drafts and keep a "wait-and-see" approach as far as he's concerned. He does have some small post-All-Star breakout potential as his best case scenario.
Thaddeus Young has some big shoes to fill. Fantasy basketball first-round, Kevin Love-sized shoes. He won't fill 'em. Sadly, neither will he be wearing his own breakout season sneakers from last season in Philly. That said, Young should still hold some good value as a middle-round pick. Thad's fantasy luster stems from his being a source of steals from the power forward position. He averaged a career-high 2.2 swipes in 2013-14. We see him notching 1.6 steals per game this season.
Whew! Now that's a lot to digest for now. Stay tuned as we break down more NBA players of interest in fantasy basketball in the coming days!