2014-15 NBA SEASON PREVIEW CONTENT LIST
Atlantic: Celtics | Nets | Knicks | 76ers | Raptors |Division Preview
Central: Bulls | Cavaliers | Pistons | Pacers | Bucks | Division Preview
Southeast: Hawks | Hornets | Heat | Magic | Wizards | Division Preview
Pacific: Warriors | Clippers | Lakers | Suns | Kings | Division Preview
Northwest: Nuggets | Timberwolves | Thunder | Trail Blazers | Jazz | Division Preview
Southwest: Mavericks | Rockets | Grizzlies | Pelicans | Spurs | Division Preview
Top 10 by Position: PG | SG | SF | PF | C
Top 10 Lists: Sixth Men | Sophomores | X-Factors | Rookies | Games to Watch | Comeback | Contenders | Breakouts
Articles: Assessing the Cavaliers Trio | Important Season for James Harden | Return of Paul George? | Trading Rajon Rondo | Are the Nuggets This Season's Suns? | NBA's Best Starting Five | NBA's Worst Starting Five | Now or Never for Durant and Thunder After Injury
Fantasy Basketball: Top 10 PGs | Top 10 SGs | Top 10 SFs | Top 10 PFs | Top 10 Cs | Sleepers, Studs, and Sinkholes | Analyzing the Schedule | BMF Mock Draft | Cavs and Cav-Nots | Like A Bosh | Rajon Injury Impact
Media Day: Clippers | Hawks | Kings | Knicks | Magic | Mavericks | Nets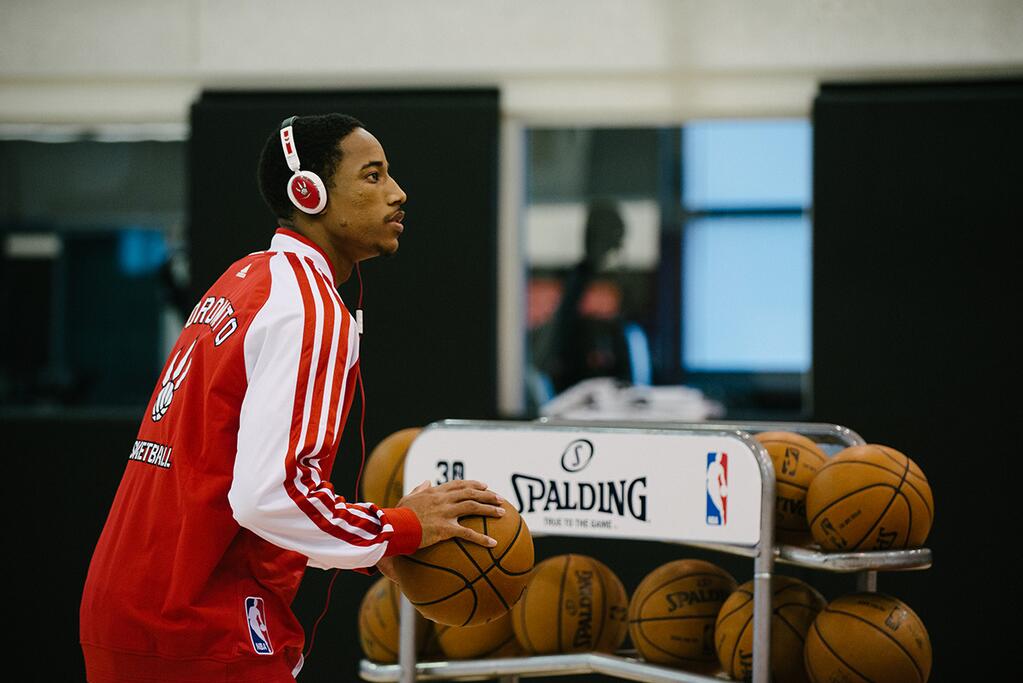 Most Important Player: Kyle Lowry
Recent Team USA alumnus DeMar Derozan may be the Raptors' best player, and could make a strong case for this role, but Lowry will be the engine that drives this team forward. Last season, the team almost traded the at-times temperamental point guard only to see him lead the club to one of the surprise finishes of the year. Displaying improved shooting and decision making to go along with his aggressive style, he positioned himself for the big extension he signed this summer and this season will be the first chance to prove he's worth it. There are strong back-ups to provide insurance for the Raptors, but any prolonged injury or struggles from Lowry could be a major cause for concern.
X-Factor: Jonas Valanciunas
The Raptors' backcourt does most of the heavy lifting for their offense. In the playoffs, Lowry and DeRozan averaged almost as many points as the rest of the roster combined. The frontcourt did provide terrific protection on the other end of the court, leading to a top-10 defense. Their young center Valanciunas was a key contributor on defense last season but his development on both ends of the court could be the difference in how far the Raptors advance in the postseason. He is big and talented but also inexperienced and there were too many times last season where he appeared unsure of how to use his size in the post, and would get lost on defense. After leading home country Lithuania to a strong showing in this summer's FIBA World Cup, his improvement on the offensive end of the court could help balance the Raptors offense.
Rotations: The Raptors starting five will likely feature Lowry, DeRozan, Terrence Ross, Amir Johnson and Valanciunas. The starters feature one of the strongest backcourts in the league, and strong overall team defense. The below-average rebounding from Ross and Johnson are countered by the aggressive glass work from the backcourt. Where the lead five currently needs help is from establishing a stronger low post presence from its bigs. The mid-season trade of Rudy Gay led to the emergence of the Lowry-DeRozan pairing, but also significantly bolstered depth.
Greivis Vasquez is slow, a poor defender and an inconsistent shooter. He's also great at finding teammates for easy baskets and plays with passion. He is one of the best back-up points in the league and can also play alongside Lowry. With stretch-fours in high demand around the league, Patrick Patterson helps space the four and open the lane for the team's attacking guards. He isn't a great rebounder or defender, but he pairs well with Valanciunas and offseason additions James Johnson and Greg Stiemsma. Both are tough defenders who will only bolster an already strong defense for Dwane Casey. Last season's team lacked a perimeter scorer off the bench so the team traded for Louis Williams, an inconsistent scoring combo-guard who struggled last year with the Atlanta Hawks. Rounding out the bench are work-horses Tyler Hansbrough, Chuck Hayes, intriguing rookie projects Bruno Caboclo and Lucas Nogueira, and the expiring contract from the once-productive Landry Fields. There is talent, depth and better balance for Casey to utilize.
What Needs To Go Right: The Raptors' core missed very few games last season, which, considering their relatively young age, shouldn't come as a major surprise. That youth also still has potential to improve, especially as they continue to learn how to play together. What the team needs to go right this season is the offensive development and contributions from anyone other than Kyle Lowry or DeMar Derozan. As terrific a season as the team had, the backcourt's pressure to score took a toll on their stars in the postseason. Their shooting percentages plummeted and they lost their series to a Brooklyn Nets team they could have beat. This season's team needs a reliable third scorer.
It's Really Bad If: The injury bug is always waiting to bite unsuspecting prey. The Raptors rely so heavily on Lowry and DeRozan to score that any significant injury to either player could prove disastrous for their post-season hopes. Lowry hasn't been immune to injuries in the past so all Raptors fans should keep their fingers crossed.
Bold Prediction: Competition will be tough in the Eastern Conference, as the Cleveland Cavs and Chicago Bulls both made significant (i.e. LeBron James) improvements to their roster. The Raptors should be able to build on their success from last season and will win their second playoff series in franchise history. Alas, that's likely as far as the road will take them.
PLAYER PROFILES
Bruno Cabaclo, SF
Strengths: Length; athleticism; potential.
Weaknesses: Extremely raw.
Season Prediction: He'll be a fan favorite who the team will bring along slowly. Expect garbage-time highlights and low-lights alike.
DeMar DeRozan, SG/SF
Strengths: Terrific talent; excellent scorer; vastly improving overall game; athleticism; improving defensively.
Weaknesses: Poor outside shooter; still a relatively inefficient scorer; has struggled being "the guy" in big moments.
Season Prediction: DeRozan builds on a strong year and USA team appearance and comes back ready to help lead the Raptors deeper into the postseason. His game continues to develop and he makes his first All-NBA Team appearance.
Landry Fields, SG/SF
Strengths: At one time, had versatile game; great rebounder for his size.
Weaknesses: Game has disappeared, along with his confidence; poor shooter.
Season Prediction: This might be the last chance for Landry. After an impressive rookie campaign, he has regressed in every season. With the depth in front of him, it may take a new team to regain his mojo.
Tyler Hansbrough, PF
Strengths: Tough; plays with terrific passion; good rebounder.
Weaknesses: Effort can't totally make up for size and ability limitations; poor outside shooter.
Season Prediction: "Psycho T" saw his minutes decline last season and with the new additions, this year may be more of the same. He's always ready to play and will continue to provide energy and effort when called upon.
Chuck Hayes, PF/C
Strengths: Effective situational defender; excellent passing for a big man.
Weaknesses: Conditioning; size; offensive skills.
Season Prediction: Unlikely to see much playing time, he'll continue to be a positive influence in the locker room.
Amir Johnson, PF
Strengths: Shot blocking; great finisher around the rim; willing to do the dirty work.
Weaknesses: Below average rebounder; limited offensively; poor passer.
Season Prediction: Even though he's relatively young, his development has probably peaked, which is OK as he will once again going to provide effective support around the rim on both sides of the court.
James Johnson, SF/PF
Strengths: Versatile defender, including great weak-side shot blocking abilities.
Weaknesses: Poor outside shooter; comes with baggage.
Season Prediction: Talent has never been Johnson's issues and if his mind is in the right place, he can provide a tough and versatile defender for Toronto.
Kyle Lowry, PG
Strengths: Physical abilities; tenacious defender; significantly improving outside shot.
Weaknesses: Occasional attitude issues; efficiency.
Season Prediction: Lowry's bulldog mentality on both ends of the court will continue to lead the Raptors. If he can stay healthy and focus on involving him teammates, the Raptors will thrive.
Lucas Nogueira, C
Strengths: Tall and athletic; potential as rim protector.
Weaknesses: Raw; effort issues in past.
Season Prediction: Nogueira is a couple seasons away from contributing.
Patrick Patterson, SF/PF
Strengths: Three point shooting ability; great teammate; high BBIQ.
Weaknesses: Below average rebounder and defender; lacks low post game.
Season Prediction: Patterson pairs well with most of the Raptor bigs and will continue to provide a great option as a stretch PF.
Terrence Ross, SG/SF
Strengths: Terrific athlete; very effective outside shooter; improving defender.
Weaknesses: Poor at attacking basket; inexperienced; not a great passer.
Season Prediction: Turned in an impressive sophomore campaign and should look to build on that experience. Must become more aggressive at attacking the basket and learning to share the ball.
Greg Stiemsma, C
Strengths: Blocking shots; mixing it up down low.
Weaknesses: Zero offensive skill.
Season Prediction: His lack of offensive skills limit his playing time but for 10-20 minutes each game, Stiemsma will provide the Raptors with highly effective low post defense.
Jonas Valanciunas, C
Strengths: Loaded with potential; great rebounder; demonstrates flashes of terrific BBIQ.
Weaknesses: Inexperience; inconsistent defender; needs to work on passing.
Season Prediction: Jonas is unlikely to maximize his potential this season but all of the signs point to this being a breakout year. If he can improve, even marginally, on both sides of the court this could be a big season for the young big.
Greivis Vasquez, PG
Strengths: Leadership; intensity; floor vision; height.
Weaknesses: Inconsistent shooter; poor defender; slow.
Season Prediction: Vasquez is the type of competitor that will maximize every ounce of his physical abilities. He's a creative passer and streaky shooter who gives the Raptors another end of game option.
Louis Williams, PG/SG
Strengths: Dynamic scorer; experienced; can play both guard spots.
Weaknesses: Physical abilities haven't recovered since injury; inefficient scorer; below average defender.
Season Prediction: Even if Williams doesn't regain his pre-injury abilities, his impact as another bench scorer is sorely needed.