2014-15 NBA SEASON PREVIEW CONTENT LIST
Atlantic: Celtics | Nets | Knicks | 76ers | Raptors |Division Preview
Central: Bulls | Cavaliers | Pistons | Pacers | Bucks | Division Preview
Southeast: Hawks | Hornets | Heat | Magic | Wizards | Division Preview
Pacific: Warriors | Clippers | Lakers | Suns | Kings | Division Preview
Northwest: Nuggets | Timberwolves | Thunder | Trail Blazers | Jazz | Division Preview
Southwest: Mavericks | Rockets | Grizzlies | Pelicans | Spurs | Division Preview
Top 10 by Position: PG | SG | SF | PF | C
Top 10 Lists: Sixth Men | Sophomores | X-Factors | Rookies | Games to Watch | Comeback | Contenders | Breakouts
Articles: Assessing the Cavaliers Trio | Important Season for James Harden | Return of Paul George? | Trading Rajon Rondo | Are the Nuggets This Season's Suns? | NBA's Best Starting Five | NBA's Worst Starting Five | Now or Never for Durant and Thunder After Injury
Fantasy Basketball: Top 10 PGs | Top 10 SGs | Top 10 SFs | Top 10 PFs | Top 10 Cs | Sleepers, Studs, and Sinkholes | Analyzing the Schedule | BMF Mock Draft | Cavs and Cav-Nots | Like A Bosh | Rajon Injury Impact
Media Day: Clippers | Hawks | Kings | Knicks | Magic | Mavericks | Nets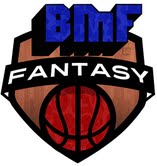 Here are the top 10 NBA point guards for Fantasy Basketball for the upcoming 2014-15 season. Rankings are based on projected per-game averages of the standard nine statistical categories: points, rebounds, assists, threes made, steals, blocks, field-goal percentage, free-throw percentage, and turnovers.
Stephen Curry, GSW – In 2013-14 he elevated his game to new heights yet again. He was the league's best three-point shooter (261 treys made) and improved his passing (8.5 APG). He hasn't hit his ceiling yet. Now that is scary!
Chris Paul, LAC – He led the league in both assists and steals last season. Under new ownership, expect a revitalized and motivated Los Angeles Clippers team this season. The only drawback is that he's missed an average of 18 games over the last three seasons.
Russell Westbrook, OKC – Only his field-goal percentage and his high turnovers are what hold him back. Nonetheless, he's a fantastic source of points, steals, and free-throw percentage for your fantasy team.
John Wall, WAS – His counting stats rose across the board last season, unfortunately so did his turnovers. Wall's owners were thrilled that he developed an outside touch (1.3 3PTM).
Damian Lillard, POR – Lillard is entering his third season in the NBA and look for his stats to rise yet again. Think of him as a not-so-poor man's Stephen Curry.
Kyle Lowry, TOR – Lowry was one of the bigger and more pleasant surprises in fantasy last season. Expect more of the same if not slightly better in 2014-15.
Kyrie Irving, CLE – His shooting efficiency from the field took a hit last season. The addition of LeBron James and Kevin Love should make it hard for his improvement to gain a lot of traction in 2014-15.
Goran Dragic, PHO – Dragic had a major breakout season in 2013-14, but a healthy Eric Bledsoe and a newly acquired Isaiah Thomas could cramp his style a bit this season.
Deron Williams, BKN – He was plagued by injuries and had to play below 100 percent health last season. He's entering camp "feeling good," and is a candidate for a bounce-back year under new coach Lionel Hollins.
Derrick Rose, CHI – His confidence is encouraging, but we don't expect him to find his old MVP form right away. If he can stay healthy, expect him to get his groove back later in the season.