2014-15 NBA SEASON PREVIEW CONTENT LIST
Atlantic: Celtics | Nets | Knicks | 76ers | Raptors |Division Preview
Central: Bulls | Cavaliers | Pistons | Pacers | Bucks | Division Preview
Southeast: Hawks | Hornets | Heat | Magic | Wizards | Division Preview
Pacific: Warriors | Clippers | Lakers | Suns | Kings | Division Preview
Northwest: Nuggets | Timberwolves | Thunder | Trail Blazers | Jazz | Division Preview
Southwest: Mavericks | Rockets | Grizzlies | Pelicans | Spurs | Division Preview
Top 10 by Position: PG | SG | SF | PF | C
Top 10 Lists: Sixth Men | Sophomores | X-Factors | Rookies | Games to Watch | Comeback | Contenders | Breakouts
Articles: Assessing the Cavaliers Trio | Important Season for James Harden | Return of Paul George? | Trading Rajon Rondo | Are the Nuggets This Season's Suns? | NBA's Best Starting Five | NBA's Worst Starting Five | Now or Never for Durant and Thunder After Injury
Fantasy Basketball: Top 10 PGs | Top 10 SGs | Top 10 SFs | Top 10 PFs | Top 10 Cs | Sleepers, Studs, and Sinkholes | Analyzing the Schedule | BMF Mock Draft | Cavs and Cav-Nots | Like A Bosh | Rajon Injury Impact
Media Day: Clippers | Hawks | Kings | Knicks | Magic | Mavericks | Nets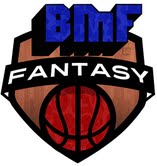 Here are the top 10 NBA centers in Fantasy Basketball for the upcoming 2014-15 season. Rankings are based on projected per-game averages of the standard nine statistical categories: points, rebounds, assists, threes made, steals, blocks, field-goal percentage, free-throw percentage, and turnovers.
Al Jefferson, CHA – Even though we would love to see more blocks from "Big Al," he's still a solid center who can be counted on for a 20-10 effort. He's also never averaged more than two turnovers per game in any season. Don't forget that Charlotte has the best fantasy playoff schedule in 2014-15.
DeMarcus Cousins, SAC – DMC's numbers improved across the board in 2013-14 and it looks like issues about his maturity are in the rearview mirror. The only thing keeping him off the top spot on this list is his 3.5 turnovers per game. In 8-cat leagues, he should be picked over Jefferson.
Joakim Noah, CHI – His stats should dip this season with Derrick Rose back and with Pau Gasol playing alongside him in the paint. Note that his 80-games played in 2013-14 was the exception and not the rule. Noah is an injury-prone guy and tends to miss more than a few games. That said, few big men can offer your fantasy team a nightly double-double that comes with at least a block, a steal, and four assists.
Al Horford, ATL – He is on track to be ready for the Hawks' training camp. If he can begin the season 100 percent healthy, Horford should be able return to his 2012-13 form where he averaged 17.4 PPG , 10.2 RPG, 1.0 SPG, and 1.0 BPG.
Brook Lopez, BKN – Lopez has had his share of injuries in recent years, making him a risky pick if taken too early in drafts. However, when he's healthy Brook can drop 20 points and two blocks a night.
Andre Drummond, DET – Drummond is still improving and we fully expect him to take another step forward this season. He's young, athletic, and reliable. Tack on that his uncharted upside, then you've got yourself one of the league's future dominant big men right there.
Nikola Vucevic, ORL – Nikola is a consistent double-double machine. He got 36 of them last season. We'd love to see him get more blocks as well as put up more points on the board, but those should come as he improves his game.
DeAndre Jordan, LAC – Ever since Doc Rivers started coaching DeAndre, his stats have just kept on getting better and better. He led the league in rebounds per game (13.6) and was third in blocks per game (2.5) in 2013-14.
Marc Gasol, MEM – Marc was slowed by injuries last season, causing him to miss 23 games. His blocks per game dipped as well. We're still confident that this contract year will be a good one for this multi-cat contributing big man.
Dwight Howard, HOU – Howard brings solid big-man stats consistently, but will also singlehandedly kill your fantasy team's free-throw percentage. His blocks per game dropped to a six season-low of 1.8 in 2013-14 which dragged down his value. If you're willing to punt FT% in your head to head league, feel free to bump him up several notches on this list.