2014-15 NBA SEASON PREVIEW CONTENT LIST
Atlantic: Celtics | Nets | Knicks | 76ers | Raptors |Division Preview
Central: Bulls | Cavaliers | Pistons | Pacers | Bucks | Division Preview
Southeast: Hawks | Hornets | Heat | Magic | Wizards | Division Preview
Pacific: Warriors | Clippers | Lakers | Suns | Kings | Division Preview
Northwest: Nuggets | Timberwolves | Thunder | Trail Blazers | Jazz | Division Preview
Southwest: Mavericks | Rockets | Grizzlies | Pelicans | Spurs | Division Preview
Top 10 by Position: PG | SG | SF | PF | C
Top 10 Lists: Sixth Men | Sophomores | X-Factors | Rookies | Games to Watch | Comeback | Contenders | Breakouts
Articles: Assessing the Cavaliers Trio | Important Season for James Harden | Return of Paul George? | Trading Rajon Rondo | Are the Nuggets This Season's Suns? | NBA's Best Starting Five | NBA's Worst Starting Five | Now or Never for Durant and Thunder After Injury
Fantasy Basketball: Top 10 PGs | Top 10 SGs | Top 10 SFs | Top 10 PFs | Top 10 Cs | Sleepers, Studs, and Sinkholes | Analyzing the Schedule | BMF Mock Draft | Cavs and Cav-Nots | Like A Bosh | Rajon Injury Impact
Media Day: Clippers | Hawks | Kings | Knicks | Magic | Mavericks | Nets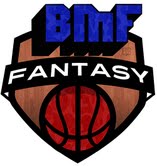 With LeBron James going back "home" to the Cleveland Cavaliers, the Miami Heat are forced to rethink things and approach the 2014-15 season differently. When James announced his decision, Miami's first order of business was to immediately secure the services of Chris Bosh. With a contract worth $118 million over five years, Bosh, an excellent (arguably elite) power forward, comes with more than a hefty price tag for the Heat. Clearly, they feel he is worth it.
James leaves a huge void in his wake. The Heat will miss more than his scoring, his passing ability, or even his ability to take control of a game almost at will. They will be missing a leader and a player with an undeniable, unflappable, unwavering desire to win. Miami now has to evolve in a post-LeBron era. How will Chris Bosh fit with the Heat? What role will he play? And most importantly, at least as far as players of the game of fantasy basketball are concerned, what stats will he produce this season?
From being the team's third scoring option, Bosh now appears to be Miami's primary go-to guy. The last time Chris was a team's go-to guy was back in 2009-10 when he was still with the Toronto Raptors. Let's take a look at how much his numbers have changed since taking his talents to South Beach.
2009-10 season with Toronto: 24.0 PPG, 10.8 RPG, 1.0 BPG, 51.8 FG%,  79.7 FT%, and 2.4 TOs.
Last four seasons with Miami: 17.3 PPG, 7.4 RPG, 1.0 BPG, 50.9 FG%, 81.3 FT%, and 1.8 TOs.
Some people might be expecting Bosh to return to his 20-10 producing days as a Raptor. That's not likely going to happen. Thanks to Miami's small-ball style of offense, Chris has evolved into more of a stretch-4, preferring to take mid-range jumpers as opposed to banging bodies with other big men in the paint. In his seven seasons with Toronto he averaged 0.3 three-point shots made per game. He quadrupled his output from beyond the arc to 1.2 treys per game during his four seasons with Miami. The Heat are very thin up front. Based on ESPN's 2014-15 depth chart, Bosh is listed as the team's starting center and will be sharing the paint with Josh McRoberts. I repeat, Josh McRoberts. Not exactly your garden variety big man either. That said, we should expect coach Spoelstra to ask both of them, if not everyone on the floor, to crash the boards by committee, or at least do their darnedest to do so.
At the end of the day, we should expect a more statistically productive Chris Bosh this season. Yes, he will score more. Probably even rebound the ball a bit more too. No, he still won't get more than one block per game and you will have to draft another big man to handle that category for your fantasy team. With more touches and with him playing a bigger role on offense, he will commit more turnovers per game as well. But that's a "bad" that will be worth swallowing with all the "good" that he brings to the table. His threes shouldn't suffer too much, as it is the style of play he's grown accustomed to in recent years. His very good shooting percentages from both the field and stripe make him an excellent centerpiece for either efficiency-based or small-ball head-to-head draft strategies, and of course he's money when it comes to the rotisserie format. He should be taken off draft boards in the second round, easily. Any position beyond that and he's already a steal.
2014-15 projections: 22.1 PPG, 8.6 RPG, 1.1 3PTM 1.0 BPG, 49.8 FG%, 80.2 FT%, and 2.2 TOs.
If you have any questions or have any topics or players you would like me to discuss here at Baller Mind Frame, feel free to zap me a tweet on Twitter, @FantasyHoopla.