2014-15 NBA SEASON PREVIEW CONTENT LIST
Atlantic: Celtics | Nets | Knicks | 76ers | Raptors |Division Preview
Central: Bulls | Cavaliers | Pistons | Pacers | Bucks | Division Preview
Southeast: Hawks | Hornets | Heat | Magic | Wizards | Division Preview
Pacific: Warriors | Clippers | Lakers | Suns | Kings | Division Preview
Northwest: Nuggets | Timberwolves | Thunder | Trail Blazers | Jazz | Division Preview
Southwest: Mavericks | Rockets | Grizzlies | Pelicans | Spurs | Division Preview
Top 10 by Position: PG | SG | SF | PF | C
Top 10 Lists: Sixth Men | Sophomores | X-Factors | Rookies | Games to Watch | Comeback | Contenders | Breakouts
Articles: Assessing the Cavaliers Trio | Important Season for James Harden | Return of Paul George? | Trading Rajon Rondo | Are the Nuggets This Season's Suns? | NBA's Best Starting Five | NBA's Worst Starting Five | Now or Never for Durant and Thunder After Injury
Fantasy Basketball: Top 10 PGs | Top 10 SGs | Top 10 SFs | Top 10 PFs | Top 10 Cs | Sleepers, Studs, and Sinkholes | Analyzing the Schedule | BMF Mock Draft | Cavs and Cav-Nots | Like A Bosh | Rajon Injury Impact
Media Day: Clippers | Hawks | Kings | Knicks | Magic | Mavericks | Nets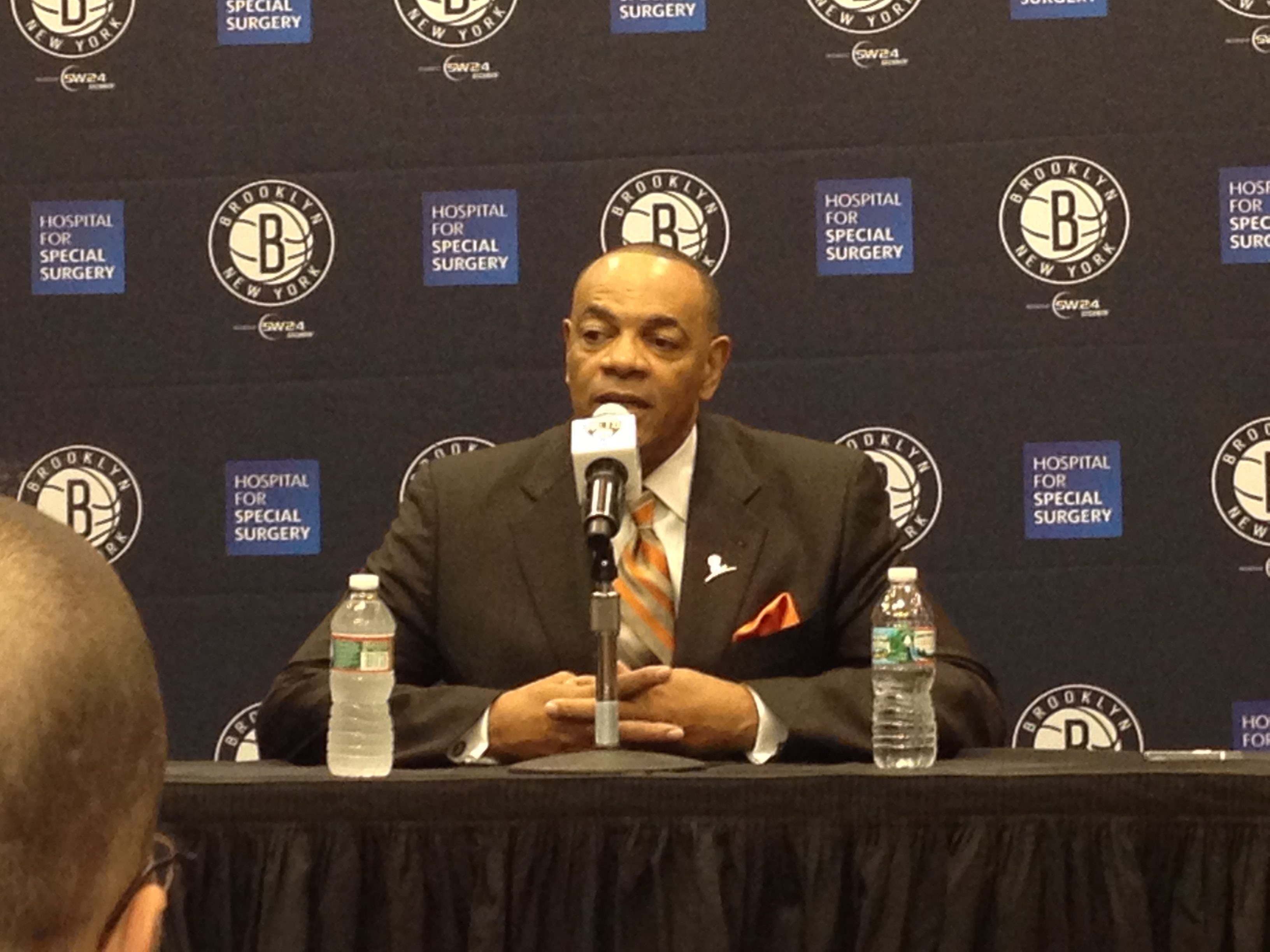 Expectation levels for the Brooklyn Nets are low this season – no new $1 billion arena in the biggest city in the world or any splashy offseason acquisitions of Hall of Fame players. Nothing. In the third season of this iteration of the Brooklyn Nets, it's calm, which is an odd juxtaposition when you consider the franchise's location and the recent past of going big and all in on their bets. And for that quiet, the team may actually be in a better place.
From Nets head coach Lionel Hollins to non-guaranteed player, Jorge Gutierrez, the Nets are in great spirits, ready to go and discover what this latest version of the Nets can do on the hardwood. Training camp begins tomorrow, when the fun stops and the work starts, and everyone seems to have a lighter edge to themselves. Things seem to be more free flowing, more loose, and perhaps with less pressure, the ability to actually perform without a basketball nation's eyes looking (and in some cases, hating) what you are doing, the Nets could surprise and perform past current expectation.
Head coach Lionel Hollins believes that repetition will be the key for the Nets to get tougher and, in turn, better. Oddly enough, starting with a new coach opening training camp seems to be the only fundamental repeat for the Nets. Two years ago, it was Avery Johnson, who was eventually relieved of his duties by P.J. Carlesimo, who was then also let go after the season. Last year, it was Jason Kidd, a decision that many questioned in the beginning, eventually loved at the turn of the year, and shook their head about during this offseason when he exited to join the Milwaukee Bucks.
ON LIONEL HOLLINS
This year, it's Hollins' turn. And he plans to practice, practice, practice.
When told about Hollins' philosophy of practice and the difference relative to former head coach, Jason Kidd, Joe Johnson replied: "For me, I don't think it'll make much of a difference. But yeah, I've heard that, too. I've heard that he loves practice. And you're right, Jason Kidd, I mean, we practiced, but… (long pause) not really. So we'll see, man. We'll see what happens." Laughter.
Kevin Garnett: "He's old school. Right off the top old school, which is my kind of guy. Not that Jason wasn't. First thing I notice about him is he has a presence. He spoke very candidly about his views and how he saw this team and how he saw us being in the future. He had a plan."
Deron Williams: "I didn't know much about Coach Hollins coming in, I knew he was a great coach and did a great job in Memphis, so I'm sure there's gonna be some differences, which is pretty much the case with every coach. Talking to him, I feel like he's going to be great for us for what we're trying to do here. I'm excited about playing for him, it's definitely a strange situation that went down this summer, but I think that's behind us now, and we're looking forward to him being our coach."
Brook Lopez: "I was thrilled. I saw what he'd done with Marc and Zach in Memphis and I heard a lot of good things about him from my high school teammate, Quincy Pondexter. He grew under him a lot, and really gave Quincy an opportunity near the end there, and he really took advantage. I'm looking forward to doing the same."
ON DERON WILLIAMS
D-Will on how he's feeling about his ankles, post-surgery: "I don't think I'm 100% yet just because I've only had a month, but I'm pretty close. I'm still getting strength, still getting confidence on it, but I've played 5-on-5. I feel like I'm at least 20% better than I was all of last year, so that's good."
Lionel Hollins: "I have no concern about deron's health. He's been looking really well in all of these workouts. I thought that he was near 100 percent. Maybe he doesn't feel he's 100 percent. Maybe the trainers don't feel he's 100 percent. But what I saw in the workouts, he's looked really good. I have high expectations of him from the start.
When asked about Williams' reputation as a coach killer, Hollins responded, "Well, I have a reputation of being a player killer." Laughter all around.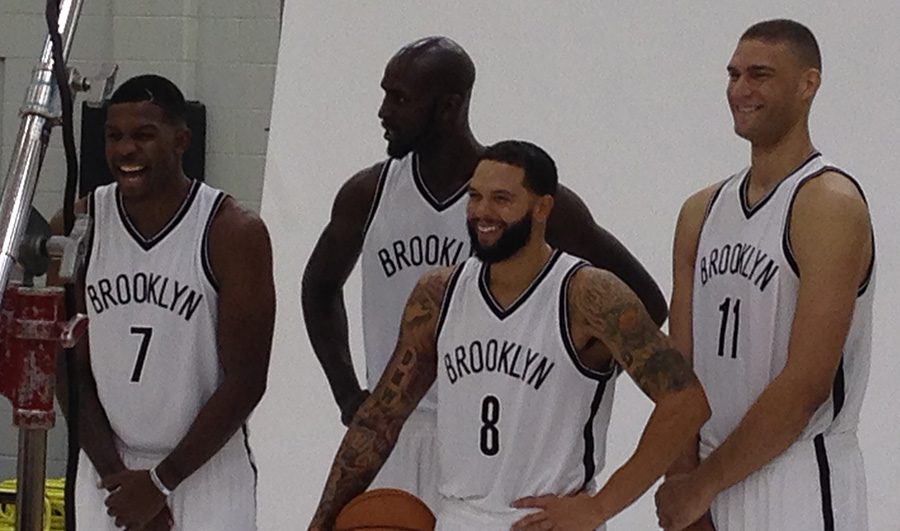 ON KEVIN GARNETT
Deron Williams: "I think just us having another year together helps. KG's going to be fine. I thought he had a great year last year. There were some games where he might've struggled, and that comes with getting older, having 19 years in this league, but he's so smart. Mentally, he's still smart. What he brings to this team leadership-wise can't be forgotten about. So we're excited to have him back, excited for him to be on our team, and just the knowledge he gives the young guys. I think he's a big reason why Mase has developed so fast, because he's got one of the best players to ever play the game on the bench, one of the best big men to ever play this game, coaching him every day."
Brook Lopez when asked if he could put into words Garnett's return means: "No, I really can't. It's funny, actually, because I've been rehabbing here all offseason. I was with Jeremy (Bettle) in the weight room, and Timmy (Walsh), and it had been so quiet. And then he came back about two weeks ago, and it immediately changed. He was doing his normal talk and everything… there was no hiding spot for me, either. I couldn't get away from the guy. But he really, I think he's helped me become more vocal on the court, and more confident in myself. I've always been very trusting of my teammates, but finding that trust in myself. He really has confidence in me, and it's contagious."
Garnett when asked about retirement: "I don't like to use that. I like to come in each year and asses it. I've always said the days when I'm not feeling basketball again, which is absurd, or when I don¹t have the motivation to come in here, it's time to
move on. But that's not the case. I'm very much motivated. I'm looking to have a better year than last year and I¹m looking to enjoy this year."
Garnett when asked about having to prove he can still play: "I don't need to show people anything. That's first off. Secondly, for myself, last year I think everybody had to take some takes on their own game and give a little bit for the betterment of and I did just that. I think Lionel, from what I hear of his system, might fit me a little better just because it's a little parallel to the things we did up in Boston. But granted my situation in his system last year was what it was. I thought I
made the proper adjustments to it when I had to. I really don't see myself as primary and that¹s just reality. But I still can give. I still have something to give to the game, to this team and my mindset has always been to be better than I was last year or to be better than I was yesterday. So I'm not going to change that."
ON BROOK LOPEZ
Lionel Hollins about Lopez's rebounding: "I want him to be a rebounder. We've had many conversations. That's one of the things I'll be challenging him on, not just rebounding but being better defensively, guarding the basket better and we've talked about that every day that I've run into him on the court. We talked about both he and Plumlee- they're our rebounders. You have to come back and get the boards as our bigger guy and athletic big guy you have to rebound. You can't win without securing the ball."
Lopez on Hollins' advice: "It's just been a matter of increasing my effort. Not just boxing out, but going to get the rebound after and focusing on certain numbers on the offensive rebounds, as well as defensive rebounds."
Deron Williams: "He's played the last couple of days and he looks really well. His wind is good. Of course, rust is gonna be there for anybody that's missed a full year, but he looks healthy and looks great."
Kevin Garnett on looking forward to playing with Lopez: "I'm looking forward to being here with everybody. I'm glad Brook is healthy, I'm glad he's back to doing what he loves, Health is a weird thing. Obviously, when you get older you¹ve got to take care of your body and all this other things, but when you are younger you want to be able to run and do the things you want to do. I'm just glad he¹s able to be young again and I'm hoping he can stay healthy for the major parts of the year. We need him. If we are going to be anything, it¹s going to be because of Brook Lopez, Deron Williams and Joe Johnson."
For the Brooklyn Nets, this could be the season that they hit big with more chemistry, tempered pressure, proven experience with their head coach, and with any luck, health. This could be the team in the Eastern Conference that surprises, and just like failing to meet high expectations, a Cinderella-type of story is a typical New York story. For the Nets, hopefully, this is the year.
To see more pics from the Brooklyn Nets Media Day, check out our Facebook page… and Like the page while you're there!
H/T to Devin Kharpertian, Stefan Bondy, Tim Bontemps, Roderick Boone, John Schuhmann, Andy Vasquez, and Mitchell Abramson for transposing the above quotes in the makeshift media room after the event. The Nets beat is friendly and communal, no doubt.