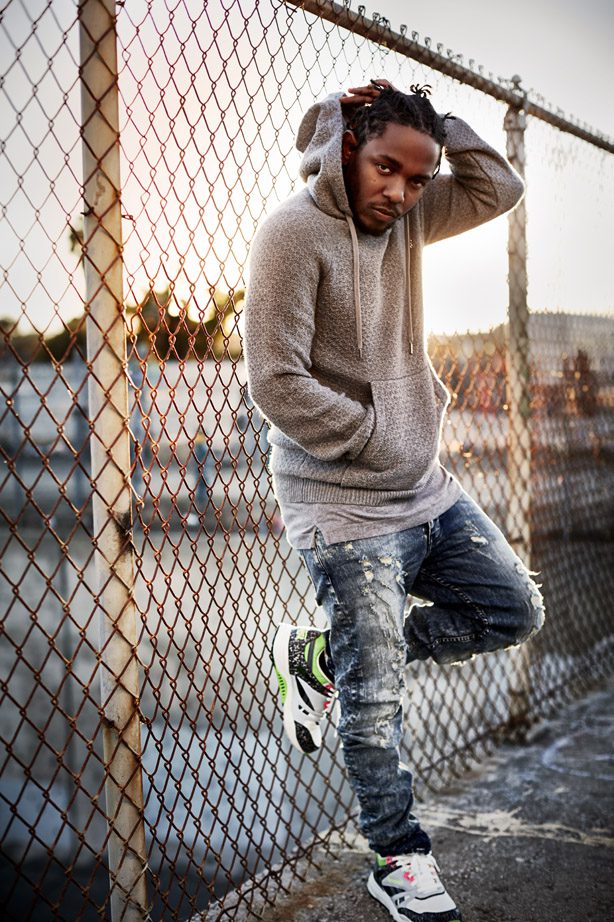 Recently, Kendrick Lamar was announced as a new brand partner for Reebok Classic, joining the likes of Swizz Beatz, Rick Ross, and Tyga in the fold for Reebok becoming a heavyweight brand of the music community, in particularly in hip hop. Below, see Lamar discuss his history with Reebok Classic, and his future going forward as a brand partner (courtesy of Reebok).
Q. You have recently been announced as a new Reebok Classic brand partner, are you excited to be teaming up with the brand?

KL: It's a privilege to partner with a brand of such longevity.

Q: How long have you been a fan of Reebok Classic?

KL: Since middle school, somewhere around 7th grade. The shoe became popular when Cash Money Records hit the scene. Everybody wanted to wear "Tee Bo's and Ree's" as the Hot Boys would put it. White Tee, Jabo Jeans, and Reebok Classics.

Q: What were your favorite Reebok Classic sneakers when you were growing up?

KL: Man, had to go with Classic Nylon of course!

Q: Do you have any particular memories of wearing Reebok Classic?

KL: I remember arguing with a group of homies in class one day about what store had exclusive colors- Avalon Swapmeet or the Compton Swapmeet! I'd buy new colors from Compton and feel like I got the one up on the whole school!

Q. What is it about the brand that you identify with most? What does the brand mean to you?

KL: I identify with originality and with a brand that identifies with culture in the community, and with my memories of wearing them in middle school it proves just that.

Q. The recently released video announcing your partnership with Reebok Classic centres around the theme of inspiration. Tell us why the message of inspiration is important to you.

KL: Kids that listen to my music are looking for inspiration. It's important that I continue that message in anything I represent.

Q. Did you enjoy working with acclaimed video director Anthony Mandler?

KL: I have been a fan of his previous work so when I got the call that he was directing it made it much more of an experience for me. He's someone who knows art and gets the culture and knows what I represent, which is a big deal in the end.

Q. What was your favorite part of the shoot?

KL: Really being able to interact with the kids.

Q. During the shoot you wore Reebok Classic Ventilator sneakers, which celebrate their 25th birthday in 2015. What is it about the sneaker that you like most?

KL: I like the sneaker first and foremost because of the way it looks, but mostly how it feels on the foot because it's a very light shoe. And let me tell you, when you come from where I come from, you have to do a lot of running (laughing). Whether it was from altercations, playing sports or being a kid in the city having fun, so that's important. How the shoe feels along with how it looks. It doesn't get much better than that.

Q. Are you excited to be fronting the Ventilator campaign for 2015?

KL: I am definitely excited to be the front man. The passion that Reebok puts into its brand and product is the same passion that I put into my music and so when you have two entities with the same goal in mind, positivity is what comes out of it, for sure.

Q. How would you describe your personal sense of style?

KL: My personal sense of style is simple but with an edge, and it's as classic as that!

Q. Whose style do you admire?

KL: I admire my grand-pa's style, he's simple with an edge too. Everything that he puts on is a representation of who he is. He isn't trying to be someone he isn't – it shows because he dresses how he feels when he wakes up in the morning.

Q. What is your top style tip?

KL: Wear what you feel. Do what defines you. You don't have to be limited by how world wants you to be or what your favorite artist wears. Wear what complements your personality.

Q. Aside from Reebok Classic, what are your favorite fashion brands?

KL: Aside from Reebok Classic, well the thrift store actually. Right there on Alameda in Compton. Thrift clothes is where it's at.

Q. You've previously called out Tupac, Notorious B.I.G., Jay-Z, Nas and Eminem as having the strongest influence on your work. Did their style influence you when you were growing up?

KL: Yes, definitely. I would have to say especially the West Coast artists, such as Snoop Dogg and Dr Dre. They were from the city and they represented the style that the kids were wearing. They were definitely a huge influence on me.

Q. How do you unwind when you've got time off from the studio?

KL: I just chill with the family, play some ball, go back to the 'hood and holla at the homies.

Q. What are your other passions in life beyond music?

KL: Really finding out where my roots come from and who I am, not only as a person but from the aspect of embodying where it all started.

Q. What have you got coming up in 2015?

KL: Kind of a good album…

Q. What makes a classic moment for you?

KL: It's something that describes the situation but also how I felt in the moment. A lot of the classic moments that I remember have to do with the feeling, whether I heard or did something, you know, it might have even been a certain smell in the air…it just always takes me back to how it made me feel. That's exactly how I would describe a classic moment.

Q. What makes a classic track for you?

KL: Same thing, how I feel when I hear it. The initial drums when they come on, does it make me feel something; does the melody put me in a space where I can say and write anything…it all comes down to the feeling.

Q. Who is your all time classic music icon?

KL: There are a lot of them and it depends on the week. Right now my classic music icon would have to be…Miles Davis.

Q. What was your favorite part of the shoot?

Really being able to interact wit the kids.

Q. You have recently been announced as a new Reebok Classic brand partner, are you excited to be teaming up with the brand?

It's a privilege to partner with a brand of longevity.
---
BMF Style: The Baller Mind Frame is more than the ball – it's the lifestyle that surrounds the ball. BMF Style brings you the best styles in sportswear, fashion apparel, and accessories for when you're away from the venue of play, whether you're checking for new gear or for your favorite athletes' pieces outside of the locker room.