When DeMarcus Cousins is not on the floor for the Sacramento Kings, the lack of his big-bodied presence is felt more so than any other player on any other team in the NBA. The team has been left with full stretches of little to no offensive production, and the loss of efficient basketball comes whether Cousins is injured or catching a break before checking back in to carry the Kings.
On the Miami Heat, Dwyane Wade's occasional absences are remedied from hyper-offensive basketball led by Chris Bosh, who is more than capable of making up for empty space left by his shooting guard. Should the Memphis Grizzlies be left without Zach Randolph due to injury or a disciplinary suspension (see last year's playoff series vs. the Oklahoma City Thunder), Marc Gasol's All-NBA presence still gives his team a voice in the paint. Even when the Thunder have been forced to play without Kevin Durant and Russell Westbrook, Serge Ibaka has helped a wildly undermanned team scrape together some victories.
The thing that is most threatening for the Kings, then, is that they fail to string together good play when Cousins is out, regardless of whether it be for two minutes or two weeks.
Cousins has been out for the last two weeks to a virus which left him hospitalized at one point. Still, Sacramento's inability to make up for its big man's absence has harmed them, especially on the offensive side of the ball.
Rudy Gay has been the team's go-to player on a majority of possessions, and in crunch time situations which would usually feature Cousins posting up an opposing big. Unfortunately, Gay's jump-shooting oriented game is picked out by opposing teams the second Cousins leaves the floor.
Gay will usually call for a high screen from Reggie Evans or Jason Thompson, and takes one step over them before pulling up for a jumper. He doesn't scan defenses, and he doesn't wait to see whether his man was actually pinned down before putting up a shot. Regardless of what the defense gives him, his mind seems to be made up every time he calls for an isolation play or a screen.
Western Conference defenses are sending big men and perimeter players onto Gay the moment he puts the ball on the floor, risking a pass to an open shooter. However, Gay's inability to recognize these openings has given defenses an ability commit three or more players to a single drive.
Here is a play in which Rudy uses a screen from Ryan Hollins and immediately begins to pull up for his jumper. The Grizzlies send Tony Allen, Zach Randolph, Kosta Koufos, and even Mike Conley to stop the drive. Gay has an open option in Darren Collison, whose man has committed to the ill-advised drive. Even a pass to Hollins would avoid the bad shot attempt, but Gay still decides to go up with the ball and forces the miss.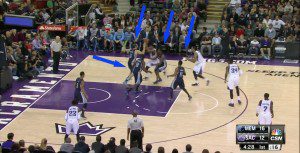 Hollins, one of the players who fills in for Cousins when he isn't in the game, doesn't give any credit to claims of Gay's play being counter-productive. "We gotta do a better job of spacing and getting him open opportunities but he's one of the best players in the league and those are shots that he can make so you don't want to deter him from being aggressive."
In seven December games without Cousins, Gay has had six in which he's taken 15 or more attempts from the field. This increase is obvious in that he is the Kings' second best offensive player, but the one-dimensional style of offense has officially become too predictable. In a league where teams have seven or more group film sessions with individual sessions mixed in per-player, the opposition knows that Gay is Sacramento's offensive spur.
If he can find ways to look for more than just the shoot-or-bust option, the Kings would be well-served. The attention he attracts opens up looks for his teammates, but he has yet to find shooters on a consistent basis.
Here, Gay comes off a screen to immediately put up a long two. The shot selection is okay, but he leaves Ben McLemore stranded at the three-point line for what would have been a very makable shot. Look at Ben already in position to catch-and-shoot the ball. He's begging for it.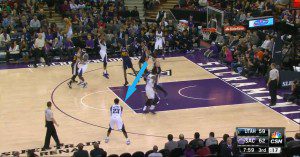 Thompson does an excellent job of pinning down McLemore's man to open up a catch-and-shoot or a wide open drive to the baseline. There is no Utah Jazz player in position for a close-out in this scenario, which should be especially frustrating for the team considering that every advanced basketball metric suggests that mid-range jumpers are the least efficient shots in basketball.
Darren Collison has been generally good with his decision-making in Cousins' absence. He shoots off of screens often, but only when defenses fail to combat it and his man is pinned down on a screen. His passing has been phenomenal for the Kings, using it to kick-start offensive possessions rather than pile assists, like Isaiah Thomas in Pheonix.
One of the bright spots for the Kings is that the unit of guards has lined up their talents and learned to play with each other. Collison is consistently looking to give McLemore the ball for jump shots and grants him at least two fast break baskets per game.
The perimeter play for the Kings has come a long way since last season, and much of it can be attributed to McLemore's more relaxed demeanor on the offensive side of the ball.
"I know my offense is going to get there. My mindset is just to play my game and play free. As my defense goes along my offense catches up."
In his rookie year, McLemore shot 29 percent from the field and 34 percent from beyond the arch, and has now raised these numbers to 46.8 percent and 41.2 percent, respectively.
Perimeter play for the Kings survives when Cousins isn't on the floor. Plays meant to open up shots from 10-feet and in, however, usually end in sloppy misses as opposing big men are free to offer maximum help on Sacramento players, as Reggie Evans and Jason Thompson don't offer a legitimate offensive threat to opposing teams.
In this play against the Los Angeles Lakers, Carlos Boozer abandons Reggie Evans in the paint to help on Gay's post-up play, forcing him to kick the ball out and stop the attempt at an open look.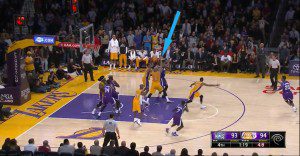 Evans averages 4.4 points per game, and virtually every point is a result of a put back layup or dunk. When Cousins isn't on the floor, this gaping lack of offensive paint presence frees up bigs to leave the paint and help on face-ups from Gay and drives from Collison. Almost every shot that the Kings take is heavily contested when their starting big man isn't in the paint.
Surviving without one of the best offensive-minded big men in the NBA is a near impossibility for a team whose decision-making is as flawed as that of the Kings. Rather than playing from the outside and letting Collison make plays for the team, this offense elects to post up Jason Thompson (who hasn't made a finessed paint play since high school) or let Rudy Gay drive toward the baseline before being swallowed by three defenders and forking up a miss.
The bright side for Sacramento: Cousins is young and can handle 35 or more minutes per game. His virus has been said to be decreasing and he is unlikely to miss much more for the rest of the season.
The not-so-bright side for Sacramento: Until Pete D'Alessandro can make a move for a stretch four or any big man who can be looked to for offense, the Kings will struggle when Cousins is resting. The team had a shot at Noah Vonleh who was still available at the eight spot in the draft, but took Nik Stauskas instead. Stauskas will be a good offensive player, but the necessity is more apparent for a big than it is for a shooting guard (especially because McLemore was just drafted the year before).
Sacramento has not been able to close out games without Cousins, as the isolation plays the team draws up usually end in a contested shot with little to no chance of going in. It's mostly come from the hands of Gay, who the Kings trusts in every late-game scenario, but whose tunnel-vision deters him from taking advantage of open shooters who may actually have a better shot than he does.
It's not to say that Gay should pass up shooting the ball completely, as he has been scoring over 20 points per game consistently in the wake of the Kings' go-to option. If, however, the slight adjustments are made to give shooters just four more looks per game off of drive-and-kick situations, close games will become comfortable victories.
He will attract this attention every time he drives the ball. As I said before, defenses have figured out that his first and only option is to shoot, and have therefore learned to commit to him while being fully aware tha Collison is open for a weak side three. The coaching staff surely recognizes this and will look to take advantage of these scenarios.
For the time being, the Kings can't function without Cousins' interior presence. His offensive capabilities have proven to be of such high worth to the team that they are virtually lost with the ball without him.
The trade deadline may bring a race to acquire more talent, but it may be in the team's best interest to solve these issues in-house rather than look to outside sources. It will likely be able to figure out the issues and become a better team when their best player is not on the floor.