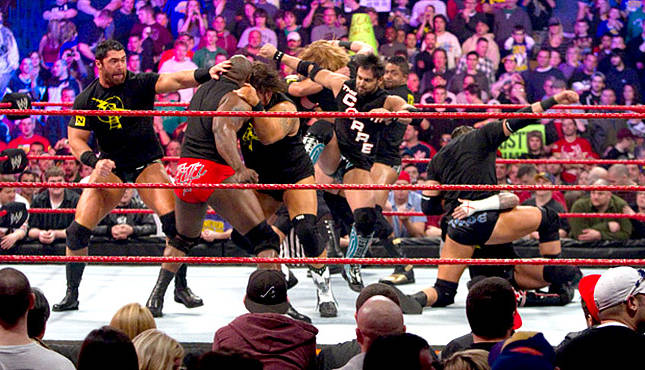 8:00 pm- We're coming to you live from Estero, Florida for the second annual Royal Rumble running diary. Joining me is … wait, am I really watching the Royal Rumble alone? Wow, how sad is that? I'm 23-years-old and I've been waiting all day for a wrestling pay-per-view that I'm watching all by myself. I swear, I have a social life. I have a girlfriend and everything. She's even pretty!
I'm a one man wolfpack tonight but that won't stop me from drinking a few vodka and Cokes, eating half a bag of Cheese Mix Munchies, caring way too much about a scripted event, and even keeping a running diary for it. I'm giddy with anticipation!
8:05– The first match of the night is a tag team bout between the New Age Outlaws, who got a cheap pop from the Philadelphia crowd for coming out wearing Philly Fanatic hats, and recent NXT call-ups The Ascension, who are a cheap rip off of the Legion of Doom and Demolition. The Outlaws and the Legion of Doom never had a chance to have a rematch of their contest at the 1998 Royal Rumble, so this will have to do.
8:10- "You still got it" chants from the Philly crowd directed at Billy Gunn. I can't speak with complete certainty, but I don't think he'd be getting that same love if he was a part of a Smoking Gunn's reunion with his "brother" Bart Gunn. Hey, speaking of Bart Gunn:
[youtube]https://www.youtube.com/watch?v=S652hvQaWfY[/youtube]
8:14– The Ascension gets the victory after hitting Billy Gunn with some sort of high-low maneuver that has an intimidating name on Billy Gunn. I'm underwhelmed. Oh well, it's early.
8:18- Flashing back to Raw from last week, we take a look at John Cena's win over Seth Rollins, Big Show and Kane with the help of Sting. This package is coming early as if the WWE is pleading with us to stay with the show until they get to the matches that actually matter. Video package is accompanied by dueling "Let's Go Cena" and "Cena Sucks" chants.
8:20- In the back, Stephanie and Triple H are discussing John Cena's victory on Monday Night Raw over Seth Rollins, Big Show and Kane, and, more importantly, Sting's involvement in the outcome of said match. As of this moment, we know one WrestleMania match for sure. Triple H vs. Sting seems to be a sure thing, and in all likelihood it will be a good enough match with all-time great build-up. Paul Heyman joins Stephanie and Hunter in the back and talks about how his client, Brock Lesnar, could be the solution to their Sting problem. I've been watching wrestling since I was four and over those twenty-ish years I've figured out pro wrestling pretty well. I'm not sure why Heyman got involved in that conversation.
8:21- Now it's time for the Tag Team Titles match: The Miz and Damien Mizdow challenging the champs, The Usos. The Miz/Mizdow and Uso rivalry has been going on for two months and if it weren't for Damien Mizdow's always-fun antics, I can guarantee the crowd would've turned on this rivalry quicker than a hiccup (© Jim Ross).
8:28- It's been a pretty blah match so far, but then again, how many different variations of this match are there? We've seen just about every one on Raw and Smackdown over the last eight weeks. The Miz is teasing the crowd by not tagging in Mizdow. I'm not the biggest Miz fan, but he's doing his job getting Mizdow over. That doesn't mean it was okay that he main-evented a WrestleMania.
8:31- One of the Usos—I won't pretend to know which one it was—was just a fraction of a rotation away from breaking his neck and ruining the entire night when he attempted a flying cross body over the top rope. Seriously, that could've been Sid Vicious level bad.
8:34- The Usos get the win over Miz and Mizdow, though it was really a one-man show. Mizdow didn't even get into the match. I'm still underwhelmed. I'm ready to be overwhelmed, or even just whelmed. Another drink should help.
8:38- A backstage segment with J & J Security— Jamie Noble and Joey Mercury, the henchmen for the Authority and the modern day Pat Patterson and Gerald Briscoe — and Money In The Bank holder Seth Rollins delivers. Rollins gets a big pop for proclaiming he's tired of being called the future of the WWE. He claims he is the "right now." It's kinda tough to disagree. I've said the same thing of Dolph Ziggler so maybe take this statement with a grain of salt, but Rollins has some Shawn Michaels potential. Anyway, a Divas tag team match is up next, and that's a perfect time for me to take a squirt and get another drink. Again, I promise I have a girlfriend, and not the kind that Manti Te'o had.
8:50- Son of a bitch, I'm already out of snacks.
8:55- The Bella Twins won the Divas match, but the return of the pre-Rumble interviews. This was the second best part of early Royal Rumble pay-per-views, coming in just behind listening to Gorilla Monsoon and Bobby Heenan on commentary. You really find out what guys are ready to be a headliner with stuff like this. Let's just say Fandango still has some work to do.
9:00- Time for the triple threat match for the WWE World Heavyweight Title. Good job by WWE for putting this match together in a way where I'm genuinely unsure of who is going to win. That kind of match happens maybe three times a year, and it's only mid-January. Really, as long as this match and the Rumble deliver it won't even matter that the first hour of the show stunk so bad that they'll need Duke "The Dumpster" Droese to come pick it up.
John Cena comes to the ring with a chorus of boos and the majority of the crowd singing "John Cena Sucks" to his theme song. JBL chalks it up by saying the Philly crowd is having fun. You know what I think would be fun? If the announcers just acknowledged that most WWE fans are tired of Cena's shtick. The traditional heels in this match—Rollins and the champion Lesnar—got far more positive reactions from the crowd.
9:05- In traditional Lesnar match fashion, the contest starts with a barrage of German suplexes from the champ, including one to both members of J & J Security at the same time. All the suplex's are greeted with "Let's Go Lesnar" chants. I can't help but think that it's a more than a coincidence that Brock's bread and butter is the German suplex and he also happens to looks exactly like what Adolf Hitler envisioned as the Master Race.
9:15- Some good action so far, most of which Brock Lesnar has controlled. J & J Security is still sprawled out ringside after the double German suplex. It's only been about five years since they fought competitively in the WWE and they're taking longer to recover than most WWE refs would. After a nine year layoff, The Rock won the WWE Title. These guys can't even take a freaking suplex anymore? Why wouldn't The Authority hire a better security team? Why does this bother me so much?
9:19- Just an absolutely incredible sequence of WWE action right there. The play-by-play: Cena speared Lesnar through the barricade, then smashed the steel steps into his head, and then through him on top of the announce table. Then, with Lesnar out cold on the table, Rollins delivers a flying elbow drop off the top rope. All of that warranted a well-deserved "This Is Awesome" chant from the crowd. I don't even care who wins this match anymore. I'm now overwhelmed.
9:22- Heyman calling for doctors for Brock, and I'll be honest, I'm not sure if it's legit or not. Brock was already turning purple before that sequence. He might be the color of an eggplant for all we know.
9:23- J & J Security is finally back up after taking an 18 minute nap. They disrupt a Cena pinning sequence, but suffer a double Attitude Adjustment for their trouble. These guys stink at their job. Meanwhile, EMT's bringing a stretcher out for Lesnar.
9:30- Another awesome sequence. Moments after Michael Cole tells us that Lesnar is suffering from a broken rib, Brock comes in and gives what may have been the most hellacious German suplex ever to Rollins. After Brock cleared out Cena, Rollins clocked Lesnar twice in the head with his Money in the Bank brief case. Rollins would be on top if his patented Curb Stomp finished, but Brock countered it, hit the F-5 on Rollins and retains the title. Wow, I'm still overwhelmed. That was on the short list of triple threat matches in professional wrestling history, right up there with the WrestleMania XX triple threat between Triple H, Shawn Michaels and Chris Benoit. Actually, WWE pretends that match never happened, so I guess this one moves into the number one spot. I need to compose myself before the Rumble.
9:38- While I was composing myself some popcorn showed up in my bedroom. Weird. Anyways, here we go; the Royal Rumble. I'm unhealthily excited.
9:40- Miz and R-Truth enter 1 and 2 respectively. It's been at least six months since R-Truth had the chance to do his pre-match rap. I'm happy to have him back in my life. I wish my friend Weston, a casual WWE fan, was here. He appreciates R-Truth more than anybody I know, and last year his picks for the Rumble were Truth, Dolph Ziggler and Goldust.
9:42- Hey now, here's a swerve! Bubba Dudley, ladies and gentlemen! A huge crowd pop and ECW chants follow. And continue all the way through Bubba and R-Truth—apparently filling in for D-Von Dudley—teaming up and hitting the 3-D on The Miz.
9:47- Bubba gets rid of R-Truth and The Miz, and now he's left to face Luke Harper and the first guy who actually has a chance—albeit an outside one—to win the Royal Rumble. Bray Wyatt joins his former Wyatt Family brethren and they eventually get rid of an apparently alone Dudley Boy.
9:48- Curtis Axel comes out next, but is attacked by Erick Rowan during his entrance. Rowan didn't qualify for the Rumble, but he comes down anyway. I guess we're operating as if Rowan is in the Rumble now. The Royal Rumble: where getting your ass kicked on the way to the ring not only costs you your pride, but also your chance to compete for a title match.
9:52- Wyatt throws out both Harper and Rowan. Next out is The Boogeyman. Cole beat me to the punch with the Eater of Worlds vs. Eater of Worms line. The Boogeyman's time in the Rumble match was about the same amount of time he was actually relevant during his first WWE run. Sin Cara and Zack Ryder are eliminated back to back by Wyatt. We can start calling Bray the Eater of Jobbers.
9:56- The pop of the night goes to Daniel Bryan, who enters number ten. Bryan vs. Bray … oh, this is good now. These two had a match of the year candidate at the Royal Rumble last year. After that match, the Rumble went to crap. Kind of the opposite of how this year's has been going.
10:02- Would you judge someone if they told you they kind of enjoyed Stardust's music? I'm asking for a friend.
10:04- It's him, it's him, it's DDP. Shit, that works better when he says it. Anyway, Diamond Dallas Page enters the rumble at #14, joining Bryan, Bray, Fandango and Stardust.
10:06- Another pseudo favorite, Rusev enters the fray at #15. We're at the halfway point. From the way Rusev treated Page, it looks like he dislikes DDP Yoga just as much as he does the United States of America.
10:07- Daniel Bryan has been eliminated from the Royal Rumble. Oh boy, this night is about to go downhill as quick as Drake goes from 0 to 100.
10:14- It took just seven minutes for the crowd to fully hijack the Rumble. Reigns' music hits and there isn't even a sliver of positive feedback from the crowd. I would've gotten a better reaction from the Philly crowd. And just so it's known, I'm all fine and good with a vocal crowd, but if they don't give love to Ambrose and Ziggler and a bunch of other guys who are deserving of love, I'm going to be very disappointed.
10:16- The first bit of positivity shown from the crowd since Bryan's elimination was for Mizdow, who almost gave up his spot for The Miz. Reigns shoved The Miz off of the apron and Mizdow enters to a big reaction from the crowd. Bray Wyatt, now acting as the Eater of Positive Crowd Reactions, eliminates Mizdow pretty quickly.
10:19- JBL tells us that Butch Reed was the first man ever eliminated from the Rumble. I'm glad he's here. Ryback enters shortly after, and the crowd actually gets into some "Feed Me More" chants.
10:21- Damn! I had 10:04 in the "When Will The Crowd Chant for CM Punk the First Time" Pool. Actually, I guess I win since I'm the only one here.
10:23- A full blown pop for Dean Ambrose, who enters at number 25, and I'm hopeful there won't be any more prolonged booing for the foreseeable future. Even though the crowd was firmly in Daniel Bryan's corner, this match could be fine if Ambrose, Ziggler or maybe even Bray Wyatt come out on top.
10:27- Four guys have won from #27, and Intercontinental Champion Bad News Barrett enters at that number this year to yet another positive reaction from the very vocal Philly crowd. The ring is filling up quickly; right now it's Reigns, Wyatt, Ambrose, Barrett, Big E, Rusev, Jack Swagger, Kane and Ryback.
10:30- Big Show enters at number 29, and that means Dolph Ziggler is coming in at number thirty. Of course, since Show is the biggest guy in the match, we have to go through the utterly ridiculous, "Eight guys try to eliminate the biggest guy in the match, and then he pushes every single one of them off!" routine. Big Show, Yokozuna, The Great Khali and Andre The Giant are on the Mount Rushmore of that stupid Royal Rumble ploy. "We Want Ziggler," chants start to pop up before he even enters the match. I'm officially at the stage of the Rumble where I'm nervous. Just so everyone knows, my girlfriend's name is Maria and she isn't imaginary.
10:36- We've officially reached the point in the show where the crowd isn't going to be happy with any result. Kudos to WWE's creative team. After checking last year's running diary, this point came exactly six minutes later than it did last year. We're down to the Final Four, and it's Big Show, Kane, Roman Reigns and Rusev—who we aren't supposed to know is still in the match. To get here, Big Show and Kane eliminated Dolph Ziggler, Dean Ambrose and Bray Wyatt, the only three guys besides Daniel Bryan who would've definitely gotten some love from the crowd as Rumble winners.
10:42- Kane and Big Show turn on each other after Show tried to eliminate Kane, and of course this leads to Reigns eliminating both Kane and Big Show. Kane and Big Show kiss and make up, and then decide to come back into the ring and attack Reigns, but The Rock, Reigns' real life cousin, comes down for the save. Reigns quickly tosses out The Bulgarian Brute after he comes back into the ring, and now Reigns has officially won the Rumble match.
The Rock raises Reigns' hand in victory, but even The Great One's presence can't change the fact that the crowd has the same level of disdain for this finish as they did the finish of last year's Royal Rumble. Shit, even The Rock was surprised by the negative reaction. WWE will certainly try to use The Rock as much as they can to get Roman Reigns over with the crowd, but if tonight is any indicator it won't work. Will WWE stick to their guns, or call an audible and make things right just like they had to last year? Stay tuned, I'll be here throughout WrestleMania season to walk you through it.