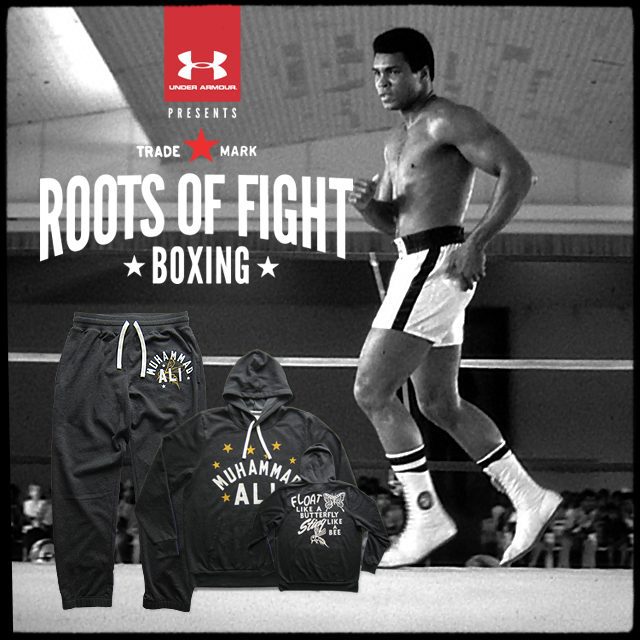 Muhammed Ali is probably the most polarizing athlete that America has ever produced. A tantalizing talent who was the greatest boxer of his time, and according to him, the greatest of all time, and his feats certainly seem worthy of his words.
Though he hasn't been able to expound on much about his career for the last 30+ years from suffering with Parkinson's Disease, Ali is now honored in the Under Armour Presents Roots of Fight Ali Boxing Collection, as an active homage to The G.O.A.T. himself.
In honoring the champ and the new Roots of Fight collection, Under Armour has released a new video that debuts the new apparel and in doing so, marks a new chapter for UA training.
See all the details here, courtesy of our friends at Under Armour.
[youtube]http://youtu.be/vzElJggwJLA[/youtube]
Under Armour and Roots of Fight have once again collaborated to present the Boxing Collection featuring Muhammad Ali. This retro-inspired collection of men's, women's and youth apparel is available on UA.com and select retailers beginning today, March 6.

he product highlights the infamous quotes from Ali, celebrating his character and unyielding WILL. The collection also features other great boxing pioneers such as Mike Tyson and Roy Jones Jr. Under Armour and Muhammad Ali brand will debut a cohesive performance training collection including apparel, footwear and accessories in the fall.
Additional photo production by Sandy Dover
---
BMF Training: Being a baller isn't just about what you've done in the box score – it's about how you prepare to ball when you're away from it. BMF Training is about bringing you the latest in training footwear, apparel, and equipment that can help you raise your game and also give you insight into what the best athletes are wearing in preparation for their battles on the big stage.