Friends, I don't like to interject myself too far into your everyday lives, but I implore you to take my advice and make something of it when I say – Don't sleep on Conference Championship Week.
Look, I'll be the first to admit that this week doesn't have the hype or the mystique of that first four-day weekend of the NCAA Tournament, but it's not quite as far off as you'd be led to believe. It is indeed a crucial part of March Madness. Until 6 pm on Sunday March 15th, you'll be treated with just about all-day coverage of games featuring teams who are scratching and clawing for conference titles and tournament berths. Even in the last few days, we've seen bubbles busted and potential Cinderella stories begun. Four teams have already won their way into the big dance (North Florida, Coastal Carolina, Northern Iowa, and Belmont). Three more teams will clinch berths tonight, and between Tuesday and Sunday, 25 more teams will win their conference while 36 others are selected based on their body of work throughout the season.
So for the next week, just imagine that these games you are watching are the appetizer to the dinner that is the NCAA Tournament. Rather than not allowing yourself to get too into these games, just go to town on them like they are delicious cheese fries. No matter how many games you watch, or how many cheese fries you eat, you'll still have room for the main course… or something like that. Sonny Brackets, out!
Games to Watch
MAAC Conference Championship: Iona vs. Manhattan
Colonial Conference Championship: William & Mary vs. Northeastern
SOCON Championship: Wofford vs. Furman
WCC Semi-Final: Pepperdine vs. Gonzaga
WCC Semi-Final: Portland vs. BYU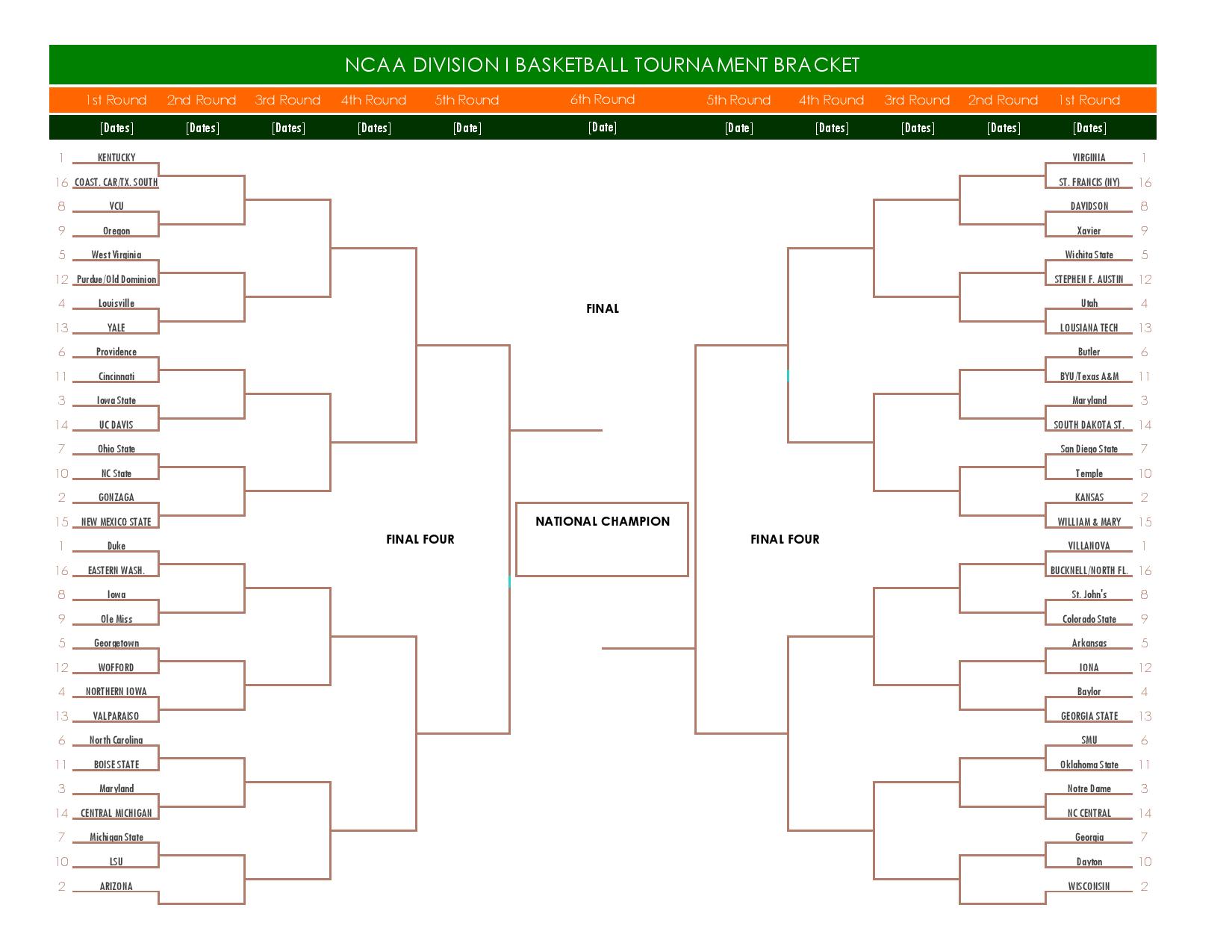 NOTE: Due to unfortunate circumstances, the two 15 seeds at the bottom of the page have been once again cut off. They are Ohio Valley Conference champion, Belmont, and prospective America East champion Albany.