The 2015 NBA draft was surrounded by a long list of rumors and conjecture that ultimately never came to pass, but there are plenty of surprises and disappointments to parse through. I was fortunate to attend the draft inside the Barclays Center instead of watching from my couch. Here are some observations from inside the arena before diving into the lottery picks.
Knicks fans were everywhere inside the arena.
I just want to emphasize this again, there no visible Nets fans in the building. Knicks fans are dominating Barclay's #NBADraft

— BMF Sports Network (@BallerMindFrame) June 25, 2015
Normally this sort of comment is said in jest to poke fun at the Nets. I saw some jerseys of all sorts from Michael Jordan, DeMarcus Cousins, Damian Lillard, Shawn Kemp, Matt Geiger – it's not as if the NBA banned Brooklyn Nets gear from the arena. The attitude of fans for the Brooklyn Nets and New York Knicks are diametrically opposed, one fickle and untrusting in the face of failure while the other would be loyal into an Atlantic Ocean fault. Not sure what to make of that.
Draftees don't hear commentators from the television broadcast, but they do hear everything from the hosts inside the building. Imagine sitting at a designated table with an suit picked out for the entire world to witness once you are called up as a lottery pick in the NBA draft. Sounds sweet, right? Now include the reality that you fall past the fourteenth pick in the draft, there are two dudes on the loud speaker telling the entire crowd at Barclays Center about all the flaws in your game, and why you don't deserve to be picked in front of "What's His Name" and "I'm Better Than Him." Tough skin is required to sit there without squirming. Welcome to the league.
I can't give Frank Kaminsky the award for Best Dressed, but he definitely gets the award for Most Creative Draftee of the Night.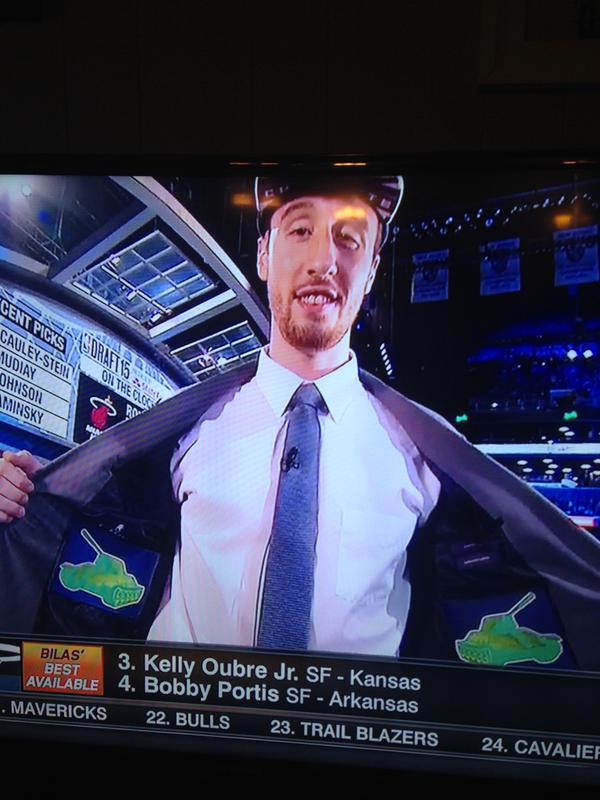 I never disliked Frank the Tank, but any dude willing to stitch tanks inside his suit has my attention. The Earth is now rooting for you, Tank.
Ally Love serves as the host for Brooklyn Nets home games and the NBA draft at Barclays. She does a good job with a Brooklyn crowd that is typically unenthusiastic (because they are waiting on the Nets to rip their heart out again), but asking her to host for the draft is unfair. The NBA draft crowd is not friendly and overwhelmingly Knicks fans. We are not talking about an energetic crowd so encouraging them to dance or use the bongo cam is a hard task.
[youtube]https://www.youtube.com/watch?v=DK3NNZWux7A[/youtube]
1) That's Memphis and Memphians are a loving people.
2) Crowds at the NBA draft are too busy complaining or rejoicing about how the player they just drafted is going to the Hall of Fame. The serenity required to be one with the bongo is not present in that atmosphere.
The NBA wants to give attendees something to do in between picks. Good idea. One really, really bad idea is throwing the host for the Brooklyn Nets in front of a crowd of Knicks fans. The commentators did a decent job when asked to fill in time with their personal observations, interviews with current and retired players (such as Robert Horry and Victor Oladipo), and Q&As with players after they were drafted.
In place of Ally Love, the NBA could go into their archives and pick rare footage from old drafts like interviews, highlights from rookie years of Hall of Famers, trivia on rookies in different eras – the options are endless. Most people who come to the NBA draft are longtime fans of the league, or children of longtime fans of the league. Take advantage of that and spare Ally Love the torture of being bombarded with boos.
Before the draft started, Isaiah Austin spoke about the Isaiah Austin Foundation, an organization he started in 2014 to support awareness and research of Marfan syndrome.  As a quick reminder, Austin was projected as a first round pick in the 2014 NBA draft. His dreams were crushed days before the big day when he was diagnosed with Marfan syndrome. Prior to announcing the 16th pick of the 2014 draft, Commissioner Adam Silver chose Austin with a ceremonial pick and offered him a job with the NBA that begins once he finishes his bachelor's degree at Baylor University. Austin reemphasized his appreciation of what the league has done to change his life in the face of unforeseen circumstances, and discussed the goals on his foundation. For more information on the Isaiah Austin Foundation, please click this sentence.
Shame on journalists for looking up old tweets from draftees that took place years ago. It's petty. Larry Nance Jr.'s career could be done before it even begins. That's not fair.
Seems the Lakers' new draft pick just deleted this old tweet from 2012. Probably a good idea. pic.twitter.com/kC33QuIvPL

— Baxter Holmes (@BaxterHolmes) June 26, 2015
"(Insert player) played overseas so no one has seen him play." – I don't ever want to hear a scout, general manager, coach, or talking head ever say this again. It is freaking 2015. People watched the "Biggest Fight of the Century" for free on Periscope instead of paying the $100 pay-per-view fee. Smartphones are standard in modern civilization. Playing overseas is no excuse. I'm sure there some unknown intricacies to gaining access to footage, but we shouldn't use language implying professional players outside of the United States are not playing in front of cameras. There are some simple ways to fix this issue that should be explored.
Lottery Picks
1. Timberwolves selected Karl-Anthony Towns – Kentucky, Center
This is the only pick everyone knew was going to happen. Towns has the most polished game of any prospect in the draft: good defense, great post moves, solid on court IQ, and he shoots 80 percent from the free throw line. He's got some things to work on, but he is the safest bet for the Timberwolves and he fits a need.
2. Lakers selected D'Angelo Russell – Ohio State, Guard
The first surprise of the night came early as the Lakers chose to skip over Jahlil Okafor and take Russell with the second pick. I thought this was would happen before the draft. Kevin Love and LaMarcus Aldridge are unrestricted free agents and the Lakers believe they can get at least one of the two. Choosing Okafor in this free agent market didn't make much sense and that's also why the Cousins trade rumors went from a hot sizzle to cold embers. The right choice was made unless they believed in Emmanuel Mudiay.
3. 76ers selected Jahlil Okafor – Duke, Center
Another big goes to the 76ers. Okafor has elite offensive post moves, an NBA-ready body, good rebounding instincts, and championship pedigree. The biggest concerns for him are poor free throw shooting and ability to defend in pick and roll situations (something almost no big man can do so it's a stupid black mark to mention although everyone has…). I don't have anything good to say about the 76ers' short or long term plans so let's move on.
4. Knicks selected Kristaps Porzingis – Latvia, Forward
Everyone says Porzingis will take at least a few years to pan out. Carmelo Anthony is in his prime now.
In signing Phil Jackson Owner Jim Dolan & Steve Mills are saying to the Knicks fans, they're ready to win now!

— Earvin Magic Johnson (@MagicJohnson) March 12, 2014
Phil Jackson didn't show away from the prospect of winning right away. That's why Anthony signed a 5-year, $124 million contract with the Knicks. Why sign Anthony at that figure for a building project? That's why Knicks fans are upset. Porzingis has some range on his jump shot which is valuable as a 7-footer but he also weighs 30 pounds less than LeBron James.
Video: Kristaps Porzingis first shooting drill. pic.twitter.com/ubHqncN0Wv — Chad Ford (@chadfordinsider) June 12, 2015
Wide open jumpers won't be available with the Knicks, and he's not a smoother operator on the perimeter. Remember how awesome Yi Jianlian was shooting by himself in gym?
[youtube]https://www.youtube.com/watch?v=KyADXpenxzU[/youtube]
Jianlian was selected 6th overall in the 2007 NBA draft, and had a decent playing career over five seasons, but not enough to justify a lottery pick. Porzingis could become an excellent player but this is not the NFL. NBA players are picked in the lottery to make an immediate impact. Phil Jackson doesn't have expectations for Porzingis to be a difference maker next year. That's poor drafting considering the Knicks' current situation.
5. Magic selected Mario Hezonja – Croatia, Guard
Some people have said Hezonja was the most talented player left on the board. This could be true but I have a hard time believing it. I'm also unsure when he will chance a chance to play. Will Oladipo or Payton be heading to the bench? No? Then what the heck are they doing here? Maybe the idea is to play Tobias Harris at power forward and overwhelm teams with small ball. The crowd inside Barclays was just as confused.
Silence, whispers of confusion and then one f-bomb for Mario Hezonja #NBADraft rough crowd — BMF Sports Network (@BallerMindFrame) June 26, 2015
The pick simply doesn't fit a need. Willie Cauley Stein would've been a perfect here. Oh well.
6. Kings selected Willie Cauley-Stein – Kentucky, Center
According to everyone, Stein can guard every position. I don't believe that's true but he definitely has the chance to be a nuance every night. Stein is a self-motivated, intimidating presence on the defensive side of the ball but has no offensive game. He compares favorably to Tyson Chandler although he is more athletic than Chandler was at a young age. Alongside Cousins, the Kings will have an advantage in the frontcourt nearly every night.
7. Nuggets selected Emmanuel Mudiay – Congo, Guard
Ty Lawson after Denver Drafted Mudiay…
Ty Lawson after Denver drafted Mudiay pic.twitter.com/VfCB0AwzFn — NBA RETWEET (@RTNBA) June 26, 2015
Next.
8. Pistons selected Stanley Johnson – Arizona, Forward
Many believed that Justise Winslow should have been picked here but I'm totally fine with this pick. Johnson lags behinds Winslow a bit on offense and athleticism but he is a better defender and a stronger body. I like the fit considering what Stan Van Gundy is trying to put together.
9. Hornets selected Frank Kaminsky – Wisconsin, Center
Michael Jordan has whiffed a lot in the lottery so any pick he makes will be viewed with a skeptical lens. Kaminsky is criticized for not being athletic enough and lacking a strong defensive presence. This seems overblown as long as he continues to improve on his effective post game. Al Jefferson will welcome another scoring option on the block to ease his load.
10. Heat selected Justise Winslow – Duke, Forward
This is a great spot for any young wing player. The Heat has several veterans with All-Star caliber seasons who remain very capable players. Winslow needs to work on his shooting but he is a good finisher near the rim and a high-motor defender. He has the best chance to reach his potential in South Beach by learning from Dwyane Wade and Luol Deng (although there's a real chance both veterans could leave during free agency).
11. Pacers selected Myles Turner – Texas, Center
Turner needs to add more strength to his body, work on traditional post moves, and didn't always play up to his potential when the lights shined brightest at Texas. That said, holy moly this dude has some potential. He shot 83.9% from the charity stripe while averaging 10.8 PPG and 6.5 RPG in just over 22 minutes, and providing defense that should rival what Roy Hibbert currently provides for the Pacers. What scares most teams is that his running mechanics are similar to big men who get injured frequently. The difference: he has a legitimate perimeter jumper, face up shots and an unblockable back to the basket, turnaround jumper.
Larry Legend is going to work with this guy. I can't wait to watch his development.
12. Jazz selected Trey Lyles – Kentucky, Forward
Lyles was picked this low because of comparisons to Kentucky teammates Towns and Stein. Lyles is a good player in his own right and will be able to showcase more of his talents with additional minutes. He is not a great defender but will contribute on that end thanks to his athleticism. He is a capable offensive player on the block and a great finisher near the basket, If utilized properly, he should be able to average a double double within a few seasons.
13. Suns selected Devin Booker – Kentucky, Guard
I'm not sure this is a great fit. Booker is considered one of the best, if not the best, shooters in this draft which the Suns need; however, the Suns already have five shooting guards on their roster and only one point guard. Booker does not have the ball handling necessary to play point guard. Who is going to attract double teams for Booker to be effective? Booker is going to be a great shooting specialist in the right situation. This is not that situation. If only he had gone to the next team…
14. Thunder selected Cameron Payne – Murray St., Guard
I really regret not writing this down verbatim, but Cameron Payne said something to the effective of, "I'm ready for everyone in here to join the Cameron Payne campaign."
He was expected to go higher than this in the draft (Payne was well aware of this and made sure to say so during his post-pick interview) and likely only fell because he's considered undersized at 6′ 2″. What a crazy mistake. The Thunder just got a fiery back up point guard who can do a little of everything on offense. Payne has above-average court vision, anticipation, and finishing ability at the rim. Last season, he shot 37.7% from three-point range as the primary scorer; this percentage is only going to rise with wide open opportunities from Kevin Durant and Russell Westbrook.
Payne is the steal of the draft and will make the most immediate impact for a championship contender next season.