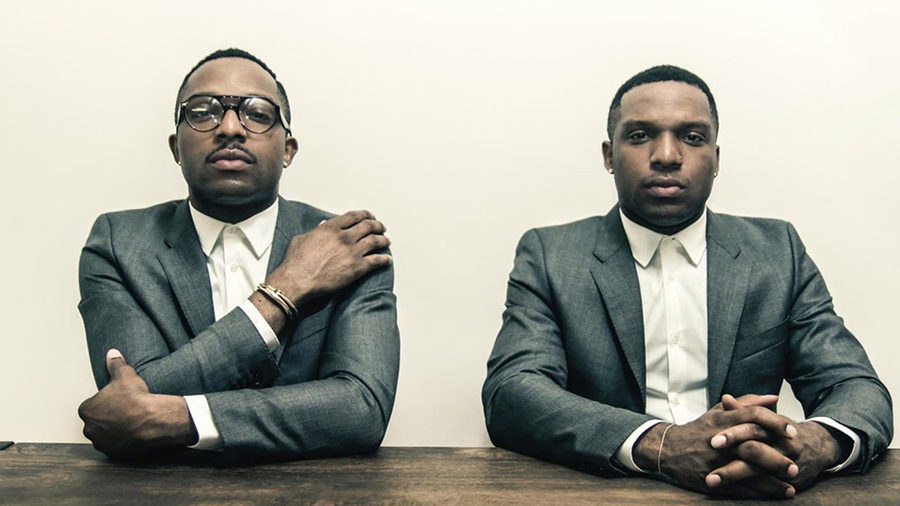 If you've been drowning in a washed-out sea of musical monotony left behind by the mainstream tidal wave of Country-Pop mega hits and hyper-catchy Hip Hop tracks, FW14 is the album you need to acquire towards the latter end of the month; get yourself some air. Set for delivery August 21st, courtesy of Grammy-nominated production duo, Christian Rich, FW14 is a feature-happy collection of the deliciously fresh and truly unique. The content isn't merely a stockpile of talent amassed from the Western entertainment selection, but more so a diversified showcase of artistry representing a global platform and sound.
While you may not recognize the creators of FW14 by their stand-alone title, it's more than likely you have a rather intimate idea of what they sound like. In gracing multiple number one records with their supreme skill, they've collaborated with modern day superstars, such as Drake, Jay-Z, Diddy, Danny Brown, J. Cole, and Earl Sweatshirt. Not to mention having received tutelage and creative guidance from N.E.R.D.'s ingenious Pharrell Williams and Shae Haley. So, who exactly is Christian Rich? Christian Rich is the self-titled alias of twin brothers Taiwo Hassan and Kehinde Hassan: producer-team extraordinaire that's been crushing the game discretely for quite some time. From producing your favorite records, to embarking as creative directors on mega-projects with mega-companies like Redbull and Audi, to touring the world, emitting and receiving unbelievable musical energy and love, Christian Rich is the next-level wave in real entertainment; easily distinguishable and undoubtedly special.
What's truly noteworthy about these two is that you can trust them, musically. FW14 is a record that can be purchased with total confidence. Why? Christian Rich allows only the innovatively soulful and profoundly funky to be present on the album. And while the names featured on FW14 may not be the usual slew of billboard topping artists we're used to seeing on big name production records, we're all very lucky that we get to experience them on the album's lucid wavelength space. Essentially, get ready to meet some of your new favorites *winky face*.
FW14 has an eclectic variance of genre play and sound, easily identifiable by the cornucopia of diversified talent featured throughout the record. Boasting the addition of 15 features, all of the guest appearances bring such life and fire to the work. While each collaborator deserves mention, I'll preview only a few here, so that you, as the listener, can enjoy the discovery experience from somewhat of a Tabula Rasa state, as I did. Track 12, "Glory", features the ethereal sounds of AKUA, a Montreal based singer, songwriter and producer whose presence gives off a strong R&B flare with a trippy, dreamy touch of mysticism. DWNTWN graces the album with a garden-fresh feature on Track 8, "Better To," and delivers a super funky, synth pop performance that begs for the body to jump up and bounce. DWNTWN is an L.A. based Indie/Rock-Pop band that's most certainly worth a Google search and a couple lazy days of getting acquainted. Another killer collaborator on the record is Denitia and Sene, on Track 10, "Face." What a fucking feature. Buttery lyrics laced with raw emotion, evoking chills… mad sensual energy and love. We also see the work of classic Funk/Soul artist Steve Arrington along with the Hip-Hop stylings of Goldlink and the super rad sounds of Secaina Hudson. The mash up of heavy hitters is just ridiculous. With such an eclectic blend of talent, it's really no wonder the album effortlessly achieves the essence of its inspiration: the Science-Fiction vibe. Beautifully psychedelic, FW14 is sexual, vulnerable and far out.
What's potentially the most unbelievable aspect of this record is the myriad of musical rabbit holes one can discover in traveling down FW14's track list. From J*Davey, to Niia, to JMSN, you'll be introduced to a whole new world of sound from electronic funk to dream pop to future jazz. It's almost like that perfect Complex Magazine article illustrating, "10 Things You Need To Be Listening To Right Now," only it's 15 things, and way fresher. The record is devoid of discrimination in that it showcases talent from all over the world with a wide range of cultural influences and vibrations. Not to mention, the celebration of feminine beauty dripping wet on almost every track. This is an album to be hyped about for all the right reasons. August 21st, get ready to be immersed in the energy of FW14 and prepare for both your body and soul to be moved.