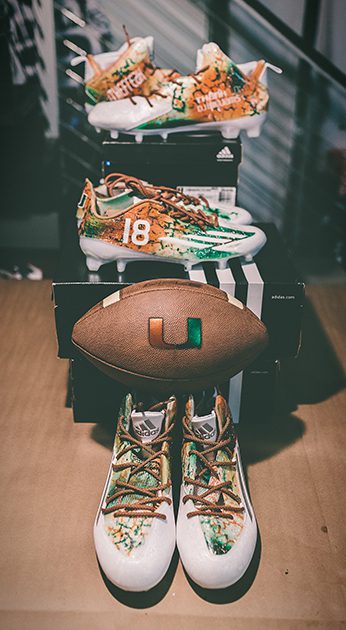 The first time around when adidas teased us all with the University of Miami Hurricanes football team with a special collaboration with Soles by Sir, here's what we at BMF Sports said:
Well, this is interesting. The Hurricane football team of the University of Miami has enlisted the service of footwear customer, Soles By Sir, to customize the team cleats, in partnership with adidas.

This is a new thing for a college program, where customization has long been a taboo issue, generally with Nike basketball and football program. Adidas, however, is another company altogether.
Since then, we've seen the fruits of SBS' labor — behold the Miami Hurricanes x adidas Football x Soles By Sir custom cleats collaboration…the images of the University of Miami adidas cleats in the design process and final stage, courtesy of our dear friends at adidas.