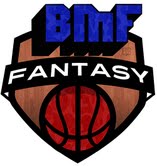 I'm repping BMF Fantasy Sports in the CBS 30-Deep League. I'm also raising our sites banner in the Triple Crown Hoops Challenge, a 12-man head-to-head Experts League. I'm in two 11-man Dynasty, rotisserie leagues, an 11-man 8-cat Experts, auction draft league, a 7-cat roto-h2h hybrid money league, a $50 entry 18-man head-to-head daily changes league, a $50 entry 16-man auction draft, and a few others. A lot of my friends and readers have asked me, "how do I manage all of those teams?" The short answer is "I streamline." I created a master list of players I like and have strictly excluded players I will not be owning this season. Seven of those aforementioned leagues are played on Yahoo! With the exception of the auction-draft leagues, I decided to do a very tight pre-ranking of my players this season and exported those pre-rankings across all my leagues. The result is that I am targeting the same guys and completely avoiding others. I will end up keeping a close eye on a smaller pool of players. Of course I will be watching everything that goes on in the NBA as far as general news goes, but focusing on my teams will not be too difficult.
On to the good stuff. I'm going to share my list of targets and list of players I am avoiding.
Targets
Round 1
My first seven picks are set in stone, which aren't too far off from the default rankings, so there's not much to discuss there. I tend to stray from the norm in the second half of the first round. The main difference is that I have ranked Damian Lillard eighth overall and have not hesitated to grab him.
Round 2
Obviously if Lillard lands on my lap in round two, I'm snatching him up. He is one of three guards I tend to take in the round. The other two are John Wall and Kyle Lowry.
Overall though, I noticed that I own Paul Millsap a lot. He's been my priority in the early part of the second round. Going later, if my guards aren't available, I have gone with Draymond Green. I love his ability to stuff the stat sheet night in and night out.
In head to head leagues, I have on occasion reached for DeAndre Jordan for his strength in boards and blocks. This happens in deep leagues, where I want dominance early.
Round 3
At this spot I tend to target a Gasol, Marc being the priority over Pau. If I don't have a point guard yet, or I am committed to strengthen that position I end up looking at either Jeff Teague, Victor Oladipo, or Eric Bledsoe.
If I'm in the tail end of the third, I will generally accept an underrated Trevor Ariza if he falls to me, or I will go ahead and grab my top pet pick of the season, Nicolas Batum. I am high on him having a bounce-back year and figure he can easily return Top-25 value if his strong preseason play carries over into the regular season.
Middle Rounds
It's hard to be too strict at this point. Accounting for value, I will tend to round out my team's positional needs, as well as its statistical needs (if roto), or even settle into a strategy (if h2h).
Hot names I tend to go after are:
Tyreke Evans (but he's now excluded after his injury)
Nikola Mirotic (recent entry)
A discounted Tim Duncan. The arrival of Aldridge signals a decline for him this season, but a 3-4 round discount should still come out as even money for what he delivers this late.
I'm all in on Rip City guys this year. So yeah, I do tend to make mad grabs for both C.J. McCollum and Meyers Leonard. Gotta love their upside. They're the not-Damian Lillard guys I expect to explode.
As the mid-rounds wind down, you will generally see me grab Stanley Johnson. I am expecting good things from this kid this season and am hoping he will not disappoint.
100 and onwards
Wesley Matthews is an interesting risk-reward pick I have my eye on.
Both Aaron Gordon and T.J. Warren are intriguing breakout candidates who are good picks.
Jeremy Lin and his now locked-up starting SG gig have turned my impressions around I've been going for him late in drafts.
Really late, not-so-sneaky, but solid choices are Kyle O'Quinn and Willie Cauley-Stein.
Dummies
As a result of my Lillard first-round reaches I now tend to miss out on Kawhi Leonard and Jimmy Butler. Nothing wrong with them, but this is just the effect of my prioritizing Lillard.
I don't feel Carmelo Anthony this season. I don't have any specific news or numbers to support this. I've drafted him like five times in my fantasy career and he's given me three championships, so this isn't personal.
Because of my preference for Paul Millsap in the second round I've tended to miss out on Paul George (who I actually like this season, but not as much as Millsap), Klay Thompson, and Rudy Gobert.
I do not like taking LaMarcus Aldridge early in the second round, neither do I like Al Horford. They only come into consideration in rotisserie leagues, but not in head to head where I am more open to punting turnovers.
I have excluded Kyrie Irving due to his injury concerns. I also do not like Hassan Whiteside so much. Just a vibe.
Because I ranked Jeff Teague ahead of Mike Conley, I sadly will not be owning one of my favorite PGs in the past.
I'm not too optimistic that Kenneth Faried will be able to unleash his "Manimal" this season. If he does, then I'm OK with the calculated risk of missing out.
As I do every season, I've excluded DeMar DeRozan. I've always found him to be too potato for fantasy purposes. Yeah he scores, but that's about it.
I have excluded Dwyane Wade, Kobe Bryant and Dwight Howard.
I originally excluded him, but my hand was forced to pick Derrick Rose in the eighth round of one my leagues, and yes, a little bit of vomit just welled up in my mouth. It was a tough call. There was a guard run just before him and Jarrett Jack flew off my queue the pick before. It was a toss up between Rose and Darren Collison. I went with Rose. Ugh. Someone give me an aspirin. Now.
I've also excluded Andrew Bogut, Ed Davis, and Roy Hibbert. I'd rather gamble on an Aaron Gordon than take them where they're ranked by the system.
I do not like Tony Parker and would rather take Jeremy Lin at his spot.
—
There you have it folks! Some last minute juice for your drafts this weekend. Hope it helps!