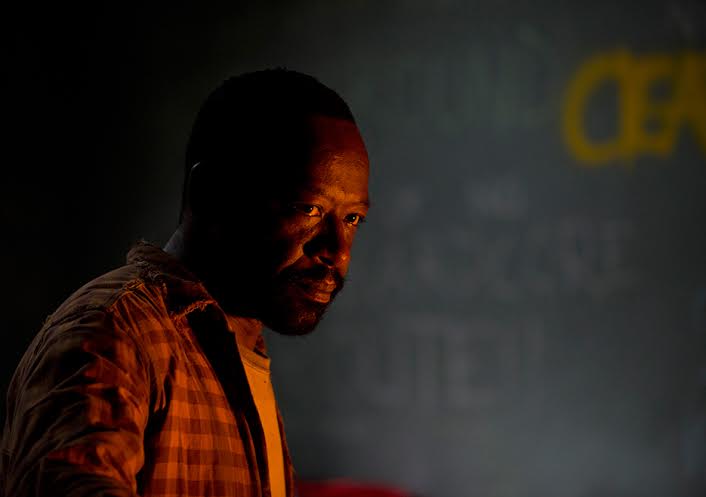 The newest episode of The Walking Dead took a break from Alexandria to give us an extended look at Morgan's backstory. I still can't decide if Morgan is lame or cool. I'll settle with a little bit of both, I guess. On one hand, he refuses to kill people even when his life is in danger, and on the other he fights everything with a staff, which is almost as cool as Michonne's katana. Before I delve too deeply into my thoughts on Morgan, let's look at our Kill Count after this long The Walking Dead episode:
Kill Count
Glenn – 17
Heath – 17
Morgan -16
Rick – 14
Michonne – 12
Carol – 9
Abraham – 3
Daryl – 2
The biggest mover was obviously Morgan seeing as this episode of The Walking Dead focused solely on him. It's almost unfair that he got an entire ninety minute episode to himself, but it seems everyone else will just have to step up their game in the coming weeks. I'm still waiting on Daryl to have a breakout show, but it won't be long until he moves out of dead last. His crossbow is just too awesome not to be utilized soon.
Well, as I said before, my thoughts are still uncertain on how I feel about Morgan's character on The Walking Dead. He has his bad-ass moments, don't get me wrong, but his whole pacifism thing is annoying. Thanks to this episode we now know that he practices "Aikido" and this is where his "all life is precious" philosophy comes from.
I know his character is supposed to be a counter to Rick's and his "kill anything that makes me mad" philosophy,  but they take it a little too far sometimes. I just can't relate in any way to a character in The Walking Dead who follows a philosophy of no killing even if the person is the most evil ever to exist. He could still be a voice of reason for Rick even if he just killed when absolutely necessary, and I would be able to believe the character more.
It was interesting to get a look at just how far off the deep end Morgan went after he lost his son and begins killing as many walkers as he can. It doesn't stop there, however, as we get a look at him brutally killing two regular people who we are led to believe didn't do anything wrong. I know this senseless killing is what drives him to believe, now, that all life is precious, but I still view it as over the top.
Morgan's savior from his grief-induced madness comes in the form of Eastman, a forensic psychiatrist turned Aikido master played by John Carroll Lynch (whose performance is fantastic). Eastman doesn't take any of Morgan's crap, and slowly makes him realize that all life is precious and that going around killing anything he sees will never bring him peace.
In one of the most hair-raising scenes we've had in The Walking Dead this season, Eastman tells Morgan the story of the man who broke out of prison for the sole purpose of killing Eastman's entire family. That led to Eastman locking him in a cell in his cabin and letting him starve to death (which took forty-seven days). It was disturbing to think about, and really makes you wonder "How would I act in the same situation?" I love a scene that can make you think about the deeper psychology of a situation, and The Walking Dead nailed it with this one.
I liked this episode of The Walking Dead, but I didn't love it. Morgan just isn't a vital enough character to warrant a ninety-minute episode dedicated to his backstory. I'm also a little upset that we didn't get any information about Glenn. I NEED TO KNOW WHAT HAPPENED TO GLENN.
Alright, that's out of my system. I sincerely hope Morgan learns to actually use his staff when he needs to. That sentence made me laugh out loud, so if you're like me, get your mind out of the gutter. With a few tweaks, Morgan has potential to be a great character on The Walking Dead and I have faith the writers will make this happen. Let's move on to next week so we can hopefully see Daryl in action, and maybe find out the fate of my favorite The Walking Dead character.