Sigh. In your 21 games in Dallas, we hardly knew you, Mr. Jenkins.
Well, that's a tiny little bitty lie since we knew you averaged 3.3 points and 1.0 rebounds per game. It's depressing to say that you were a victim in a Russian roulette version of the numbers game.
Following the Dallas Mavericks' balls-out, blowout 129-103 win over the visiting Philadelphia 76ers on Sunday evening, head coach Rick Carlisle made the announcement that the team would sign 32-year-old veteran David Lee, a former All-Star who may (or may not be) past his prime.
"There are things going on with the roster we are sure you're aware of," Carlisle said in a opening statement to the press after the game. "David Lee will be signed, hopefully tomorrow morning. He arrived tonight."
Now, while YES, those following Lee news was well aware that someone would have to get the ax in order to make room for the 6'9 forward/center, a majority of us thought it wouldn't have been John Jenkins' rear end on the line, but rather Charlie Villanueva's ass since Lee would be nabbing minutes from both Villanueva and Dwight Powell as he fills in the front court as a backup for the four and five.
Villanueva, who has averaged 5.7 PPG this season, has been as inconsistent as a mouse on a mixed cocktail of amphetamines – well, at least his 3-point attempts have been. While Charlie V does have a calming presence in the locker room and beloved by his teammates and coaches, it's safe to say that a majority of the press is puzzled by Carlisle's constant use of him since he's gone cold for the past couple months. And when I say cold, I mean his shot looks like the last 30 minutes of "The Day After Tomorrow".
At least with the addition of Lee, the depth behind a front line consisting of Dirk Nowitzki, Chandler Parsons, and Zaza Pachulia will be rather deep. But the loss of Jenkins is a bummer to the locker room.
"We just met as a team in the locker room, and I personally thanked John Jenkins on behalf of myself, the franchise, Mark (Cuban), (and) everybody for representing this team with pure class," Carlisle said of Jenkins departure from the Mavs. "He's established real value for himself in this league, and I'm pretty sure he's going to get picked up."
Jenkins tweeted out to his fans shortly after the news broke: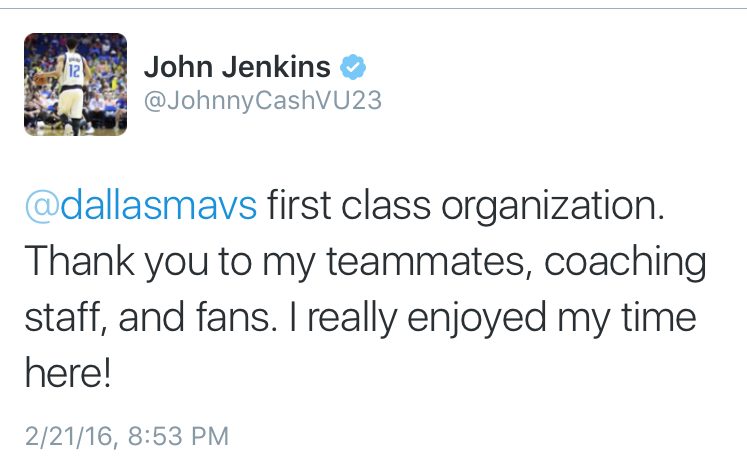 "This was a tough is a tough situation; you don't want to let anybody go with a locker room like we have," Coach continued. "My hope is that sometime in the future we can have him back here. It's strictly a numbers game."
A numbers game is correct, since Jenkins was lost in the haze of all the 34,957,329,472,398,794,327 guards the Mavs have on their roster.
Lee is not exactly the player who, in the 2009-10 season, averaged over 20 PPG with 11 rebounds, but he's can be a decent backup for Nowitzki so Dallas can keep fellow former Florida Gator Parsons at small forward.
Lee looks to suit up in Maverick blues on Wednesday night when Dallas faces off against the Oklahoma City Thunder.