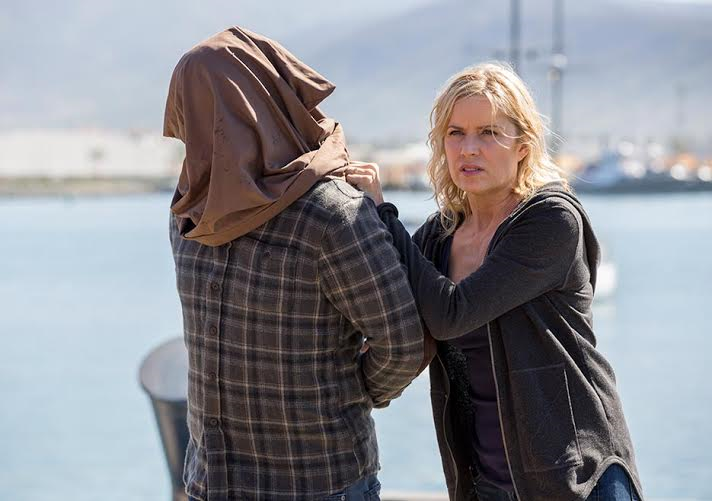 Fear the Walking Dead aired a great episode this week and is giving me real hope that the show has potential for a few more seasons and isn't going away anytime soon.
The writers are finally getting their stride for each of the characters and they are all developing with each other in a much more cohesive way than they have been previously. Everyone's interactions are getting much more believable as well as dramatic.
With everything going on, though, my favorite character is still Nick. He is the deepest character out of everyone on the show and just continues to get better with each episode. Strand, however, has dropped off quite a bit on my list of favorites, mostly because he just isn't mysterious or interesting anymore. I hope the writers find a way to make him as good of a character as he has been in the past.
This episode of Fear the Walking Dead focused on our group going on a mission to rescue Alicia and Nick who were captured by the wannabe pirates last episode. Reed, or Jesse McCartney if you prefer, is still alive and held captive by everyone on the Abigail. He's in pretty rough shape, though, seeing as Chris stabbed him through the stomach with a large, sharp item. He has quite the mouth on him and won't stop picking on Chris. Daniel tells him not to engage at all, so naturally Chris engages. Reed finally gets under Chris's skin enough to make Chris shoot him right in the face. It's pretty gruesome and I know quite a few girls from my middle school who would not like that image.
Now Reed being shot may not seem like a bad idea, but unfortunately they needed Reed alive to trade for Travis and Alicia. Way to go Chris, predictably screwing things up per usual. The good thing is that Chris can't even shoot someone in the head correctly and Reed turns into a zombie instead of dying. The group then decides to trade zombie Jesse McCartney for their family back.
As it turns out, Alicia doesn't really need that much help because she has found her own away of escaping from the pirates. She uses Jack's crush on her against him and persuades him to leave with her as soon as possible. I guess Alicia can still handle her own. She even ditches Jack at the first possible moment and shows she isn't that trustworthy and knows how to survive.
The trade for Travis goes swimmingly, and zombie Reed even kills Connor to make himself more useful than he ever was alive. After an awesome head butt by Travis they escape and pick up Alicia on their way back to the Abigail. This was an epic scene and I hope they continue to pump out the action and drama just like they did in this episode.
My favorite part of the episode was that they brought back Alex from a couple weeks back. She is pretty pissed at Travis for putting her on the raft that Strand ended up cutting loose. Her anger is a little misplaced and she should blame Strand more so than Travis. He was just trying to get the best scenario for everyone and Strand was just being a dick. Once they start to open up to on another we learn that Alex doesn't plan on staying with Connor's group (which isn't possible anymore anyway) and I'm sure she will show up on a later episode of Fear the Walking Dead. She has potential to be a great character and I hope she forgives Travis and ultimately joins the group.
Fear the Walking Dead keeps showing flashes of greatness and as long as they can get a little more consistency it will definitely live up to The Walking Dead name. I'm hooked and I hope they don't let me down anytime soon.