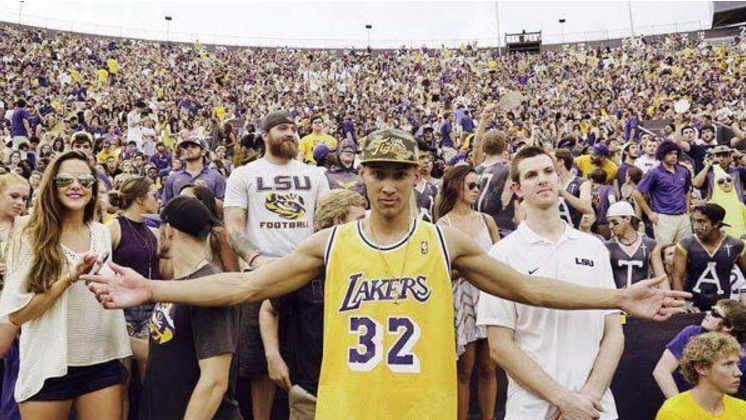 The 2016 NBA Draft goes down at the Barclays Center next Thursday and the presumptive first overall pick, Ben Simmons, is getting most of the love on mock drafts. Will The BMF follow suit? Of course not! Not when DV has the first pick and he's known to be a contrarian! See who our first overall pick is below, but before you do, check out what team needs are for this draft for both the Eastern Conference and Western Conference.
DV: 1st Pick (Philadelphia 76ers)- Brandon Ingram
"Are you crazy?" Yes, I hear all of you saying that right now with my selection of Ingram over Ben Simmons. But, it just makes a lot of sense to me. The Sixers have three bigs right now – Jahlil Okafor, Nerlens Noel, and Joel Embiid – of which two (Okafor and Embiid) are offensively adept down in the post. So, two things… it's no wonder that the Sixers are looking to trade Okafor for spacing concerns; and having a perimeter shooter to create more space just seems sensical, doesn't it?
For all the talent that Simmons possesses, a consistent jumper (or even the desire to take one), just isn't his thing. However, Ingram is all about that! He possesses both the length and consistency from the outside that spurs on comparisons to Kevin Durant. Now, I'm not saying that level of efficiency is what's in Ingram's future, but when you're taking a gamble and looking at personnel, Ingram will help the Sixers more than Simmons. Of course, they also really need a point guard. I'm almost positive they will acquire one through trade, whether it's Okafor to the Boston Celtics bringing back the third overall pick for a player like Kris Dunn OR trading for someone like Jeff Teague from the Atlanta Hawks who have been rumored in the past in trying to make room for Dennis Schroeder to get more burn.
And, let's be honest, it's not like the difference between Simmons and Ingram is significant. They just do different things; I just think the things that Ingram does matches more with the Sixers.
SG: 2nd Pick (Los Angeles Lakers)- Ben Simmons
DV, you're really going to serve up Ben Simmons to the Lakers on a silver platter? The early comparisons to LeBron might be a little ambitious, but Simmons is a consistent jump shot (or maybe the better way to put it is "having the confidence in a consistent jump shot") away from being able to be a difference maker in the NBA right now. And for the record, he's gonna develop a knock down jumper. It's just gonna happen. My jump shot improved exponentially in my four years of playing pick-up basketball at college, and I didn't have any sort of financial incentive to master that art. All Simmons needs to do is lock himself in a gym and Jedi mind-track himself into believing his jumper is a legit weapon and then things will work out just fine.
I truly think Simmons put himself in a crappy situation at LSU; he went to war with a crappy coach and teammates that weren't able to utilize him in the best ways possible, and that's the sole reason there is any debate as to whether he should be the 1st overall pick. If he spent six months "going to college" at Kentucky or Duke or North Carolina or Arizona the narrative would be totally different, so I'm not letting the LSU stuff chase me away, especially since the league is trending in a direction where someday soon it's not inconceivable that a team could just play four lights-out shooters along with Ben Simmons, who would essentially be a Point Center or Power Guard or some hybrid of meaningless position names. The NBA is so goofy.
DV: 3rd Pick (Boston Celtics)- Jaylen Brown 
If the Celtics actually keep the pick despite the plethora of trade rumors abounding out of Beantown, Brown and his mixture of strength and speed with a knack to get to the hoop, should be the pick for the Celtics. There's a lot of upside here as Brown is a pure scorer with great physical tools. A backcourt of him and Isiah Thomas could be potentially lethal if Brown can get his shot mechanics and effort consistent as their skill sets complement each other and Brad Stevens' offense allows for lots of shots to be taken, something that Brown will have no issue doing. Potential future NBA All-Star for years right here.
SG: 4th Pick (Phoenix Suns)- Buddy Hield
I've gone on record saying that replicating what the Golden State Warriors are doing is much more difficult than it sounds, but the first thing a rebuilding team should theoretically try to do if they wanted to venture down this path is find a pair of shooters who could swing a game in a moments notice if one or both catch fire. Phoenix stumbled into Devin Booker last year, and this year they may have their choice between Buddy Hield and Jamal Murray sitting at #4.
I like Buddy a little more than I do Murray, and yes, I'm aware that Buddy is a full three years older. He's a little bigger and longer, he projects as a better defensive player, and he's able to score in more ways than Murray is. This is going to sound nuts, but there were multiple times when I was watching Buddy in college I thought "Damn, he looks like Dwyane Wade with three-point range." Plus he's from the Bahamas and totally effing fearless on the basketball court. I was in the Bahamas once and everyone there seemed pretty chill. Buddy Hield is not chill on the basketball court. He's a mass murderer on the basketball court. Just ask Ben Simmons. Buddy Hield killed him AND stole his soul and probably sold that shit on eBay.
https://www.youtube.com/watch?v=TpjL5XcGQ0g
DV: 5th Pick (Minnesota Timberwolves)- Dragan Bender
Bender is just too talented to get by the T-Wolves here. Yes, there are rumors of them taking Kris Dunn here despite already having a point guard in Ricky Rubio (David Kahn, anyone?). Of course, we also can't expect for Bender to have as immediate an impact as Karl Anthony Towns did last year; KAT is just a ridiculous player with a tool set reminiscent of Kevin Garnett, but not the intensity. But, really, who has that? In any case, Bender is tall (7'0″) with an excellent shot, a high basketball IQ, and a high ability to pass the rock. He and KAT as the T-Wolves bigs could possibly end up being the best 1-2 punch of bigs if Bender pans out. An important factor here is that Bender is not the stereotypical Euro pansy because he's not afraid to body up and attack, but I just hope Bender is ready to work out hard. Like KG will give him a choice anyway.
SG: 6th Pick (New Orleans Pelicans)- Jamal Murray
Well, I mean, if I'm given the chance to take Jamal Murray at #6 for New Orleans I'm not going to pass it up. I don't know what kind of odds you could get on something like this, but I think there's definitely some version of how this draft plays out where Jamal Murray and Buddy Hield are the two best players in some order. I loved it how Murray lit it up in his Celtics workout, burying 79 out of 100 three's, only for Buddy to up the ante and hit 85 a few days later.
In Murray the Pels are getting a young shooter, another Calipari disciple for Anthony Davis and Tyreke Evans to hang out with, and a definite upgrade over Eric Gordon's carcass. I don't necessarily buy Murray as a point guard just yet, and the Pelicans would be silly to try to turn him into that right out of the gate. I think Murray's a guy who greatly benefited from playing with a great college point guard (Tyler Ulis), and eventually, if he's not forced to do too much, which probably wouldn't be a problem so long as he was paired with The Brow, Murray could carve out a really nice career for himself as a second or third option for a perennial Playoff team.
DV: 7th Pick (Denver Nuggets)- Marquese Chriss
Talk about a pure energy and athletic big, and you're talking about Chriss. However, he's not all dunks after running like a gazelle down the court because he also has some range on his shot as well. Defensively, he can get up and block some shots too. The issue with Chriss is that he's the epitome of raw, not really possessing much of a basketball IQ and playing purely by instinct. Yes, that's good, but he needs more of a foundation and solid mentorship at the next level to truly succeed. I know this much though, Emmanuel Mudiay and him will be connecting a lot on the break.
SG: 8th Pick (Sacramento Kings)- Kris Dunn
Here is the list of point guards that the Sacramento Kings have employed since they drafted DeMarcus Cousins: 
Beno Udrih, Sergio Rodriguez, Pooh Jeter, Luther Head, Isaiah Thomas, Toney Douglas, Aaron Brooks, Greivis Vasquez, Ray McCallum, Darren Collison, Andre Miller, Ramon Sessions, Rajon Rondo, Stephen Curry's brother Seth, John Stockton's son David
Here is the list of point guards that the Sacramento Kings have employed since they drafted DeMarcus Cousins who you could say were "above average" in comparison to the rest of the league: 
Isaiah Thomas (Maybe)
Here is the list of players the Kings have drafted with 1st Round selections since they drafted DeMarcus Cousins: 
Thomas Robinson, Ben McLemore, Nik Stauskas, Willie Cauley-Stein
Yo, the Kings missed out on Kemba Walker in 2011 and Damian Lillard in 2012. If Kris Dunn falls in their lap this year and they don't select him with the 8th pick, we need to relocate the Kings to Seattle, Vivek Ranadive to Mumbai and Vlade Divac to whatever dreary cave he grew up in in Eastern Europe.
DV: 9th Pick (Toronto Raptors)- Domantas Sabonis
Full disclosure – I love Domantas Sabonis. Sure, part of that is because I loved watching his dad, Arvydas play for the Portland Trail Blazers back in the day. But, Domantas is his own player, and is one of those guys that coaches love – a kid with a high motor and gives non-stop effort. It almost seems like Sabonis can do anything on the court despite being average athletically and regarding his physicality. What he is though, is a very tough and very smart basketball player with excellent leadership ability. Granted, the Raptors have that with their young guards, but who knows if DeMar DeRozan re-signs. Although, it looks like he will. The real question though may actually concern this 9th overall pick since the Raptors are in "win-now" mode and may want to trade for an established power forward instead of drafting one. Keep an eye out for this, but if they keep it, Sabonis would be a very safe pick, which sounds bad because of our obsession with potential and upside, but in the case of the Raptors, Domantas could be an excellent and quick fit.
SG: 10th Pick (Milwaukee Bucks)- Skal Labissiere
Truth be told, I think there is a pretty sizable drop-off in talent now that Baby Sabonis is off the board. So if I'm Milwaukee, I'm trying to find a high upside guy that projects as the sort of big man that will thrive in the modern version of the NBA. Labissiere (how the hell are we pronouncing this dudes last name again?) is that guy. I'm not concerned that his low-post game isn't polished and that he weighs as much as I did in the 9th grade. I like that he has a workable mid-range jumper and a quick first step. I like that he moves his feet defensively and that he can challenge shots at the rim. I mean, it all sounds basic, but when the sure things are off the board and you're drafting on some combination of potential and fit, Labissiere is probably more intriguing than most guys.
One other note: I like the thought of Milwaukee drafting Labissiere because I want to see how long and skinny they can get. Why not go all the way and find a way to play five guys who are somewhere between 6'7″ and 7'0″ and have Go-Go Gadget Arms for days, and just see what kind of havoc they can wreak defensively? It might turn out to be a total disaster, but don't tell me you wouldn't be intrigued if Milwaukee trotted out a Michael Carter-Williams, Khris Middleton, Giannis Antetokounmpo, Jabari Parker and Skal Labissiere unit next season. That sounds lovely.
DV: 11th Pick (Orlando Magic)- Jakob Poeltl
The Magic are pretty young at every single position, so at this point, it's time for the ubiquitous BPA (Best Player Available), and that's likely going to be Poeltl, a big that should be a solid role player from the beginning. He has the ability to get deep in the post and be a big target for the pass in, which is only helped by his agile feet. Poeltl is a motor guy that isn't afraid to bang in the box, and considering this is a pick-and-roll type of league, his ability to show and stay with guards will come in very handy. He won't usurp Nikola Vucevic or Aaron Gordon, but he could definitely give them some rest. Of course, it's not a great thing to say a lottery pick will be an excellent back-up, but that's just the case with this Magic team, picking this low in the lottery. Seriously, Poeltl is good!
SG: 12th Pick (Utah Jazz)- Denzel Valentine
Perhaps I'm pulling the trigger a touch early, but I just have a hard time believing this guy won't find a way to make it in the NBA. He's got a workable jumper, he's a willing and able passer and he's mature and well-coached coming from Michigan State. Any other weaknesses can be covered up. So he's a little undersized, isn't a breathtaking athlete and he's not a great defender … that's stuff you could turn a blind eye to if you have a massive Frenchman who is really good at not letting people score at the rim playing behind you. I actually believe this is a great fit for both Valentine and the Jazz.
DV: 13th Pick (Phoenix Suns)- Deyonta Davis
The Suns won't draft a guard, guaranteed. I think. They already have a very young core, so they'll probably go big and try to get a player that can protect the rim. Well, perfect for Davis. He doesn't have any real offensive skill other than finishing on breaks and getting putbacks, but Davis is still very young and can still improve if he puts in the time. Defensively, he'll be a great replacement for Tyson Chandler in terms of getting some blocks when the aforementioned sits or leaves the team. As mentioned with Poeltl, Davis is also a very good pick-and-roll defender, able to actually defend against the guard on the perimeter. If the Suns keep running, Davis will do relatively well out in the desert.
SG: 14th Pick (Chicago Bulls)- Dejounte Murray
This pick is trivial in comparison to what the Bulls really need, which is a full-blown basketball exorcism. My advice for the Bulls: blow this shit up and grab as many picks and young assets in the process and cross your fingers it works out better this time. The reality of the situation is the Bulls are further away from title contention now than they have been at any time in the Derrick Rose era, and that title window was never as wide open, nor was it open for as long as Bulls fans would like to believe.
But with that said, for the Bulls I'll take a shot on Dejounte Murray, an athletic combo guard from the University of Washington who some project to be an electric scorer in the NBA, just like his mentor Jamal Crawford. I'll be honest, I watched Washington play maybe three times last season and I couldn't give you a definitive answer as to whether or not Murray will be a major impact player as a pro. But, as I told you before, Murray is classified as a combo-guard, and that will be a need for the Bulls this summer because either Derrick Rose or Jimmy Butler won't be on the team.